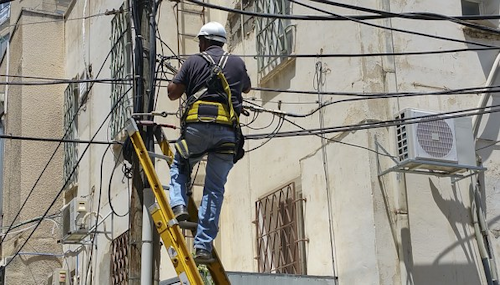 Pixabay
By Kevin Morgan
,
Clearfield
The customer demand for faster and better service means service providers will be doubling down on their efforts to bring 5G technology to fruition even faster than originally expected. 5G will require infrastructure to be in place to handle the adoption of the technology itself, throwing service providers' existing and growing 5G networks and deployments into doubt. By solving the fiber challenge now, service providers will be able to maintain a high quality of service for their 5G networks as they are introduced and provide the much-needed network support backbone.
The initial 5G foray focuses on enhanced mobile broadband (eMBB) and enables gigabit speeds as called out in Release 15 of the 5G spec released by the 3rd Generation Partnership Project (3GPP). In this application, we see fiber densification playing a big role to support these next-gen networks. The spectrum also plays a big role. Higher-bandwidth applications need more spectrum, which in turn will need more antennas driving the need for more fiber deployments.
Deploying all of this fiber involves a variety of actions such as permitting, road construction, coordination, and labor. Once the 5G fiber is deployed, fiber cables will need to be attached to equipment (radios) in order to provide the 5G services. Deployment and termination of 5G fibers in the network present many challenges that must be addressed in innovative ways.
Massive rollout
The aggressive plans that carriers have for 5G rollout are unprecedented. The closest thing we have seen to this type of fiber-rich project is the decades-long deployment time of fiber to the home (FTTH). FTTH involved pushing large numbers of fibers out to neighborhoods (closer to the edge of the network) for faster, more reliable home broadband service. In recent years, we have observed some economic factors in the FTTH industry that are likely to carry over into 5G fiber deployments. These factors are intensifying just as the wireless industry is embarking on one of the largest fiber buildouts in history. Factors include the following.
Increasing

labor

costs

Decreasing qualifie

d labor

pool

Shortening proje

ct

deadlines

Expanding the number of contractor

s being

used
Many experienced fiber splicers are retiring. Seventy percent of construction firms report they are having a hard time filling hourly craft positions that represent the bulk of the construction workforce, according to the results of an industry-wide survey released by Autodesk and the Associated General Contractors of America.
In addition to being a career that requires excellent attention-to-detail and expert craftsmanship, fiber splicing requires many late hours due to service windows and unforeseen restorations from storms, construction errors, and other unplanned events. Today, only a select group of individuals possesses the unique splicing skillset needed along with the desire to work non-traditional hours, day or night.
One way to deal with the increased demand for fiber deployments is to hire and train more fiber splicers. But with the cost of labor increasing, the business case will be adversely impacted by throwing money at the problem and bringing on a huge number of highly trained splicers.
Alternatively, we can rely on better product solutions that reduce the need for highly trained splicing professionals, focusing instead on craft-friendly designs to complete relatively simple tasks like connecting radios to a backbone fiber.
Labor
Another industry trend gaining momentum is outsourcing network construction work to contractors. With the size and scope of 5G projects, it will be difficult to monitor every worker and how they perform their tasks. What's needed is a simple, repeatable installation process that will help reduce the learning curve for contractors.
Not all contractors are created equal—especially when it comes to fiber. If a 5G fiber termination solution is difficult to install, the fresh labor pool of technicians that contractors employ may struggle to meet installation timelines. However, a product set that uses industry-standard connectors and designs that snap together will reduce downtime in the network due to installer errors as well as reduce the time to install network elements.
In addition, an often-overlooked factor that should be considered to ensure a quality deployment is supporting and training from the manufacturer. Training is of paramount importance for both the contractor and the provider to ensure that fiber solutions are installed in an optimal fashion.
Speed
Several factors affect the speed, cost, and quality of a 5G fiber build. With FTTH, two solutions that have evolved to speed up fiber installations are plug-and-play technology and proper training. With a plug-and-play solution, outside-plant-rated connectors are used in lieu of conventional splices.
This creates an opportunity to save time not only during initial turnup but also when troubleshooting or operational moves, adds and changes are needed. With plug-and-play, instead of placing splice closures throughout the network (these closures require a trained splicing technician to open and splice), we can place a terminal, which is essentially a sealed patch field that virtually anyone can patch into using a terminated fiber drop cable.
Performance
In FTTH, we typically used a single fiber to feed each home. In most 5G applications, two fibers will be required per radio and in many cases, these will use the LC-type connector.
Not all fiber connectors are created equal either. These connectors should be qualified to Telcordia GR-326 standards so that operators have some assurance that they will perform as designed in the harsh outside plant (OSP) environment.
Cable assemblies that do not meet this standard may fail in extreme conditions. Further, any terminal that is used also should be designed to the GR-771 specification to ensure moisture does not invade the terminal and cause outages.
Fiber connectors create insertion loss in the network, which weakens the light signal traveling on the fiber. Whenever we place a connector into a system, we want to minimize the effect that this connector has on our optical link budget. (The optical link budget is the amount of light required to ensure an uninterrupted communication link.) 5G networks require superior performance standards for fiber-optic connectivity products. Solutions that minimize insertion loss are the preferred solution whenever placing fiber connectors in the field.
Microduct
As 5G deployments continue, the demand for new, innovative ways of placing, installing and repairing fiber increases. Solutions like microduct coupled with pushable fiber allow installations to take place that were previously considered unreachable. Using small diameter duct (≤10 mm) can radically cut deployment costs by using a narrow trench of one to two inches wide and up to two feet deep. This is called microtrenching and is a popular fiber placement method used in metro applications—especially in congested areas. Many local governments are sensitive to any construction that requires digging up streets and sidewalks. One of the biggest 5G challenges is permitting, especially in metro areas. A terminal solution designed for microduct can help ease placement costs.
As 5G technology evolves, new products will be needed. A fiber termination equipment vendor that can rapidly design, prototype and deliver customer solutions for a specific application can be the difference in bracing for the storm or being blown away. Getting ahead of this by using products and solutions that reduce installation time, limit restoration time, and simplify the overall project will ensure 5G networks are prepared for challenges ahead.u
Kevin Morgan is chief marketing officer with Clearfield. Currently he serves as the 2019 Fiber Broadband Association's chairman of the board. He has been a Fiber Broadband Association board member since 2010.