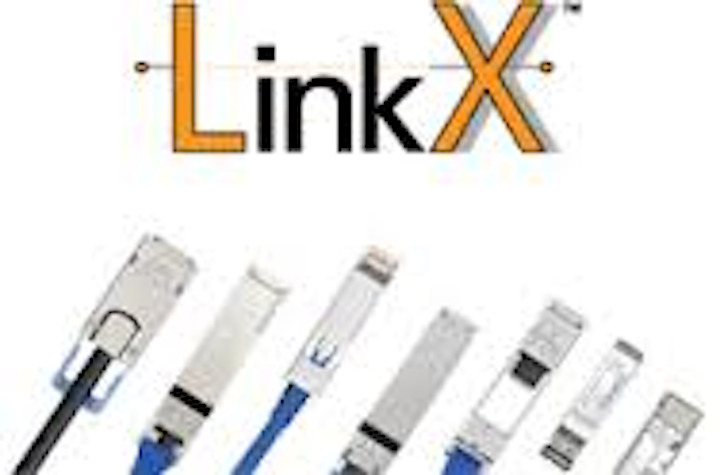 At this week's OFC 2015 (March 22-26) in Los Angeles, Mellanox Technologies(NASDAQ: MLNX), a specialist in high-performance, end-to-end interconnect solutions for data center servers and storage systems, announced commercial deployments of its new 100Gb/s LinkX active optical cables (AOCs) and direct attach copper cables (DACs) for data center and high performance computing applications.

The company says its LinkX cables use the high-density, low-power, low-cost QSFP28 form factor, enabling 36 ports in a 1U switch, making 100Gb/s deployments as easy as 10Gb/s. Further, Mellanox says its 100Gb/s active optical cables take advantage of a new generation of ICs which fully integrate multiple 25Gb/s clock and data recovery functions (CDR). At the same time, these ICs dramatically reduce power consumption for the optical engine to far less than 3.5W, the requirement of the small QSFP package.

"Mellanox is the first and only company to offer plug and play 100Gb/s copper, VCSEL and silicon photonics cables in the QSFP28 form factor," contends Gilad Shainer, vice president of marketing at Mellanox Technologies. "Our ability to drive 100Gb/s throughput over long distance DAC cables delivers a major cost advantage to our customers and reduces overall data center CAPEX and OPEX. All our cables are designed to make 100Gb/s deployments as simple as 10Gb/s ones."

To ensure that all LinkX cables and transceivers work the first time and every time, Mellanox subjects its products to a full system test in a stressed environment. All commercial versions of the company's LinkX interconnect products endure full system testing to Bit Error Rate (BER) 10-15 in order to maximize overall data center performance. BER 10-15 provides 1,000X fewer transmission errors than many competing products, notes Mellanox. Fewer transmission errors translate to fewer retries, higher system performance, and more revenue generating traffic.

"Network engineers don't have to waste time debugging a new installation with untested products," adds Mellanox's marketing VP Shainer. "With LinkX products, installation experts can bring up new clusters fast, with fewer interconnect problems and higher quality and signal integrity."

"With the high-performance and the amazing 10-15 BER of LinkX DACs and AOCs, we are achieving 100Gb/s full wire speed," asserts Jorge Vinals, director at Minnesota Supercomputing Institute at the University of Minnesota. "Our EDR InfiniBand cluster is the first of its kind in the U.S., and with 100Gb/s capabilities, the EDR InfiniBand large-scale cluster will help us perform critical research at the University of Minnesota."

Learn more about Mellanox's LinkX cables and transceivers.