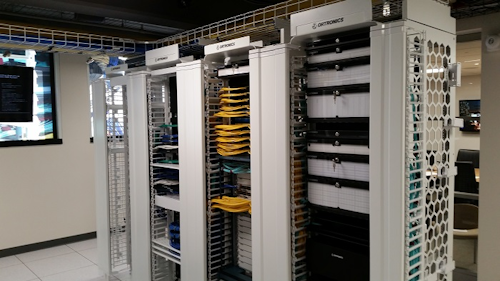 Wave2Wave Solution announced that it has expanded its EDGE cable fabric family with the addition of QSFP28 copper-based, direct attached cables (DAC). The company states that, with this addition, the EDGE cable fabric family now supports a broad set of data rates to meet businesses data center infrastructure needs.

"The newest addition to the EDGE cable fabric family, QSFP28 DAC, cuts down time to deployment in the data center significantly," comments David Wang, founder and chief executive officer of Wave2Wave. "With these turn-key offerings, operators and integrators can build a spine-and-leaf cluster or a server rack with hundreds of cables within an hour – an undertaking that would typically take days to build otherwise."

According to the company, the EDGE series is a single cable product family used to build a network fabric for spine-and-leaf, data center infrastructure, and server rack-and-stack environments. The series simplifies infrastructure design and purchasing as it allows for all needed items to be purchased within a single family, enabling businesses to standardize their cable infrastructure and testing across all systems.

Wave2Wave says the QSFP28 DAC offering supports higher data rates – now up to 100Gbp/s – with near-zero wire speed latency and no power consumption, reducing data center energy use, CAPEX and OPEX. These offerings are ideal for applications including fiber channel over Ethernet; data storage; and data center, storage area, telecommunications and enterprise networks.

Key features of the QSFP28 DAC offering include: four-channel, full duplex passive copper cable transceiver capability; up to 25 Gbp/s per channel, for a maximum aggregate data rate of 100 Gbp/s; conforms to SFF-8665 IEEE 802.3bg 100 GEBASE-CR4; copper link length up to 3 meters; power supply of +3.3V; low crosstalk; I2C-based two-wire serial interface for EEPROM signature that can be customized; and an operating temperature of 0-70 degrees Celsius.

For more information about the EDGE cable fabric family and the QSFP28 DAC, please visit: http://www.wave-2-wave.com/.
Search the Cabling Installation & Maintenance Buyer's Guide for companies, new products, press releases, and videos: