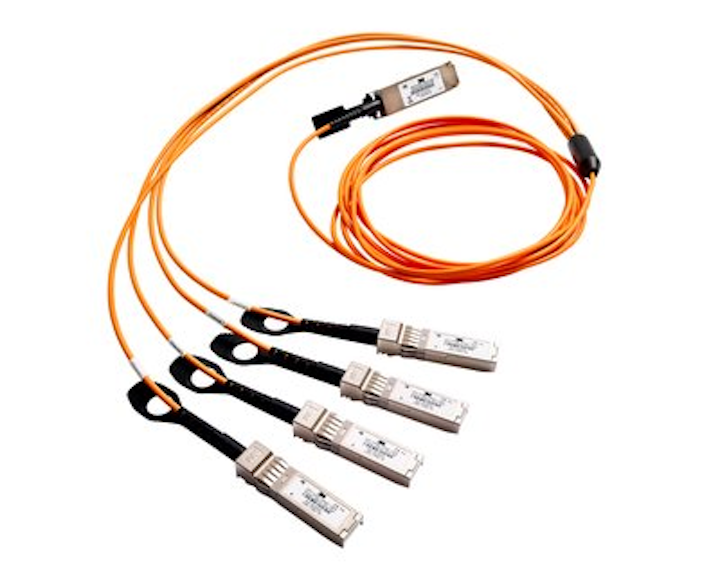 A fiber fanout cable assembly supporting the interoperability of 40 Gigabit Ethernet (40 GbE) switch ports and 10 GbE server ports is now available from the 3M Electronic Solutions Division. 3M says its new active optical cable (AOC) assembly for QSFP+ to SFP+ applications incorporates both VCSEL and 3M's own light-engine technologies to deliver exceptional cost and performance value for data centers and high-performance computing (HPC) clusters.

The hybrid AOC assembly transitions a single QSFP+ port with four parallel channels to four individual, single-channel SFP+ ports in top-of-rack (ToR) applications and at distances up to 100 meters. The fanout cable assembly addresses a common data center and HPC problem in which QSFP+ switch ports are under-utilized. Because the 3M fanout assembly allows direct-attach transitions at a one-to-four QSFP+ to SFP+ ratio, more 40 GbE uplinks can be deployed.

"This new AOC fanout assembly from 3M helps simplify cable routing for 10 GbE aggregation and 40 GbE top-of-rack applications while allowing optimization of the limited QSFP+ uplinks found on today's network switches," comments Jeff Bullion, marketing manager, System and Components Business, 3M Electronic Solutions Division. "It provides a true plug-and-play, low-cost, low-power and low-latency alternative to the pluggable modules and patch cords commonly used today."
Related: Application guide links fiber-optic infrastructure, 10-to-40 GbE data center switches

With no optical splices, 3M says its AOC assembly for QSFP+ to SFP+ applications provides seamless, end-to-end connectivity over bend-insensitive multimode fiber. With the assembly, the number of connections is cut in half compared to traditional module solutions, claims the company. Fewer connection points can improve reliability, reduce optical loss and latency, and lower power consumption.

The cable assembly supports cost-efficiency in a number of ways, asserts 3M. Each of the cable assembly's parallel channels is synchronized to provide interoperability between the 40 GbE and 10 GbE interfaces, which limits the amount of optical debugging and tuning required, which can speed up installation. The lightweight, thin fiber assembly makes cable routing and dress-out easier while allowing better air flow in the rack, potentially reducing cooling costs. In addition, one product replaces three (two types of transceivers and a fiber cable), lowering cost and reducing purchasing and inventory management complexity.

The cable assembly is available in lengths up to 100 meters with the individual and uniform fanout lengths ranging from 1 meter to 2.5 meters. It is designed to meet SFF-8436, -8431, -8472 and -8432 standards. All 3M Active Optical products meet FCC Class B and CE Emissions and Immunity requirements, CDRH/IEC 60825-1 and are RoHS 2011/65/EU compliant.

See also: Siemon intros 40Gb/s hybrid QSFP+ to SFP+ fanout cable assembly