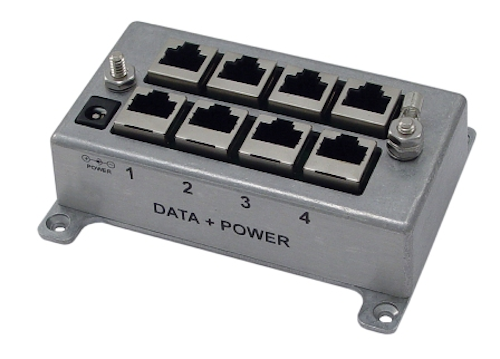 L-com has added two Power-over-Ethernet (PoE) midspans for Category 6 Gigabit Ethernet lines: a single-port (BT-CAT6-P1) and a four-port (BT-CAT6-P4) model. The products are IEEE 802.3af-compatible for power transmission over Cat 6 Ethernet cabling, and are available either individually or in kits with 48VDC power supplies, at either 48W or 70W.
The company notes that both new models use Gigabit transformers on all four data pairs, in contrast to cheaper designs that may only use transformers for two pairs. The midspans also feature die-cast aluminum housings with integral mounting feet for long-term installations. The metal housings help to reduce EMI interference on the Ethernet lines, while also providing superior grounding via directly-attached ground lugs and terminals.
Detailed datasheets and 2D engineering drawings for the single-port and four-port models are available for download from L-com's web site.
Search for PoE Powering Devices in the Cabling Installation & Maintenance Buyer's Guide