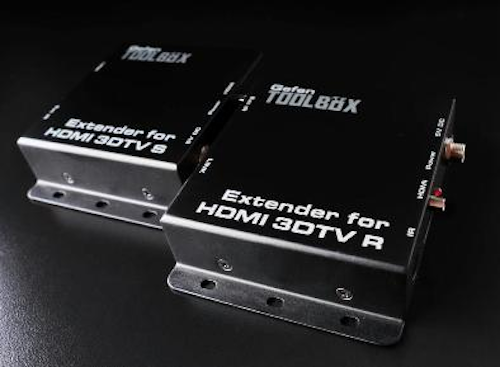 Built on HDBase-T technology, the HD KVM ELR (Extra Long Range) extender from Gefen enables a single Category 5 cable to transmit 1080p full HD with 3DTV pass-through and USB from source to display, up to 100 meters. Previous-generation extenders still required two Cat 5 cables for transmissions of that length.
"With the HD KVM ELR, you can extend hi-def video to the ideal area for your display and peripherals," said Gefen president and chief executive officer Hagai Gefen. The extender is ideally suited for post-production editing suites where computers are isolated in machine rooms or closets, and high-definition video with keyboard/mouse peripherals are extended to the edit room.
The device extends laptops, Blu-rays and any other electronics using HDMI to a flat-panel display or projector equipped with HDMI. The ELR technology bundles the delivery of 1080p full HD with USB peripherals for excellent performance, Gefen says. The receiver unit supports the connection of HDMI and three USB devices.
Locking power supplies on both sender and receiver eliminate potential system interrupts. USB data speeds reach up to 100 Mbits/sec for instant delivery. A mini-USB port is provided for field upgrades to enhance the product's lifespan.