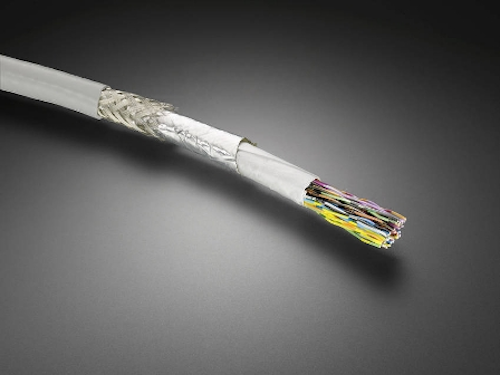 HARRISBURG, PA. -- Tyco Electronics has launched its Madison Cable brand Cat 5e miniature trunk cable, designed for the telecommunication and data communication industries. The product, available in shielded or unshielded configurations, eliminates cable congestion, offering a flexible, easy-to-route interconnection for use in high data-rate Ethernet and xDSL applications, according to the company.
A central feature of the product includes its reduced diameter for improved routing within, or between, cabinets and frames for central offices or telecommunication closets. Additional benefits include: reduced weight, improved cabinet/frame airflow and easier handling and routing.
The multi-pair cables can be customized for specific applications as they include a variety of pair-counts and AWG sizes. Non-halogen and outdoor rated configurations and customizable shielding are also offered.
The product meets industry standards (TIA/EIA 568, ISO 11801), safety ratings (UL/CSA), and ADSL/VDSL2 and GbE (Category 5e) requirements. Additionally, the product fits a wide selection of industry standard connectors.
Specific applications include: Cat 5e, DSLAM, Gigabit Ethernet routers/concentrators, ADSL/VDSL Frames, xDSL cross-connects, trunk splice, and FTTN pedestal applications.
For more information on the Cat 5e miniature trunk cable, refer to Marc Dupuis at Tyco Electronics/Madison Cable at 1-508-926-4145, or the company's Product Information Center at www.tycoelectronics.com/help. A product flyer (literature number 1773456-1) can be requested through this system.