Leviton receives third-party verification of OM3 fiber system
Intertek tested three separate fiber-optic channels comprising Leviton products and found they all met TIA-568-C.0 specs.
Jan 6th, 2010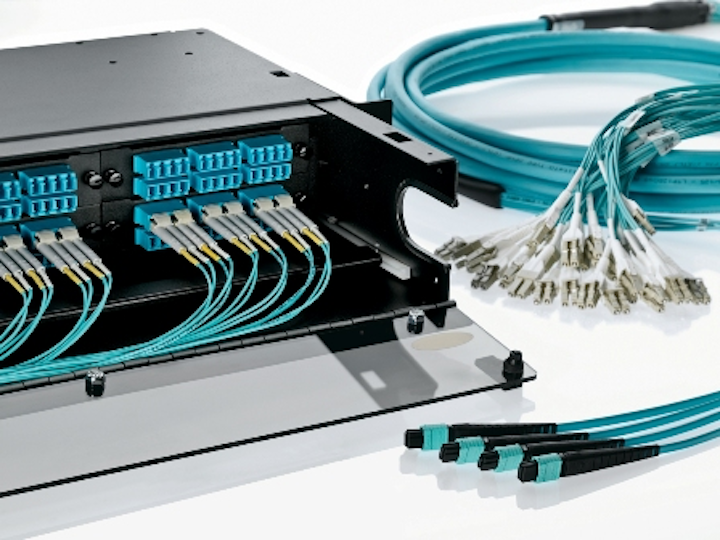 Leviton's OM3 fiber system has been third-party tested by Intertek and shown to exceed the performance requirements to support 10GBase-S, the manufacturer has reported. Intertek tested three different fiber-optic channel configurations to assure compliance to the maximum insertion loss requirements specified in the TIA-568-C.0 standard.
The channels used all of Leviton's OM3 system products including preterminated MTP trunks, MTP-LC cassettes, MTP harnesses, MTP brackets, and patch cords. The channels were configured with 6, 8, and 9 mated connector pairs in lengths of 300, 53, and 62 meters to show typical data center applications as well as maximum flexibility, Leviton explains. The 8-mated-pair configuration, for example, used 4 MTP-LC cassettes and 53 meters of OM3 cable. All 12 channels were set up and tested as specified in the C.0 standard to the maximum channel insertion loss of 2.6 dB for 10GBase-S.
"All configurations tested were found to be compliant to the maximum insertion loss requirements as specified in TIA-568-C.0," said Paul Alt, senior project engineer at Intertek. "The variation in loss between each channel tested was very minimal, demonstrating consistent performance for all samples tested."
"The third-party testing done by Intertek highlights the excellent performance and margin Leviton consistently delivers in their preterminated fiber solutions," stated Gary Bernstein, RCDD, director of fiber product management with Leviton. "We are excited to be the first manufacturer to have an independent fiber-channel verification completed."
Intertek completed summary reports of the test results; those reports are available from Leviton.
Visit Leviton Network Solutions