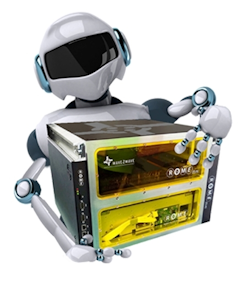 Wave2Wave Solution
Wave2Wave Solution (Fremont, CA), a specialist in physical layer automation technology, has introduced its small form factor robotic fiber switch, the ROME Mini.
According to the company, the ROME Mini is sized at 19", making it rack-mountable for data center installations, as well as the ideal size for locations where optical fibers are running, such as sub-sea cable landing stations, outlying mobile backhaul facilities or the limited space under floors.
"The ROME family is evolving its robust platform of precision mechanical technologies, robotic motion systems, fiber latching connections and software capabilities," explains David Wang, gounder and CEO of Wave2Wave. "Customers have been asking for an autonomous network with full SDN/NFV capability and we are enabling this revolution. By taking the power of automation down to the physical layer, we're providing the missing link."
With its more than 200 fiber capacity, ROME Mini offers a lower price point of entry while providing significant capex and opex savings for network operators via automation, maintains Wave2Wave.
"We are looking forward to working with Wave2Wave as they continue to listen to the needs of customers and act responsively to the market," asserts George Kimura, President and CEO of NTT Advanced Technology. "The ROME Mini is a perfect example of how Wave2Wave continues to develop and innovate, by evaluating the changing market demands and building the right form factor for the right applications."
Wave2Wave says it specifically expanded its ROME product portfolio to include the Mini model in response to the fast-growing demands of edge computing, 5G, IoT, and AI, as those technologies grow to support a new generation of applications such as self-driving cars.
"Japan has a high level of fiber penetration and we must take the network from manual to automated," offers Ryusaburo Sugimoto, President (Representative Director) of Japan's Hakuto Co. Ltd. "We are leading the way in network innovation and Wave2Wave's ROME Mini provides the right automated solution for fiber access and 5G edge networks."
The ROME Mini is available for customer orders immediately and will be shipping on Oct. 1, 2019. For more information, visit: http://www.wave-2-wave.com/.