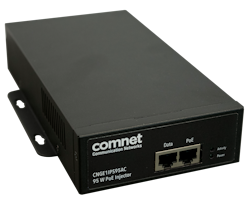 ComNet
ComNet (Communication Networks - Danbury, CT), a U.S.-based manufacturer of fiber-optic transmission and networking equipment, has introduced two hardened PoE power injectors for applications were higher requirements for operating power exist on an Ethernet network.
The CNGE1IPS75AC (75 Watt) and CNGE1IPS95AC (95 Watt) hardened Ethernet PoE power injectors are designed to supply PoE operating power to powered devices (PD) that require greater power than can be provided by IEEE 802.3at for power sourcing equipment (PSE).
These midspan injection modules inject 50-57 VDC to any network cable. Operating power and 10/100/1000TX Ethernet data are easily combined on one cable, eliminating the need to install additional power outlets and electrical cabling. The new models are fully compliant with the requirements of IEEE 802.3at for PSE, and feature auto detection of PDs.
"We are consistently being pushed on the demand for PoE capabilities," comments Andrew Acquarulo, ComNet's president. He adds, "There are many PoE powered devices available that require greater operating power. These 75 and 95 Watt devices can provide that greater power and stand up to difficult industrial environments. Our switches have always been ahead of the curve when it comes supporting PoE. Where there was a need was for hardened supplies to meet that demand for greater power. These products satisfy that demand."
Transmission distances of up to 328 feet (100 meters) are supported by the new models; the injectors supply operating power for PDs drawing a maximum of 75 and/or 95 watts (model dependent). Ideally suited to fiber-optic, wireless, or other networks where it may be difficult to furnish operating power to the PDs, the manufacturer says these units "offer a true plug-and-play product requiring no user configuration or other set-up."
"ComNet's goal from day one has been to be a smart and secure choice for transmission products," says Skip Haight, ComNet's VP of marketing. "Our position is that if you are concerned about the long-term success of your application, choosing ComNet ensures it. Developing these hardened power supplies will continue to differentiate us from our competitors," Haight added.
ComNet, part of ACRE, offers an extensive line of fiber-optic, copper and wireless video and data transmission equipment uniquely designed to meet the needs of the security, intelligent transportation system, utility and industrial markets. Full product line details are available at www.comnet.net. Call the company directly at (203) 796-5300 or email info@comnet.net for more details.