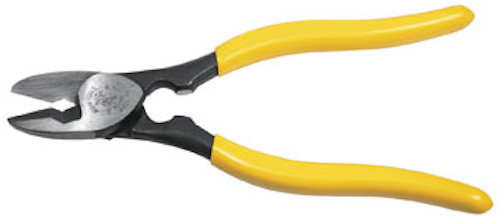 From the September, 2014 Issue of Cabling Installation & Maintenance Magazine
---
Compiled by Matt Vincent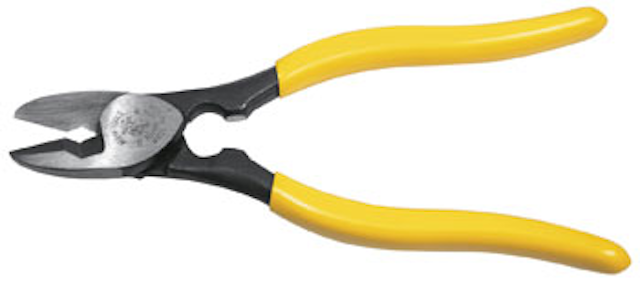 Klein Tools has expanded its Voice/Data/Video (VDV) product line with the addition of its Coax Cable Cutter - CCS tool. Made in the USA, the forged multi-functional cutter is optimized to cut copper-clad steel (CCS) coaxial cable in addition to other steel, aluminum and copper wires and cables. It is designed to withstand cutting steel-core coaxial cable without damaging the knives or deforming the cable while the shears cleanly cut and snip other wires or cables, says the company.
This single tool provides a critical solution for electricians, voice/data/video technicians and security installers that work with a variety of cables and wires on the job, contends the company. Specifically, Klein's Coax Cable Cutter - CCS' (Cat. No. VDV600-096) key features include: a specialized notched blade designed to withstand cutting steel cable including copper clad steel (CCS) coaxial cable such as RG-59, RG-6/6Q, RG-7 and RG11; and a blade geometry that ensures copper-clad steel (CCS) coaxial cable retains form when cut to facilitate easy insertion into connectors.
Plastic-coated for maximum comfort and grip, the shears are designed to cleanly cut and snip solid and stranded copper, aluminum, UTP/STP twisted pair wires and cables. With a through-hardened custom US-made tool steel design, the tool has a hot-riveted joint for durability and features high-leverage handles for genuine one-handed operation.
"The number of tools that a typical journeyman requires on the job can be considerable let alone expensive," states Sean O'Flaherty, senior product manager at Klein Tools. "For example, if the correct wire cutting tool is not at hand, a substitute may be used as a quick fix causing early blade degradation of the tool and safety concerns for the user. The Klein Coax Cable Cutter - CCS, first and foremost, cuts copper-clad steel coaxial cable without blade degradation or cable deformation but, it is also equally proficient when cutting other data and communication cables such as twisted pair thus delivering on multi-functionality and convenience at a lower cost."
---
HDMI-over-IP controller enables matrix switching, video wall control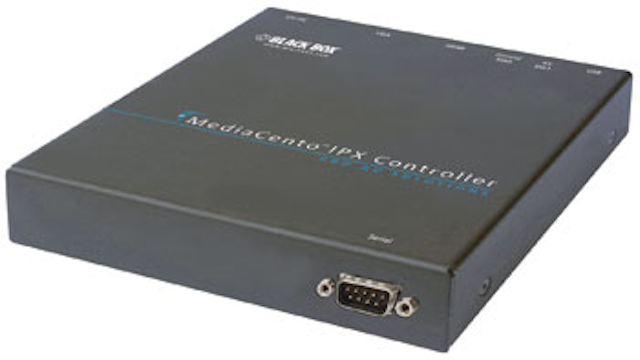 Black Box recently unveiled a pair of new products targeting the market for audiovisual (AV) communications systems.
Firstly, the company now offers what it considers the largest selection of HDBase-T-recommended cables in the industry (Black Box is also a newly inducted member of the HDBase-T Alliance at the Adopter level). The cables include the company's GigaTrue Cat 6 and GigaBase Cat 5e bulk cables. Users can choose from 72 different cables: shielded or unshielded with PVC or plenum jackets, in nine different colors.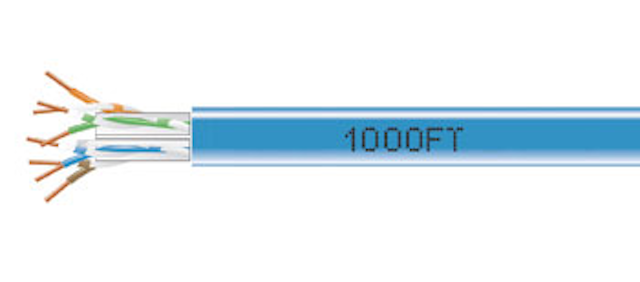 According to the company, to be designated "Recommended" for use with HDBase-T, all cables passed testing by the HDBase-T Alliance. Black Box also puts the cables through independent third-party ETL testing. The unshielded cables are ETL Verified for component-level performance and are also ETL Verified as part of the company's end-to-end channel solutions. In addition, Black Box cables are UL Listed, and the company regularly puts its cables through burn tests to ensure compliance with industry standards. The cables are also guaranteed for life.
Customers easily can find the exact cable they need with the company's online cable selector at blackbox.com/go/Configurators.
Separately, Black Box also introduced its MediaCento IPX Controller, an appliance that enables IP-based video matrix switching and video wall control for HDMI-over-IP solutions. The new network appliance enables browser-based control for managing network connections between content sources and endpoints. The MediaCento IPX system enables extension of HDMI video and USB over an IP network to a virtually unlimited number of screens and video walls.
Using an internal Web server interface, users can switch from any source to any display, create pre-sets and combine multiple receivers into a video wall, and control and switch video wall zones remotely. The controller also features mobile support to allow users to easily access and activate pre-sets from their mobile phone or tablet device. Because it is IP-based, there are no port limitations and it can support hundreds of individual screens and video walls up to 8 x 8 in size.
Setup is easy; the MediaCento IPX Controller automatically detects any MediaCento units in the network and pulls them into the Web interface for easy control. The controller has two Ethernet ports to coordinate video connections on one network and receive control signals from another network. For example, connections over a dedicated video distribution network can be controlled from a corporate LAN or the Internet using a mobile phone, tablet, or office computer.
"The embedded MediaCento IPX Controller device combines video distribution over IP and flexible matrix switching with highly impressive and cost-effective video wall control, a combination previously unheard of," comments Erik Indresovde, Black Box's global AV product manager.
---
Millimeter wave antennas handle 60-GHz signals at 1km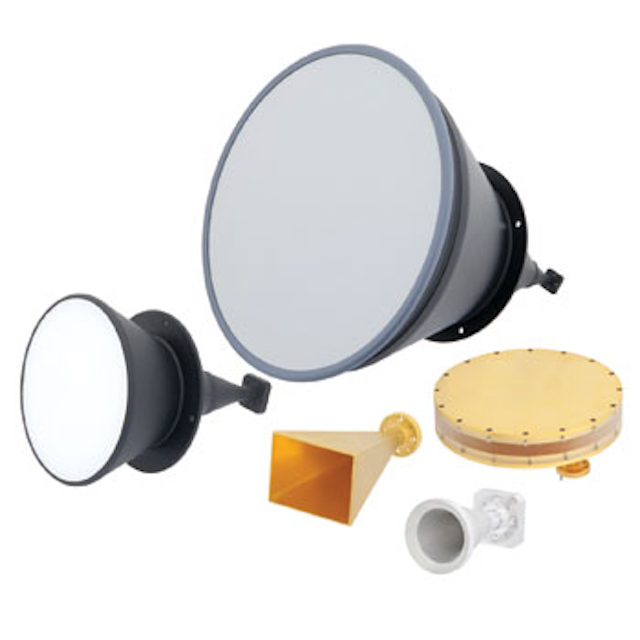 Pasternack Enterprises, a manufacturer and supplier of RF, microwave and millimeter wave products, has released its WR-15 family of high-frequency waveguide antennas, designed for a range of high-bandwidth applications including point-to-point links, Gigabit Ethernet wireless LANs, millimeter radiometry, uncompressed HD video, FMCW radar, millimeter scintillometry, campus networks, and multi-gigabit wireless communications.
Offered in the new product release are the four high gain WR-15 horn antennas operating between 50 GHz and 70 GHz and available in 20 dBi, 24 dBi, 34 dBi and 42 dBi gain models. Pasternack's WR-15 waveguide horn antennas are designed to pair seamlessly with the company's recently added 60-GHz transmit/receive development system (PEM003-KIT), which enables companies to experiment and develop applications in the globally-unlicensed 60-GHz frequency band.
Using two of Pasternack's WR-15 beam antennas rated to 42 dBi gain (PE9881-42), a user is able to transmit and receive a 60-GHz signal at a distance of one kilometer (km), making these antennas an ideal solution for high-frequency point-to-point backhaul.
Also available now, Pasternack's new omnidirectional millimeter wave antenna (PE-W15A001) is a vertically polarized WR-15 waveguide connected antenna using a standard UG387/U flange that operates between 58 GHz and 63 GHz. This omnidirectional millimeter wave antenna has a 30-degree vertical beam width and a 360-degree horizontal gain variation, making it suitable for short-range wireless communications, indoor networks, high-frequency applications and 60-GHz development systems. The millimeter wave omnidirectional antenna is constructed with a durable brass waveguide input and lightweight aluminum body.
"The addition of these 60-GHz WR-15 antennas is a great complement to our growing lines of millimeter wave products that help address the emerging markets around 60-GHz technology," comments Gerry Camacho, vice president of technical marketing at Pasternack.
---
45-degree angled Ethernet cables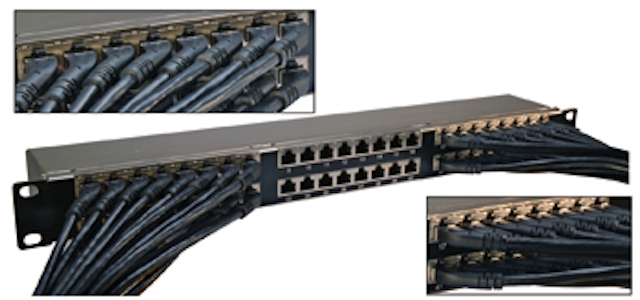 L-com is now offering 45-degree angled Cat 5e and Cat 6 Ethernet cables in both shielded and non-shielded versions. The new cables compliment L-com's existing 90-degree Ethernet cables, adding a professional look with efficiently organized cable exits.
The new Ethernet cables will be particularly beneficial for IT departments that utilize high-density patching of Ethernet cables, says the company. The new products' patent-pending design reduces cable stress and provides patch cables that have a clean appearance without restricting access, adds L-com. Notably, the new cables are available in a variety of colors, including: blue, black, gray and red, to allow IT professionals to distinguish between different cable functions and avoid the use of difficult-to-read labels. The 45-degree cables are also available in five cable length variations of: 1, 3, 5, 7 and 10 feet.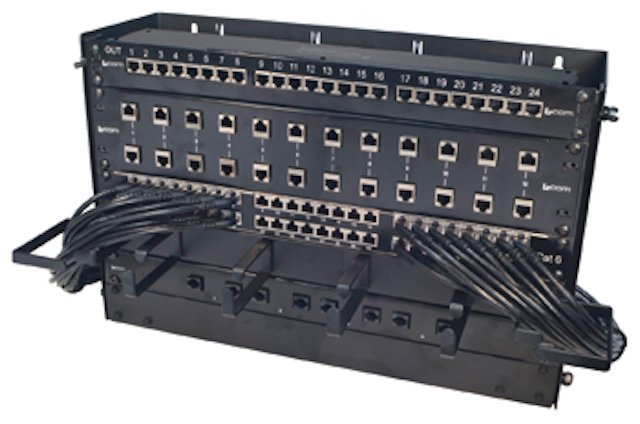 L-com says its exclusive 45-degree design efficiently transitions network cabling to the rack sides. The 45-degree angled patch cables also feature a specialized channel separator and load bar for improved Cat 5e and Cat 6 performance. The angled, low-profile cables also make it easy to horizontally stack connectors. Both left and right orientations are available, and all stock options are left- or right-angled to a standard straight RJ45 connector.
"This product is simply the neatest data center cabling solution I've seen," asserts Nick Nash, VP of information technology for L-com. "When used with the high-density Ethernet ports that are common on switching gear and patch panels, these cables will be easy to latch or unlatch. This will help to eliminate human error when removing plugs from ports. I've decided to deploy these cables in all L-com data centers."
---
TE Connectivity launches new passive fiber-optic products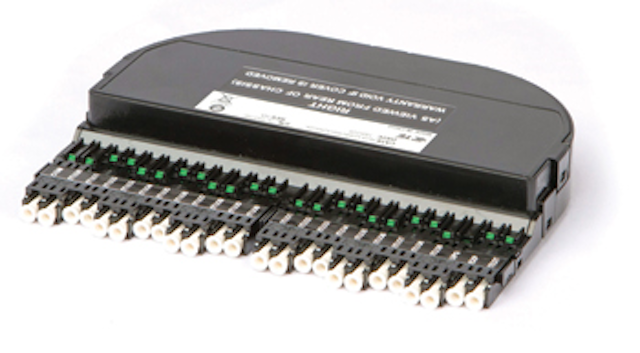 In June at the 2014 FTTH Conference & Expo in Fort Lauderdale, TE Connectivity introduced new passive fiber-optic products optimized for use in the central office environment. TE has expanded its NG4access value-added module (VAM) portfolio to include splitter modules with 1x32 split ratios, and dense wavelength division multiplexing (DWDM) modules to meet 40-channel applications. For the outside plant, TE has unveiled a coarse wavelength division multiplexing (CWDM) module for use in fiber distribution hubs in 8-, 10- and 16- channel configurations.
TE's NG4access VAM product family comprises monitor, splitter, CWDM and DWDM optical components. According to the company, with one click, the VAMs can effortlessly install into the NG4access universal chassis (which features one of the highest connection densities in the industry) for adding fiber capacity, troubleshooting or distributing optical signals to multiple subscribers. The newly designed splitter VAMs are available in split ratios of 1x2 up to 1x32 configurations. In addition, higher-channel-count DWDM modules have been added to the VAM portfolio and include 16-, 20- and 40-channel configurations.
The newly available plug-and-play CWDM modules are designed to fit in all TE fiber distribution hub 3000 cabinet sizes. The module can multiplex two or more signals with different wavelengths in one common fiber, or separate wavelengths at the remote location. The ruggedized cable protects from repeat handling and extreme temperatures from minus 55 degrees C to 85 degrees C. Factory-terminated plug-and-play SC/APC connectors ensure fast subscriber turn-ups, saving operators time and cost. Available in 8-, 10- and 16-channel configurations, the CWDM module offers a simple way of adding more services and bandwidth to outside plant applications.
"Fiber-to-the-home (FTTH) operators face the challenges of maintaining their competitive position in the marketplace, while simultaneously being tasked to deliver more services over their existing fiber infrastructure," says David Brown, vice president and CTO of TE Broadband Networks. "TE's passive fiber-optic solutions help mitigate these challenges by offering easy-to-install optical components that can be fully integrated into all areas of the FTTH network. Plug-and-play fiber-optic solutions enable faster service turn-ups and offer a cost-effective approach for adding fiber capacity at critical network access points."
---
CommScope, Hydrogenics partner on indoor backup power system for data centers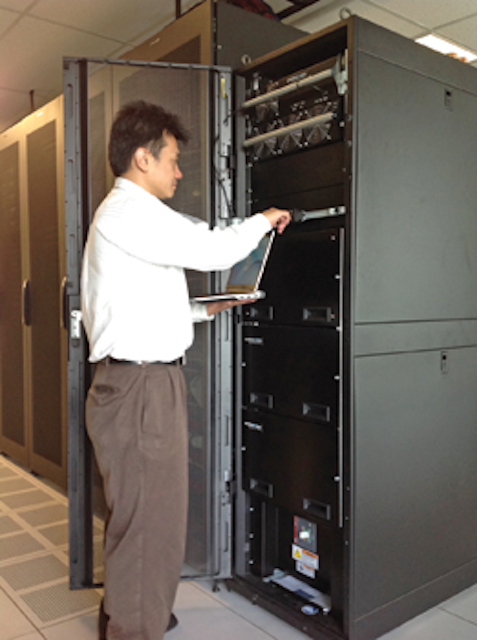 Following the recent launch of its outdoor hydrogen fuel cell backup power solution, CommScope now offers a compact indoor system for providing reliable backup power for enterprise data centers in North America. Believed to be the first-of-its-kind, the company says its new scalable indoor fuel cell platform can provide up to 30 kilowatts (kW) of reliable, environmentally-friendly backup power to enterprise computing systems. The platform offering is enabled through an existing partnership with Hydrogenics Corporation, a global specialist in designing, manufacturing, building and installing industrial and commercial hydrogen systems.
According to the companies, with the new scalable indoor fuel cell platform, multiple power racks can be installed to scale in 30kW increments and sustain a variable runtime from hours to days, based on customer requirements and hydrogen tank options. With the width of a standard server cabinet and the height of only six-and-a-half feet, the cabinet can easily fit at the end of a data center row without taking up a large amount of valuable real estate. When paired with an appropriate uninterruptable power supply (UPS), the scalable indoor fuel cell rack can be configured for 10, 20 or 30kWs of sustained alternating current power.
The fuel cell solution is quiet, emits no greenhouse gases and can be deployed indoors with the hydrogen fuel tank sited outside the building. The new racks are presented as an ecological alternative to battery racks and generators. The system converts chemical energy directly into electrical energy without any combustion. The new platform provides highly efficient, reliable and uninterrupted backup power to data center and business systems without the need for costly regular maintenance. The only byproducts are heat and a small amount of water, notes CommScope.
"Power loss can affect lines of businesses and impact the ability to maintain service level performance with customers," says George Brooks, senior vice president, enterprise product and market management, CommScope. "This indoor solution provides an efficient level of reliable backup power as an alternative to traditional generators or large battery racks that can take up lots of space in the data center."
CommScope will offer the indoor and outdoor hydrogen fuel cell backup power solution through its PartnerPRO Network, which can assist customers with site planning, installation, commissioning and ongoing maintenance of the backup power solution.
"Space within most data centers is at a premium and this backup power solution takes up the least amount compared to a battery rack or other backup power solutions," adds Daryl Wilson, chief executive officer, Hydrogenics. "Operating expense is another growing concern for data centers and, depending on the configuration, the indoor hydrogen fuel cell solution can be a lower-cost solution than traditional power solutions after just two or three years."
---
Training DVD covers high-speed fiber-optic systems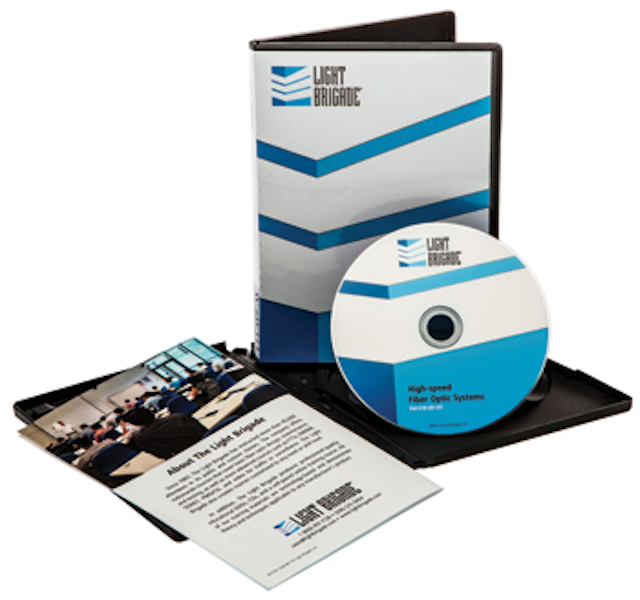 The Light Brigade, AFL's education and training division, has introduced its latest menu-based staff training DVD, entitled "High-speed Fiber Optic Systems." The trainer says the new DVD examines the rapid improvement of spectral efficiency within fiber-optic systems and addresses how advanced modulation formats work to help meet the demand for higher-speed data transmission.
The DVD features nine chapters providing insight into the newest modulation formats and techniques, helping users achieve greater reliability, flexibility, scalability and ultimately greater efficiency within their fiber-optic infrastructures. The program addresses such formats as coherent transmission, forward error correction, digital signal processing, software-defined networking (SDN), and optical amplification and switching.
"The demand of high-speed transmission systems requires new techniques to transmit and receive high-speed signals," comments Dario De Paolis, vice president and general manager of Light Brigade. "This DVD addresses how advanced modulation formats coupled with forward error correction and coherent detection technologies achieves this goal."
In addition, the DVD includes a customizable bonus quiz for students. An instructor version is also available.
---
AFL optimizes short-to-midspan aerial fiber-optic cabling
AFL announced an expansion of its All-Dielectric Self-Supporting (ADSS) product line with the introduction of its Flex-Span ADSS, an aerial fiber-optic cable engineered for the most demanding environmental conditions. According to the company, the Flex-Span product also allows for a broader combination of fiber counts and span lengths, providing greater flexibility in product selection and design options.
Similar to its standard ADSS cabling, AFL says the new Flex-Span line uses dry-core technology and contains gel-filled buffer tubes that are S-Z stranded for easy mid-span access. Deployment of the Flex-Span cabling requires no support or messenger wire; with the cabling, network installation efficiency is thereby eased, contends AFL.
The Flex-Span cabling is available with up to 144 fibers and any type or combination of single-mode or multimode fibers within the cable. Span lengths are between 50 and 1100 feet and recommended for use with helical wrap style hardware.
"As AFL expanded its ADSS cable solution, we focused on the needs of our customers," explains Jon Potter, product manager for AFL's cable line. "Flex-Span is a customizable, highly optimized solution that is easy-to-use and ideal for aerial applications where short to midspan length is needed."
---
OCA Alliance debuts standards-based open control architecture for AV devices
The OCA Alliance, a global consortium of companies developing the Open Control Architecture (OCA) as an open standard for controlling professional AV devices, demonstrated the benefits of its flexible, robust technology for the first time at this year's InfoComm 2014 conference.
OCA defines a flexible and robust control standard that complements any media-transport standard. By adding standard system control to the media-network equation, OCA will allow devices from multiple manufacturers to share common controllers. This will allow seamless user experiences of multivendor systems, says the Alliance. At InfoComm, the consortium exhibited some of the first products implementing OCA from its member companies, with technical experts present to explain the technology and the demonstration.
The specific interoperabilities addressed in the demonstration included a Focusrite RedNet 4 Ethernet networked studio interface, a Bosch Audio Processing Switch (APS), and a d&b D80 amplifier interoperating and being controlled by a software application developed by OCA Alliance members. Also in the demonstration are two other capabilities: a d&b controller with R1 remote control software controlling the d&b D80, along with a Focusrite control program controlling the RedNet 4.
Jeff Berryman of Bosch, the OCA Alliance's Technical Workgroup Chair, said every component in the demonstration is interoperating as expected. "I am pleased to report that the demonstration is a major success," he added. "When one controller changes something, the addressed device changes the value accordingly and the other controllers monitor the changes correctly."
"The InfoComm show is a great opportunity to present the results of our efforts to the industry and to the public," said the OCA's Marketing Workgroup Chairman, Marc Weber of d&b audiotechnik. "The public InfoComm booth marks the next stage in the evolution of the architecture, which is now becoming more tangible for the user with the first products from these manufacturers entering the market."
---
CABLExpress cuts diameter, weight of data center fiber-optic trunk cabling
At the NY Tech Summit on June 19, CABLExpress announced that it has reduced the diameter and weight of its Skinny-Trunk fiber-optic trunk cables to allow for increased capacity and ease of cable management in data center infrastructure systems.
According to the company, changes to the Skinny-Trunk fiber trunks include: a reduction in overall cable diameter by an average of 18 percent across all fiber counts; a decrease in the weight of trunks by an average of 47 percent across all fiber counts; and a reduction of MTP breakout legs by 33 percent, from 3 mm to 2 mm.
"These fiber trunks will help organizations maximize the overall efficiency of their data centers," comments Lisa Belodoff, vice president of CABLExpress. "Our engineering team works in partnership with our customers to develop solutions for issues they're dealing with on a daily basis. These enhancements will not only make their jobs easier, but provide a clear benefit when evaluating total cost of ownership of the IT infrastructure spend."
In addition to the physical changes to the Skinny-Trunk fiber trunks, the product enhancements also allow for a decreased bend radius of the cabling, adds the company.
"The bend radius impacts overall performance because the lower the bend radius, the lower the potential for signal loss," notes Kent Goldsmith, RCDD, DCDC, engineering manager at CABLExpress. "By reducing the opportunities for signal loss and network downtime, organizations are also minimizing the risk of disrupting the critical business processes that their customers, patients or students rely on."
---
Legrand renames fiber product line, launches field-installable connector
Legrand announced the renaming of its complete fiber-optic networking infrastructure line to "Infinium," offering a range of products and systems, including high-density fiber modules, field-installable connectors, cassettes and adapters, as well as patch cords, harnesses, fiber enclosures and trunk cables.
The company says the full product line provides the exceptionally high performance levels that its previous Ortronics platform was known for, as well as unsurpassed integration with the rest of the company's physical infrastructure offering, such as racks, cabinets and cable management.
Concurrent to the renaming, Legrand also announced its newest product: the Infinium field-installable connector. The connector uses index-matching gel and a mechanical splice in the connector housing to make a highly reliable and stable connector. The company says the Infinium field-installable connector requires no special tools for installation and terminates in less than two minutes.
According to Legrand, other key features of the Infinium field-installable connector include: no epoxy, polishing or fusion splicing required; reusable termination capability (up to 3 times); and a VFL window for proper installation. The connector is available in LC or SC versions with either laser-optimized 50 micron or singlemode fiber.
---
Amtrak seeking trackside WiFi all along its D.C.-to-Boston route
Amtrak recently announced it is exploring options to upgrade its onboard WiFi service in the Northeast Corridor (NEC), "with a particular interest in constructing a dedicated, wireless trackside network that provides a high-capacity, broadband-speed Internet connection between Washington and Boston," the rail service said.
"A wireless trackside network would provide passengers a true broadband experience," Amtrak continued, "close existing coverage gaps along the NEC, and allow Amtrak to drop current restrictions on streaming media and large file downloads."
Chief marketing and sales officer Matt Hardison added, "We know that our customers want a consistently reliable and fast on-board WiFi experience-something we cannot guarantee today on our busiest trains when hundreds of customers want to go online at the same time-and we want to make that possible."
The company is soliciting bids for a proof-of-concept project, the goal of which is to increase available bandwidth per train from today's 10 Mbits/sec to a minimum of 25 Mbits/sec-and scalable to even faster speeds as technology advances, Amtrak says. "Results of the project will be used to determine whether it is technically and financially feasible to construct such a network along the entire 457-mile NEC," it added.
---
Industrial Category 6A cables withstand continuous flex, torsion
Category 6A cables can provide fast data transmission rates in Industrial Ethernet systems, yet these cables usually cannot withstand the continuous flex or torsion requirements associated with moving machine applications. New from Lapp USA, the EtherLine CAT.6A cables remove this limitation. Previous continuous flex industrial Ethernet cables offered a maximum data transfer rate of 1 Gbit/sec. In an industry first, the company says its new EtherLine cables combine Category 6A Ethernet's 10-Gbit/sec data transfer rates with continuous flex and torsion performance suitable for robotics, machine vision systems, wind turbines and other industrial machines with motion systems.
To raise the bar on CAT6.A continuous flex performance, Lapp USA reports that its engineers had to solve a tricky shielding challenge. Category 6A cables generally operate at frequencies as high as 500 MHz, which predisposes them to electromagnetic noise and interference (EMI). A conventional shielding system capable of warding off EMI at these high frequencies would have made the cables too stiff for continuous flex or torsion applications, notes the company.
The company says its engineers instead created an entirely new cable shielding system that strikes a balance between EMI protection, flexibility and the mechanical strength to withstand the high strains associated with continuous flex or torsion. The company says that this new shielding employs a proprietary wrapping process that winds aluminum compound foil around individual twisted pairs at an angle optimized for shielding performance. In addition, the cable has a copper braid reinforced with a foil- laminated fleece. This high-quality screening, which Lapp claims is the first of its kind, ensures extremely reliable data transfer.
The EtherLine CAT.6A cable comes in two different versions, one optimized for continuous flex and the other for torsion. The continuous flex version is suitable for use in cable tracks and has been tested for more than one million bending cycles. Available with either PVC or PUR jackets, both versions of the EtherLine CAT.6A cables offer: compliance to the Profinet standard; resistance to UV and flame; and performance in damp or dry operating environments. New RJ45 and M12 x-coded connectors designed especially for Lapp's EtherLine CAT6.A cables are also available.
---
Canon acquires VMS provider Milestone Systems
Canon Europa N.V., a subsidiary of Canon, will acquire video-management software provider Milestone Systems A/S, according to a release issued by both companies. "The new combination will create a formidable player in the fast-growing network video surveillance market by combining the strengths of Canon's innovative imaging technology with Milestone's best-in-class video management software expertise," the release stated.
Canon also said it identified network video surveillance as a strategic new business area and has "a clear ambition to drive future growth through diversification." The acquisition of Milestone will significantly enhance Canon's software capabilities in the sector, it added.
Canon Europe, Middle East and Africa president and chief executive officer Rokus van Iperen commented, "Canon is aiming to take a leadership position in network video surveillance and we are making an important strategic investment today to realize our objective to expand in this market. Together with Milestone, we can accelerate our growth by delivering new advanced products and solutions for new sectors, through new channels, to offer greater customer value. We are very excited about working with such a talented and innovative company and we welcome Milestone into the Canon group."
Milestone's president and chief executive officer Lars Thinggaard added, "Milestone is extremely excited about the huge potential that being part of a global group will provide. Canon respects how we built our business with our partners and supports our strategy of providing open-platform solutions, and therefore the need to remain a standalone company within the Canon group. We feel this step is right for taking both our business and support for suppliers and partners to a new level."
The announcement of the acquisition also stated that Milestone's open-platform business model "is essential to its future success, and Milestone will continue to provide open-platform solutions to the market, while operating as a standalone company within the Canon group. Canon fully supports Milestone's open-platform strategy and respects their strong partnerships." It also said that following the acquisition's completion, Milestone's management will remain in place.
---
Fluke Networks adding 802.11ac capabilities to WiFi tester, survey software
Fluke Networks has announced that it is equipping its AirMagnet Survey Pro/Planner and its AirMagnet WiFi Analyzer Pro with capabilities that the company said will "help organizations optimize their migration or coexistence path to the new 802.11ac technology standard.
"With new modeling applications, toolkits, and the industry's only 3x3 portable capture and analysis capability, businesses can now leverage the industry's first complete wireless lifecycle solution to design, deploy and troubleshoot 802.11ac networks accurately, quickly and more cost-effectively," the company said.
"The AirMagnet tools also enable IT teams to solve 802.11ac network issues correctly the first time, which prevents costly repeat visits and, more important, minimizes user downtime," the company continued. The upgraded Survey Pro/Planner was scheduled to be available in August, while the upgraded WiFi Analyzer Pro is scheduled for availability sometime in Q4.
Specifically, Fluke Networks said, the new planning capabilities of AirMagnet Survey Pro will "allow wireless engineers to quickly and easily design an 802.11ac network, including determining the number of APs needed, location, and configuration settings, before rolling out any new infrastructure. This allows IT to estimate budgets before making investments, solidify migration strategies, and ease the potential transition pains ... Users can see how they can reuse existing Ethernet and power infrastructure for their new APs, visualize impact of introducing new 802.11ac APs in performance-hungry locations, and then measure and validate true performance delivery, instead of relying on estimates."
Additionaly, the AirMagnet WiFi Analyzer Pro upgrades "provide a unique toolkit to not only predict the capacity readiness of the network for the new influx of 11ac APs and clients, but also to identify the root cause of poor connectivity performance for any conversation in the network," the company explained.
showcase
INDEX OF ADVERTISERS
The index of advertisers is published as a service, and the publisher does not assume any liability for errors or omissions.