It's not just for the largest organizations, nor does it have to bust your IT budget.
Did you know tens of millions of ports are managed by intelligent infrastructure management (IIM) system? Or that thousands of small to medium-sized organizations have implemented these systems and are successfully using them in their daily business? Did you know the implementation of today's solutions is quick and easy, or that the variety of different solutions currently available make IIM accessible for any size budget?
IIM is the installation and incorporation of intelligent processes to manage infrastructure, together with network devices and service applications. These improved processes consequently result in profitable and continuous business operations. Simply put, IIM enables organizations to manage their IT infrastructure in real time. It further allows key operations to be automated in order to achieve successful, sustainable and fully optimized processes.
When IIM was pioneered it essentially changed the way businesses viewed the infrastructure layer of their network operations. It bridged the gap between the network asset and the necessary task of managing them accurately. Moreover, it turned a cumbersome and often insufferable task into a smooth, highly automated and efficient activity. The introduction of IIM significantly streamlined organizations' business processing, allowing them to reduce manpower, decrease downtime, and speed deployment of services—all within extremely constrained budgets.
The global market for IIM is continuously growing and currently stands at approximately 2.4 million managed ports installed as of 2008, up from 1 million ports installed as of 2005, according to BSRIA's (www.bsria.co.uk) Global Overview of the IIMS Market, October 2008. This figure only reflects real-time IIM solutions, excluding the millions of additional ports worldwide that are continuously being installed for regular IIM solutions. Despite this adoption rate, IIM is often misunderstood and its values remain untapped by many.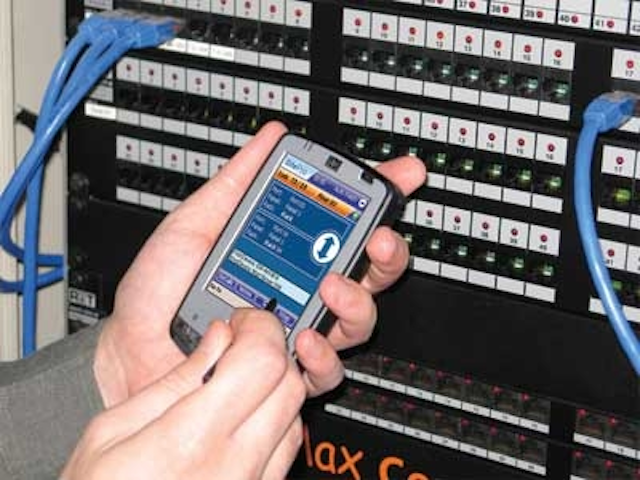 Designed for use anywhere at a user site including the data center, SitePro is synchronized with RiT Technologies' PatchView application through a GUI.
Herein we will acknowledge and seek to dispel some of the most common myths about IIM.
Myth 1: IIM is only for large enterprises and mission-critical organizations, and is expensive.
Reality: IIM's first adopters were large enterprises with mission-critical networks, such as financial organizations and airports. However, all organizations today, including small to medium-size businesses (SMBs) face the same challenges as larger organizations, with their infrastructure requiring full optimization. The necessity to 1) attain lowest total cost of ownership for assets, 2) improve utilization, 3) track IT assets, and 4) protect sensitive information, is not exclusive to the financial industry or large conglomerates.
Furthermore, research by Mindbranch (www.mindbranch.com) reveals that the market for network equipment continues to expand and permeate into companies of every size and industry. Additionally, in a Q3 2009 survey of more than 1,000 IT professionals by Spiceworks (www.spiceworks.com), 68% of SMBs reported they planned to add new hardware to their network within the following six months. The majority of survey respondents also intended to spend 37% of their annual budgets on refreshing and expanding their physical infrastructure. With the current economic turmoil, the need to keep the physical infrastructure resilient and secure, and to possess efficient processes to maintain one's competitive advantage, is becoming more apparent to a growing number of SMBs. No matter what the size of an organization, successful management of the network and its infrastructure is imperative for profitable business.
From downtime and impact analysis to asset and change management as well as intrusion detection and reporting, IIM offers a practical solution for diverse networks. In addition, solutions like RiT's EPV or siteWIZ offer affordable and powerful management solutions for all types of organizations. These systems provide accurate and real-time documentation, monitoring, and connectivity management as well as easy management and maintenance of all aspects of the physical layer.
Myth 2: IIM is only about patching and cabling management
Reality: A modern IT environment, whether big or small, comprises the following key elements.
The physical IT equipment (servers, switches, PCs, IP phones, printers and more)
The power infrastructure
The cabling infrastructure
The cabinets and supporting equipment
Cooling and environmental monitoring elements
Security elements
Today's IIM solutions are about managing all of the above and more. They are about empowering organizations to implement efficient cross-disciplinary processes that will ensure business efficiency. They facilitate accurate and fast service deployment, and improve asset utilization.
IIM has also been shown to contribute to key elements of business resiliency, which, according to Forrester Research includes business continuity, IT disaster recovery, and information security.
Among its many functions, IIM manages the following.
Fault management. Forrester Research recently revealed a trend among IT personnel. The majority of disaster recovery operations were not a result of major catastrophic natural disasters, but rather a result of more mundane events. As a result of continuous monitoring of connectivity at the patching level, some IIM systems provide immediate alerts when sensing any faults or disconnections, providing the exact location in real time. This minimizes network downtime caused by faults in the physical infrastructure.
Security. The battle to keep an organization's assets and intellectual property secure is neverending. IIM provides a comprehensive set of security tools that are designed to help organizations succeed in combating suspicious activities. These include real-time identification of illegal or unscheduled connections or disconnections to the corporation's network, identification of unauthorized devices, and more.
Provisioning and service deployment. The 21st century has become an age of "anytime, anywhere" connectivity. Today's organizations are more mobile, dynamic, and facing increasing challenges from global competition. As a result, IT staff is confronting endless moves, adds, and changes (MACs). Flawless MAC execution requires accurate information from many fronts such as service availability, infrastructure readiness, virtual local area networks (VLANs), resiliency patterns, and more. Certain IIM solutions streamline and automate MAC planning and implementation, shifting the focus from "how-to-provision" to "what-to-provision," carrying out all complex calculations within seconds.
IT asset management. The need for IT asset management is growing increasingly as IT equipment becomes more expensive, critical, and diverse, and is being put through greater government scrutiny. IIM helps today's organizations cope with the constant movement by keeping track of status, attributes, as well as physical locations and movements of these high-value assets. It automatically discovers moves or changes of any IP-driven device such as servers, PCs, and IP phones, and eliminates human error. IIM also maintains other useful information about each device, which is automatically collected and stored as part of its records. Furthermore, IIM includes tools for manipulating, viewing, and reporting data that is critical to successful decision-making.
Environment and power management. Escalating power-consumption costs and new environmental legislation have given many businesses cause for concern. Seventy percent of data center professionals were reported to be anxious about the effects of the European Union's new Carbon Reduction Commitment regulations, which are due to start in April 2010. Solutions that add environment, power, and security management to the offering can meet the stringent needs of data centers and large communications rooms. With automatic action capabilities, such a system acts as an "invisible employee," monitoring a variety of metrics for business-critical equipment from a single system.
Myth 3: IIM is too complex and time-consuming, and it requires highly skilled staff to implement.
Reality: Contrary to popular belief, certain new IIM solutions do not demand high levels of skill to operate, making them easier to introduce into organizations and to support on a daily basis. By graphically demonstrating the interaction between all the various entities, IIM actually improves employees' understanding of the "big picture." One such example is EPV, a recently introduced plug-and-play solution that is designed to address an organization's most urgent management requirements.
The EPV is a simple-to-install solution that shows an accurate picture of an organization's connectivity status, anywhere at any time. It requires no software installation. The user just switches the power on and operates the system. Alternative and additional tools have been introduced such as support for easy and accurate uploading of mass data for larger, more-complex organizations that deal with huge amounts of daily information.
Myth 4: IIM is only for technical staff.
Reality: Forrester Research believes that chief executive officers and corporate directors can no longer ignore IT issues by relegating them to the chief information officer. George F. Colony, CEO of Forrester Research, commented on his blog, "There is much change being driven by tech in the outside world that the CEO must understand and translate it for the inside. … Tech is changing your customers and your customers will change your company."
IIM solutions offer online management tools that enable personnel from various groups to track key performance indicators (KPIs). This provides real-time user-configurable KPIs, early-warning indicators, real-time analysis and alerts, and guided drill-down capabilities to pinpoint the root cause of a problem. It is the ideal solution for top management to easily be able to maintain vigil of their organization while enabling fear of the "IT monster" to be dispelled.
IT managers play a key role in achieving business success and resilience. In order to maintain stability and help an organization flourish, it is essential that the IT manager provides maximum business continuity. This entails weathering storms from all fronts. With inefficiencies only intensifying as IT complexity grows, IIM offers organizations, both large and small, a real-time cost-effective solution. This frees IT managers from unnecessary, time-consuming tasks so they can concentrate on other, more critical matters.
Oded Nachmoni is vice president of strategy and professional services with RiT Technologies (www.rittech.com).