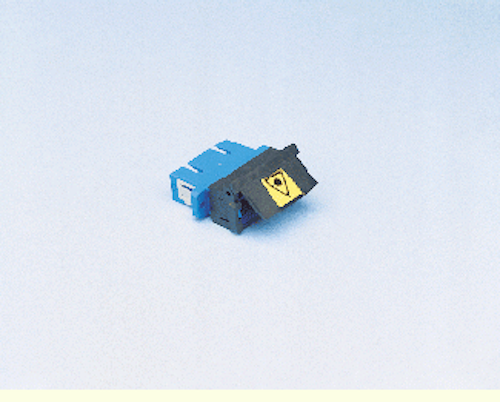 Lynn Haber
Fiber-optic adapters form a small, but critical, part of the hardware used in an optical-fiber cabling system. While the importance of adapters is often overshadowed by connectors, product manufacturers continue to stress the significant role that these devices play in overall interconnection performance.
Available for more than a decade, the fiber-optic adapter has been a relatively stable device, with no really revolutionary breakthroughs in its technology. Rather, cable installers have seen incremental and evolutionary product enhancements, such as the introduction of a variety of metal, polymer, and ceramic materials for the adapter sleeve, and the introduction of hybrid adapters.
During all this time the fiber-optic adapter`s function has remained the same--to join and align two connectors. Adapters are available to join like connectors--SC-to-SC, ST-to-ST, or FC-to-FC--and different styles of connectors. The latter devices are called hybrid adapters and are used, for instance, to join ST and SC connectors.
With many types of fiber-optic connectors having been developed over the last decade, cabling installers have expressed concern about the inability of adapters and connectors from different vendors to interconnect. "That`s not a problem any longer, though," says Mike Peppler, associate director of product marketing at amp Inc. (Harrisburg, PA), because specifications for intermateability have been issued by the Electronic Industries Association and the Telecommunications Industry Association (both in Arlington, VA) and, internationally, by the International Electrotechnical Commission (Geneva). Today, most product manufacturers follow these specifications.
How adapters work
According to Conrad Ott, optical-fiber engineering manager at The Siemon Co. (Watertown, CT), the requirements for a fiber-optic connection and a copper connection differ significantly. While two copper conductors can be joined directly by a solder or by connectors that have been crimped or soldered to the wires, the key to a fiber connection is the precise alignment of each fiber core. "This alignment is achieved by two precision components--the ferrule within each connector and the alignment sleeve within each adapter," Ott says.
Most connectors are based on a 2.5-millimeter-diameter ferrule, in which the fiber is located. The ferrule both secures and aligns the fiber. For acceptable performance, the fiber has to be aligned within a tolerance of 1 micron.
Inside each fiber-optic adapter, on the other hand, is the alignment sleeve. Its purpose is to bring together the ferrules of the two connectors being mated within the adapter`s sleeve and at its approximate midpoint. (The alignment sleeve is also known as a split sleeve because it looks like a thin cylinder with a slot running its length.)
It is through the sleeve`s design and the precision of its manufacture that the connector ferrules can be aligned accurately with each other. "Otherwise, no matter how precise the ferrules are, the optical performance of the connection could not be achieved, or certainly, not be achieved consistently," says Ott.
While the alignment of the outside diameters of the ferrules is important, the alignment sleeve itself is the critical component in an interconnection, according to Peppler. The sleeve has an inside diameter that is slightly smaller than the connector ferrule`s outside diameter. The function of the slot is to permit expansion, enabling the larger connector ferrule to be inserted snugly into the sleeve.
According to Ott , several parameters affect the sleeve`s performance, including
- concentricity between the inside diameter and the outside diameter,
- control of the inside diameter,
- roundness of the inside diameter,
- taper of the inside diameter,
- roughness of the inside diameter`s surface,
- material spring temper.
The combined precision characteristics of the connector`s ferrule and the adapter`s alignment sleeve control the most important feature of the interconnect assembly: its ability to produce repeatable optical performance, defined as the maximum amount of light possible transferred through the connection point from one fiber to the other. "It`s important to remember that the interconnection is a system," adds Peppler. "You can measure the overall loss of a system but not of independent products."
The performance of the adapter, defined as how well it aligns two connector ferrules, is determined by the amount of spring force in, and the tolerances of, the split sleeve. All common connector interfaces use a ferrule spring-loading mechanism. This mechanism provides the force needed to insert the ferrule into the split sleeve. The sleeve insertion force cannot be too high or too low without impacting the performance of the assembly.
According to Ott, if the sleeve`s ferrule insertion force is too low, the ferrules may not be seated and aligned properly with each insertion and, therefore, optical performance could be unreliable. On the other hand, maximum sleeve insertion force must be less than the lowest allowable connector spring force or the ferrules will not insert or make contact with each other.
Greater spring force permits better alignment and superior performance. "If the spring force is too high, however," says Peppler, "it`s difficult to pull the connector out of the adapter to mate and unmate it."
Job specifications usually include performance requirements for the split sleeve that cover both spring force and pull force.
What`s available in the marketplace
More than a dozen manufacturers offer fiber-optic adapter products. Companies such as amp offer adapters that join like connectors, as well as devices that adapt one connector type to another. Molex Fiber Optics (Downers Grove, IL) also offers a wide variety of fiber-optic adapters, as does The Siemon Co. and Seiko Instruments usa Inc. (Torrance, CA), to name just a few.
The use of like-to-like fiber-optic adapters currently outpaces that of hybrid adapters. However, according to Ron Weiss, fiber sales engineer at Storm Products Co. (Hinsdale, IL), the use of hybrid adapters has increased steadily since they were introduced more than half a dozen years ago. "Cable installers prefer to adapt like connectors where they can," he says. "However, because people continue to add new connectors to their installations and yet maintain the same hardware and equipment, the need for hybrid adapters has grown."
Like non-hybrid adapter technology, that of hybrid products has remained stable. What has changed in the hybrid-adapter market is that it has moved from male-to-male to male-to-female connections. "The market itself is split between demand for multimode and for singlemode hybrid adapters," Weiss adds.
Users of hybrid adapters pay a price premium for these products, despite the fact that the cost of all fiber-optic adapters has come down over the years. For example, a cabling installer can purchase a non-hybrid adapter for as little as $2, whereas the least expensive hybrid adapter costs about $14--and that`s when purchased in large quantities.
Still, the cost of hybrid adapters has come down 25% to 35% over the last five years. "Today, I can sell a hybrid adapter for $35," says Weiss. "That same adapter probably sold for $45 to $48 several years ago." One reason that buyers may be paying less for hybrid adapters is that more manufacturers are offering them.
As for the manufacturing perspective, Tom Marrapode, program manager at Molex, reports that in the past 18 months, some vendors have attempted to lower component costs and speed up assembly by trying to mold the alignment sleeve in one step. "SC connectors, for example, usually have five parts," he says, "but manufacturers are trying to reduce this to three." This shortened manufacturing process is mainly suited to multimode products, he adds, because overall performance is reduced by the shortcut.
Materials are a consideration
When it comes to fiber-optic adapters one type does not fit all applications. In fact, buyers have an important choice to make when selecting materials. Three materials are commonly used in manufacturing fiber-optic adapters: metal, ceramic, and polymer.
Two metal alloys, phosphorous bronze (PB) and beryllium copper (BC), are offered as sleeve materials, with the most commonly used being PB. Most companies that produce the PB sleeve are located in Japan and have developed manufacturing processes that carefully control the key parameters of the sleeve, according to Siemon`s Ott.
Zirconia, the same ceramic material used in the connector ferrule, may also be used in the production of the sleeve. Some cabling installers are concerned about the ceramic cracking in the field, but Ott says that the precision built into the sleeve compensates for any deficiencies in the zirconia ceramic.
In fact, he adds that the precision gained from using zirconia provides two benefits relative to the PB alloy: The sleeve exhibits more-consistent insertion and withdrawal force, and it performs better optically, thanks to reduced insertion loss.
The most recent addition to adapter materials is polymer. Cabling-industry observers agree that, although sleeves made of polymer are improving, their optical and mechanical performance is not yet up to the level of metal or ceramic.
Ott states that the contribution to overall insertion loss of a polymer sleeve is typically more than 0.2 decibel, and it tends to get worse after repeated mating and demating cycles.
Still, there are appropriate applications for adapters made from each of the three materials. "Basically," says Peppler, "cable installers are faced with a cost-versus-performance trade-off." Polymer adapters are the least expensive of the three, but all adapters offer equal performance for their applications when used judiciously.
"What matters is performance of the system rather than the adapter material chosen," Peppler adds. Systems are usually specified with some loss per connector--for example, 0.5 to 1 dB--and adapters are part of the system.
Today, polymer is used only in multimode connectors because it is more difficult to get the high performance from polymer that is required for singlemode applications. "You get better precision and spring force with metal and ceramic," according to Peppler.
Molex`s Marrapode adds that polymer is typically just as strong as metal, but some cabling installers like the added comfort provided by metal. "ST adapters began as metal before polymer material was introduced," Peppler claims. "Opting for one versus the other is often a personal preference."
SC adapters are always plastic for general use and are available in metal for test and measurement applications, he adds.
In general, when it comes to fiber-optic adapters, keep in mind that if you have some margin in the system when it comes to your loss budget, you can go with a polymer sleeve. However, if you are already pushing the limit of your loss budget, stay with metal or ceramic products. Also, remember that hybrid adapters are available in either metal and ceramic, and that adapter vendors often sell products in more than one material.
Regardless of the material under consideration, you must keep in mind that there are several adapter mounting methods used for ST and SC adapters when they are being attached to a patch panel or bracket in a fiber distribution system or enclosure. According to Ott these include
- standard ST duplex adapter mounting method (simplex)--double-D panel cutout, and rectangular flange with two clearance holes;
- standard ST duplex adapter mounting method (duplex)--rectangular flange with two clearance holes;
- standard SC duplex adapter mounting methods (simplex and duplex)--rectangular flange with two clearance holes, and stainless-steel mounting clips.
Some new twists are coming
While Molex`s Marrapode agrees that the fiber-optic adapter market has been fairly stable since its inception, he notes that his company has recently added a new product feature to its duplex SC adapter: a dust cover or shutter. This product enhancement is designed to keep dust and grime from getting into the interconnection system. "We only offer the dust cover with the SC connector adapters," he says, "because the design is well-suited for the product." SC connectors are commonly used in wallplates and transceiver hubs.
Product developers at Seiko are also working on an adapter enhancement that, according to Steve Baldo, national sales manager at the company, should reach the market in the next few years. "We`re testing putting a twist, or a channel that`s scribed, into the ceramic sleeve of the adapter," he says. "This allows dirt to accumulate on the edge of the ferrule [rather than] on the front face of the connector." The benefits of such an enhancement include decreasing the chance of connector damage and resulting impaired operation, as well as decreased insertion loss.
With existing adapter sleeves, sliding the ferrule in and out of the sleeve can lead to an accumulation of dust on the face of the ferrule. "How to keep the fiber-optic adapter clean and free of debris is an ongoing problem with these devices," Baldo adds. Today, cabling installers usually carry lint-free pipe cleaners and ethyl alcohol or pressurized air to clean the interconnection.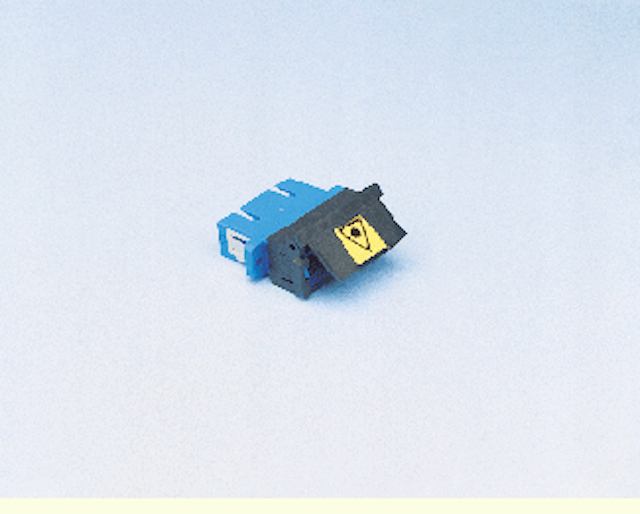 Click here to enlarge image
The SC duplex adapter, soon to be released by Molex Fiber Optics Inc., will include a shutter such as the one shown here to keep the interface free of dust and debris. This consideration becomes especially important when adapters are mated and unmated repeatedly.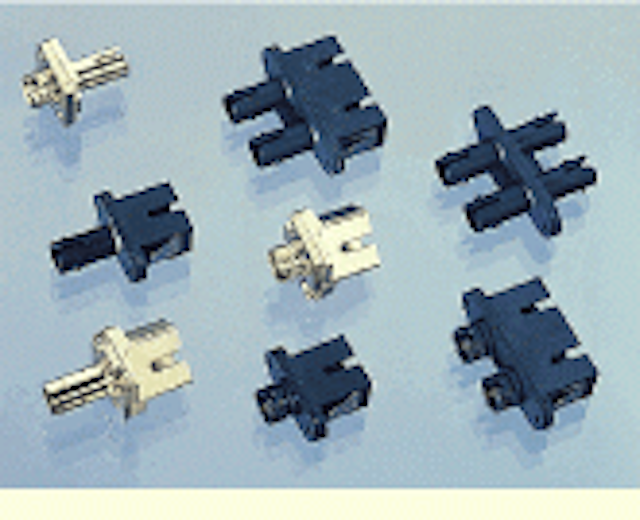 Click here to enlarge image
This family of adapters from AMP Inc. includes direct adapters, which join like connectors, as well as hybrid adapters, which join different styles of connectors.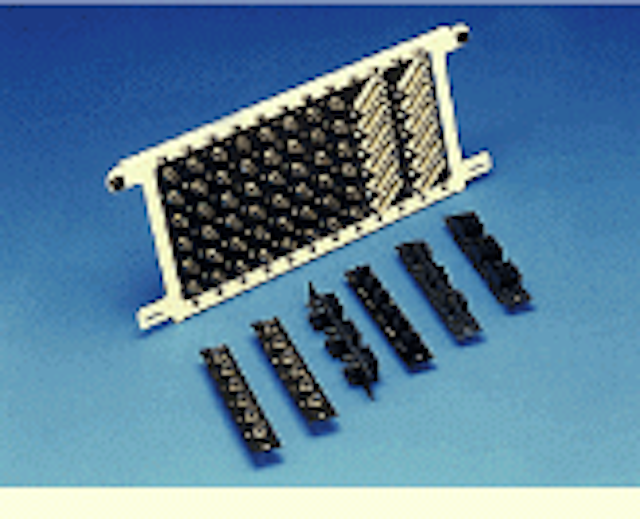 Click here to enlarge image
In the foreground are patch panels, each of which includes six adapters of the same type. In the background is an enclosure that houses the panels.
Lynn Haber is a freelance writer specializing in networking and telecommunications issues.