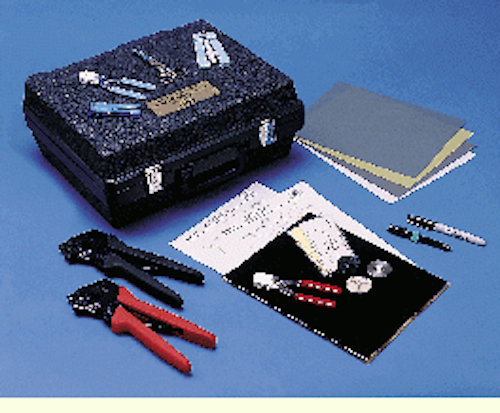 Gail Leach Carvelli
One of the last steps of fiber-optic connector installation is polishing, which must be done skillfully and with the appropriate tools to minimize insertion loss and backreflection. In an ideal situation such as a factory setting, an automated fiber-optic polishing machine generates the best results.
However, installers often polish connectors in the field, necessitating handheld tools such as polishing pucks and lapping film. Generally purchased as connector-termination or consumables kits, these two products help installers produce a clean polish with a minimum of scratches on the fiber endface.
Polishing pucks, also known as polishing jigs and bushings, perform an important function when it comes to preparing fiber endfaces. These circular disks hold the connector in place and make it easier to apply pressure evenly to the connector as it is being polished.
"A tight fit keeps the connector and ferrule from moving around within the puck," notes Bradley Smith, applications engineer for Amphenol Fiber Optic Products (Lisle, IL). "The pucks are designed so that when the correct pressure is applied, it is just enough to produce a good endface finish with virtually no scratches."
Because of this, many pucks polish only a single connector type. However, Larry Johnson, president of The Light Brigade Inc. (Kent, WA), notes that some pucks accommodate many connector types such as ST, SC, FC, and fddi. "We now see universal pucks that can handle just about any connector that uses a 2.5-millimeter ferrule," says Johnson. "That should help reduce the cost for technicians performing connectorization of multiple connector types."
Materials determine cost
As with many tools, material dictates the cost of polishing pucks. Prices range from $100 to $300 for those made of metal, while plastic ones often cost less than $20. Cost is often overlooked, however, if a higher-priced tool holds up better to constant usage.
Bud Eskew, registered communications distribution designer (rcdd) and president of Georgia Cabling Contractors (Alpharetta, GA), says that means sticking with metal pucks, which are usually made of stainless steel. Manufacturers say these can last a lifetime. "Metal polishing pucks are the only ones I`ve ever used," says Eskew. "The durability and the longevity of the components are steady."
While no one can argue against the benefits of metal pucks, many people choose plastic ones for economic reasons. "Obviously, plastic pucks offer a significant reduction in cost; and they are almost throwaway items," says Mike Peppler of AMP Inc. "We generally recommend that you only polish about 100 connectors with them." However, some manufacturers claim that their plastic pucks can polish thousands of connectors.
Many of today`s pucks can be ordered with a grooved surface, which some users believe enhances the performance of the tool. According to Larry Sellers, a trainer in 3M`s fiber-optics division, that is particularly true when the polishing process calls for the use of water. "Grooves help the puck stay flat on the surface," he says. "Without the grooves, the puck rides on top of the water."
However, Amphenol`s Smith says he has found that a grooved face produces the opposite effect. "We found that it actually displaces the water," he says. "And, it is another means by which dirt can be trapped. Flat faces are usually easier to keep clean."
The Light Brigade`s Johnson points out, however, that the grooves provide a way to remove grit from the face of the puck and the fiber. He also stresses the importance of cleaning the end of the ferrule and the puck between every polishing stage.
Read the label
According to AMP`s Peppler, selecting a puck, regardless of its features, should be based on the manufacturer`s recommendations. "Most manufacturers," he notes, "will specify their own puck because that was how the connector was tested.
"The procedures and the dimensions built into those pucks are very important when it comes to getting a proper return loss. If the puck`s dimensions aren`t correct, you can actually polish the fiber beneath the surface of the ferrule, which can result in higher-than-normal return losses," Peppler adds.
While the puck holds the connector in place, lapping film creates the required finish on the fiber. Like the process used in sanding a rough piece of wood--moving from coarser to finer sandpaper--polishing fiber involves using lapping film with progressively smaller grit size, usually in a three-step sequence.
"The first step," says Sellers, "is to remove any adhesives that were used to hold the glass in the connector. Because you want to take away that glue or adhesive very quickly, you probably want to use a 12-, 9-, or 5-micron piece of lapping film." Once the rough stage is finished, the next step requires the use of 3- to 5-micron lapping film, while 0.3- to 1-micron film provides the final polish.
A number of options
Deciding which grit size to use is just one of the choices installers have to make when ordering this type of product. As with the pucks, lapping film is made of different materials--aluminum oxide, silicon carbide, and the more expensive diamond.
According to Mark Sternberg, vice president of administration for Moyco Precision Coated Abrasives, the material used is often dictated by the connector material. "For a ceramic ferrule, that means using diamond, and for stainless steel, aluminum oxide," he says.
3M`s Sellers, on the other hand, says diamond film should be used sparingly because it can remove some of a zirconia-ceramic ferrule`s material. "Ideally you`d like to just be able to polish the glass and not the connector itself," he says. "Most of the time, using the diamond film is recommended only for factory situations."
He adds, "In the field, the danger is that a technician will say that if a little polishing is good, then a lot of polishing is better. When it comes to polishing, minimum is better. So if a technician is going to use the diamond film, it should be used in moderation."
Amphenol`s Smith claims it is appropriate to use all three materials when polishing a connector. "You want to have them all side-by-side, which makes the process easier and more convenient," says Smith, adding that pre-cut lapping film sized to fit a 5-inch-diameter rubber pad also speeds up the polishing process.
Some manufacturers also let the customer determine the lapping film`s size and will cut it to customer specifications. Film can also be purchased in sheets.
To keep the film from slipping off the pad or plate, some companies now make film with an adhesive backing. But, some technicians say that placing a drop of alcohol--or water--on the pad or plate creates the suction needed to hold the film in place.
"It really depends on whatever the customer wants," says Sternberg, "whether we are talking about adhesives, the size of the film, or the material it is made of." And, says Johnson, it depends on what works.
Length of service
Generally sold as part of a consumable kit, lapping film has a relatively short life span. The number of connectors polished by a particular piece of film ranges from one to one hundred, the latter being polished by diamond film. While film is relatively inexpensive--it can cost less than 30 cents a sheet--technicians use a considerable amount on any given job. Because of that, they should choose quality products that hold up well.
"Let`s face it," says Eskew. "The industry is so competitive that if your consumables are the reason you are not winning jobs, then you need to take a look at the materials you are using and how they are manufactured."
For a list of manufacturers and their products, see the Product Update table.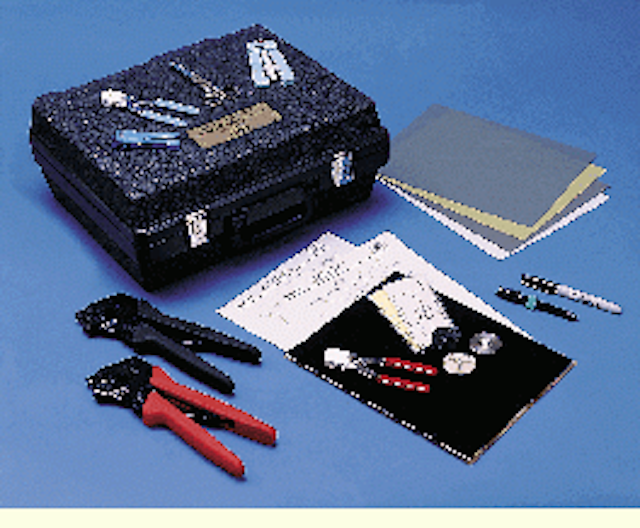 Click here to enlarge image
Polishing pucks and lapping film are usually sold as part of termination or consumable kits. Pictured is a termination kit from AMP Inc.