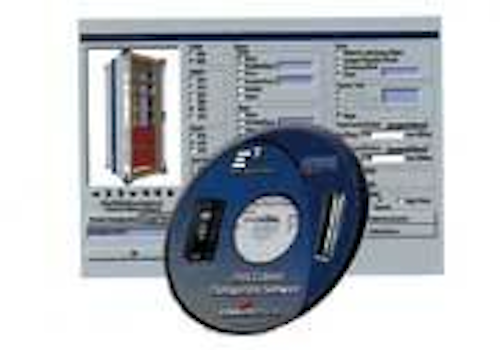 Compiled by Patrick McLaughlin
Racking up residentail wiring systems
These 14-, 21-, and 28-inch enclosures are intended specifically for residential wiring systems. The distribution centers let you mount internal modules vertically or horizontally, providing easier layout, wiring, and cable management. The integrated snap-in module system lets you insert or move the internal modules quickly. It's designed to hold a higher number of modules than many traditional enclosures, the manufacturer says. The enclosures have knockouts for cable routing from the top or bottom, and come with one or two standard NEMA electrical box knockouts to provide power distribution within the enclosure. The all-steel construction, glossy white finish, and reversible door give a clean finished appearance.
ICC
www.icc.com
Software eases cabinet configuration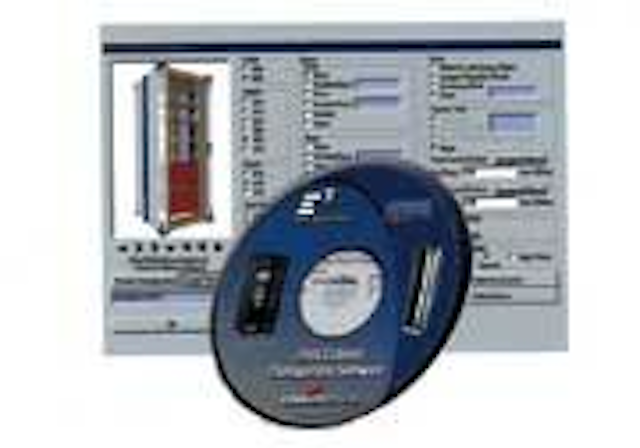 Click here to enlarge image
Designing, configuring, and ordering cabinets for data and telecom equipment storage can be made easier with the Cabinet Configurator software package. The program covers both the manufacturer's Access and E2 Next Generation cabinet product lines. Cabinet Configurator helps you construct a cabinet according to specifications via a building-block approach; select cabinet components from the options available. Once built, the "virtual cabinet" can be rendered into an interactive three-dimensional model. Save a snapshot of the model as an image file for use in a quotation or for later reference.
The software includes a library of standard accessories that can be placed into a mounting rail layout screen, which provides an equipment "U position" layout guide. The layout can then be displayed in the 3D model, giving a visualization of the populated cabinet. In addition to providing a detailed breakdown of each component used, the software builds up a convenient master part list with full description for each item. This information can then be used for a detailed quote or customer inquiry, including images previously generated. Once finished, the configuration can be stored and retrieved as a project file.
COOPER B-LINE
www.b-line.com
Getting in the zone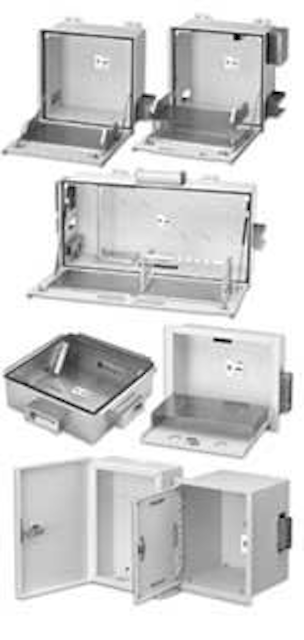 Click here to enlarge image
This full line of enclosures is designed to house telecommunications equipment for zone-cabling applications, as well as wireless access points. They are available in ceiling-mountable versions for active and passive devices. The product line also includes a floor-installed enclosure exclusively for passive devices. Wireless access-point enclosures are offered in two ceiling-mount styles and a wall-mount style.
According to the manufacturer, these enclosures are ideal for maximum infrastructure flexibility and quick, efficient moves/adds/changes with less down time. The wireless access-point enclosures accommodate wireless equipment from a variety of manufacturers.
LEVITON VOICE & DATA DIV.
www.levitonvoicedata.com
Meeting global specs, serving servers, and setting up quickly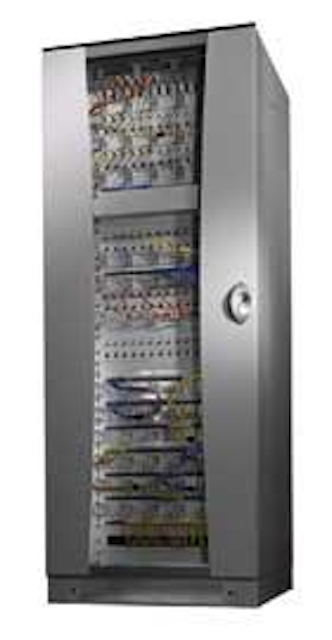 Click here to enlarge image
TE7000 is a lightweight product that meets global requirements for network cabinets. Designed without a standard enclosure frame, it handles load capacities up to 882 pounds. It has two mounting levels in a 19-inch multifunctional profile, and is available in widths and depths from 24 to 32 inches, as well as heights from 47 to 87 inches. Although dimensions and mounting points are tailored to fixed standard dimensions, individual depth variability can be achieved for the two mounting levels. This versatility lets you house network equipment from any manufacturer within the TE7000.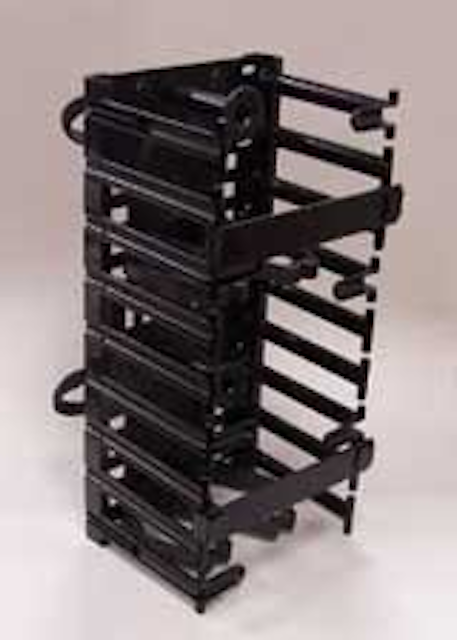 Click here to enlarge image
Manage IT is a cable management system for server cabinets, which its manufacturer says is ideal for organization and flexibility of cable and cords. It is available in vertical and horizontal configurations, with pass-through ports for front/rear cable routing. Manage IT retains cable bundles, protecting them from damage due to twisting, stretching, nicks, or sharp bends. It allows for a toolless assembly and can be mounted anywhere within the vertical trough or cabinet frame.
Manage IT has modular 9U sections that allow customization, and is available in kit sizes of 3.5 inches 9U, 7.5 inches 9U, and 10 inches 9U.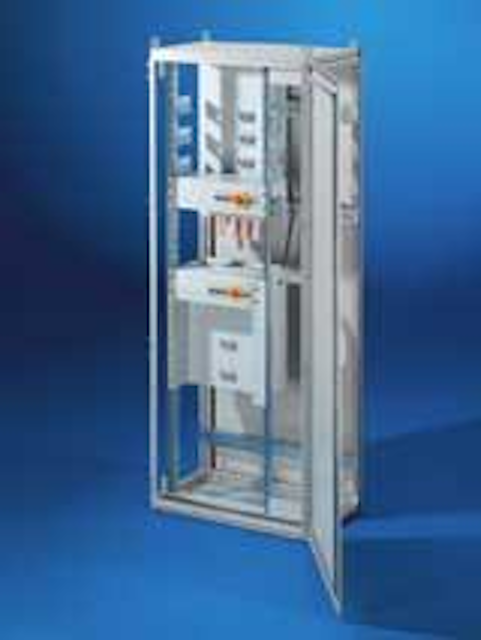 Click here to enlarge image
The Power System Rack is designed to meet the needs of such applications as high-performance computer systems, industrial process control, network and server technology, and computer centers. It integrates power, climate, and cable management into a single system. This modular enclosure facilitates basic configuration of racks, thanks to a vertical support rail with three-phase infeed. Component modules may be snap-fastened into the support rail, in any combination, even while the system is in operation. The Power System Rack uses liquid cooling technology, which the manufacturer says can dissipate approximately 1,000 times more heat than that which is dissipated by air. The cable management system is designed for optimization of space and fast, flexible assembly.
RITTAL CORP.
www.rittal-corp.com
48 ports in 1U of rack space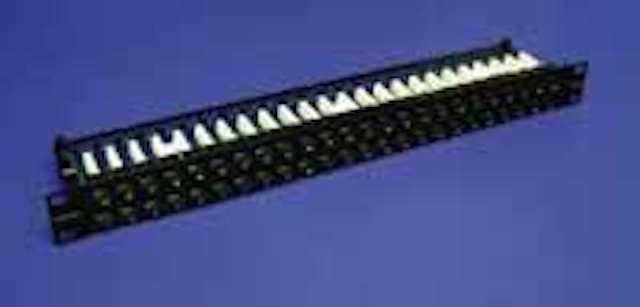 Click here to enlarge image
High-density Category 6 and Category 5e patch panels support 48 ports in one rack unit (1U). Designed for applications in which space is at a premium, the panels provide high performance in half the space of a typical 48-port panel. They feature a built-in rear cable management design that enables each cable to be secured to the back of the panel, allowing for neat routing of cables and secure terminations. GigaBand Category 6 and MegaBand Category 5e patch panels provide performance exceeding the latest specifications covering hardware, link, and channel performance. The panels are part of the manufacturer's structured cabling line that includes products for managing, connecting, routing, and identifying wire and cable.
HELLERMANNTYTON
www.hellermann.tyton.com
Firestop board for re-penetration applications
The CP 675T Firestop Board, a solution for the temporary or permanent sealing of blank openings or through-penetrations in fire-rated walls, was developed with input from electrical and communications professionals. It can be used alone for low re-penetration applications or with the manufacturer's FS 657 Firestop Blocks for high re-penetration applications and large openings.
The board is fiber- and solvent-free, and can be surface-mounted for an economical solution in low re-penetration applications. According to the company, the board is easy to cut and can be installed without power tools. For locations where telecommunications and electrical applications are modified on a regular basis, such as central offices within telecom facilities, computer/data centers, commercial facilities, health-care facilities, and laboratories, the CP 675T can be frame-mounted for quick and easy re-penetration. The frame-mounted option allows contractors to use the board with the manufacturer's FS 657 Fire Blocks for flexibility, ease of re-penetration, and cable mining from one side.
The product is a UL-listed solution for sealing openings 34 feet and smaller. Contractors can frame-mount the CP 675T and FS 657, then use a T-bar to split large openings into smaller compartments. This option allows cables, cable bundles, and cable racks to be added or removed quickly and easily.
HILTI
www.us.hilti.com (United States); www.ca.hilti.com (Canada)
Do-it-yourself labeling
The K-Sun LabelShop 2010-PC and MaxiLabel V2 Windows Software are intended for designing and printing professional labels in-house and on-demand for applications ranging from safety identification to industrial parts, equipment, wire, and cable. The package includes more than 500 ANSI safety symbols for making OSHA-compliant safety labels and signs. The software also contains more than 600 general industrial and office symbols. Import graphics and images into label designs using wizards and new drag-and-drop functions. The small footprint system connects to a laptop or desktop computer with a USB cable. Print custom labels with industrial-grade adhesive in 23 different color combinations from 1/6 inch up to one inch wide. Shrink-tube labeling material can be used for wire, cable, medical instruments, or personal-item information.
K-SUN CORP.
www.ksun.com
Certifying coax connector crimps
Click here to enlarge image
The MidTel MPT-100 Crimp Pull Tester is a portable device used for certifying the quality of crimping coaxial connectors and center pins to short and long lengths of coaxial cable. It makes ratchet-action destructive pull-type force measurements to crimp-on coaxial connectors, providing up to 200 pounds force. The digital readout displays the exact fail force point in -inch-high digits. The tester's manufacturer says it is ideal for use at the installation site, on the manufacturing floor, or in the test lab. The system consists of a lightweight digital meter, ratchet-action tensile stress tester, and power supply.
The tester operates on AC or on the built-in rechargeable battery's power. It confirms installed connector compliance with TL 9000 and industry pull-force standards. Tests are NIST-traceable, the manufacturer says. Quality audit testing of both connector and center pin crimp is provided. When the test indicates connector retention failure below established pull-force specifications, it will caution the installer that an off-standard condition may exist with the connector, cable, or installation tools, or that an improper connector-installation procedure has been carried out.
The tester is 29.56.25 inches and weighs 2.5 pounds. List price is $2,495 for the complete system.
MIDTEL TECHNOLOGIES
www.midtelusa.com
Portable printer packs punch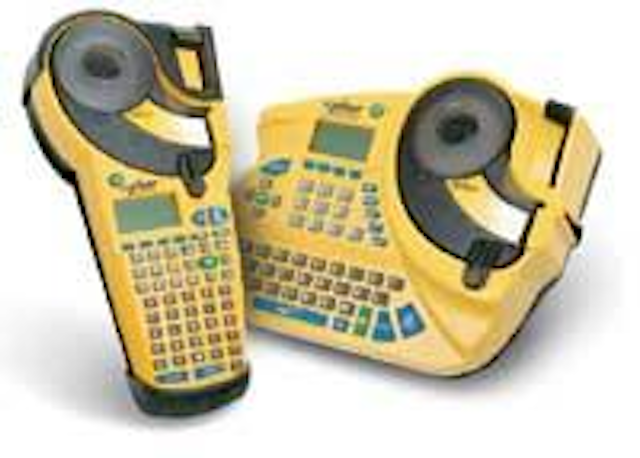 Click here to enlarge image
Brady says its IDXpert is the company's most versatile handheld labeler. The on-demand printer is designed to meet the identification needs of maintenance, safety, electrical, and voice/data professionals. It comes in two keyboard layouts-ABC and QWERTY-and offers more than 100 labeling options. In addition to indoor/outdoor-grade materials suitable for marking pipes, shelving, and equipment, the product also offers wire, terminal-block, and patch-panel markers, as well as other general-purpose die-cut labels. All labels are contained in drop-lock-and-go cartridges that are precalibrated electronically to orient the label for the specific application-no need to press special keys, the company says.
IDXpert prints characters up to 1.25 inches on label stock up to 1.5 inches wide. It can also provide print as small as 7-point. In addition to bar codes, the product contains more than 80 industrial/commercial symbols as well as sets of symbols for electrical, voice/data, safety and protection, warning, and machine and operational applications. The labeler uses non-smearing thermal-transfer printing, and has text-editing and symbols capabilities. It features edge-to-edge printing on continuous tapes. Each unit runs on six AA batteries or optional AC plug-in. It ships with a 1.5-inch 30-foot white supply cartridge, hard case, PC cable for upgrades, and a product CD containing a user's guide and tutorials. List price is $399.
BRADY CORP.
www.bradycorp.com
Conduit has the blues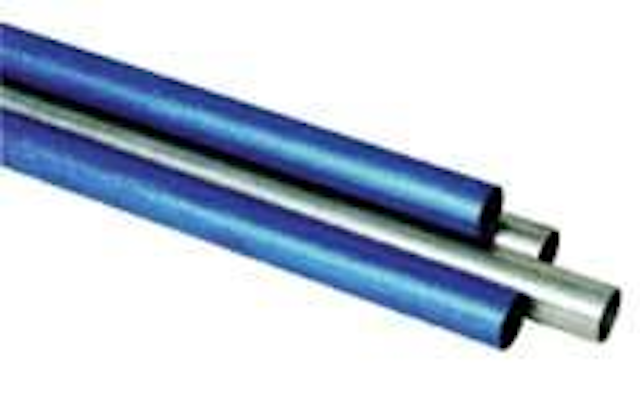 Click here to enlarge image
Blue EMT Conduit provides instant recognition of low-voltage cables, such as telephone, optical-fiber, coaxial, and Category 5/Category 6. The bright blue coating eliminates the need to spray paint, powder coat, or tape in the field, while providing the benefits of the manufacturer's traditional E-Z Pull EMT.
ALLIED TUBE & CONDUIT
www.atcelectrical.com
Copper and fiberstructured cabling systems
Belden CDT's Networking Division offers three end-to-end copper-based structured cabling systems: the IBDN System 1200, IBDN System 2400, and IBDN System 4800.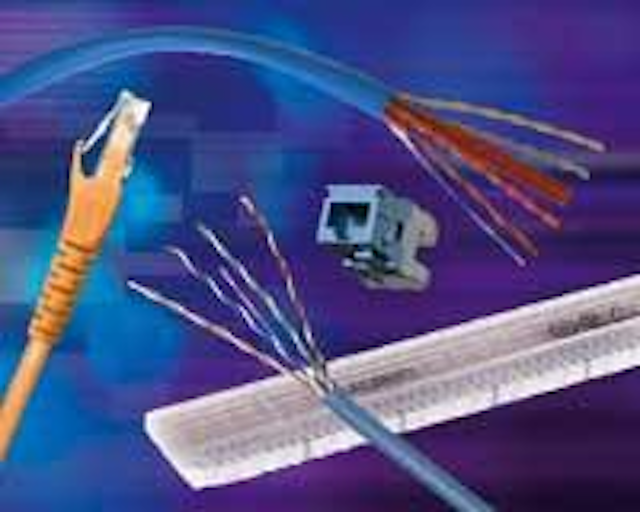 Click here to enlarge image
The company says the System 1200 exceeds TIA/EIA Category 5e standards and supports high-speed network applications such as Gigabit Ethernet, and provides clear bandwidth up to 160 MHz. Components include DataTwist 350 bonded-pair or GigaFlex 1200 unbonded-pair UTP cables, GigaBIX and 110 crossconnect systems, PS5e patch panels, and related patch cords, outlets, modules, faceplates, and adapters.
The System 2400 exceeds Category 6standards and delivers 250 MHz of bandwidth. Components include MediaTwist bonded-pair or GigaFlex 2400 unbonded-pair UTP cables, GigaBIX crossconnect hardware, GigaFlex PS6+ and Flex patch panels, as well as related patch cords, outlets, modules, faceplates, and adapters.
The System 4800LX offers performance beyond Category 6 to support demanding high-speed and multi-Gigabit protocols. Components include DataTwist 600e bonded-pair or GigaFlex 4800 unbonded-pair UTP cables, GigaBIX crossconnect hardware, GigaFlex PS6+ and Flex patch panels, and related patch cords, outlets, modules, faceplates, and adapters.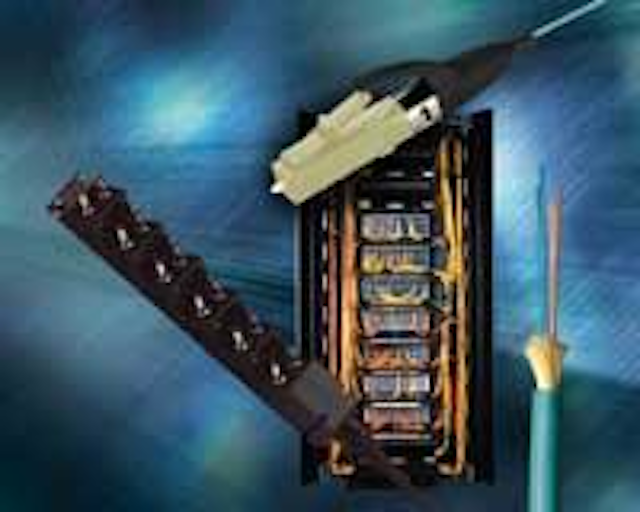 Click here to enlarge image
The IBDN FiberExpress structured cabling systems are complete end-to-end cabling solutions capable of supporting centralized and fiber-to-the-desk topologies, as well as backbone and campus configurations. They meet or exceed all applicable TIA/EIA, ISO/IEC, and IEEE standards. Using modular and preterminated components, the FiberExpress systems simplify the design and installation of a fiber system. Customized and tested solutions are available. Components include multimode and singlemode cables, the modular FiberExpress Manager, wall- and rack-mount patch panels with adapter strips, fiber patch cords and pigtails, Optimax field-installable connectors, and multimedia outlets.
The FiberExpress Manager is a cornerstone of the system, and can be used in either the equipment room or telecommunications room. It represents a scalable, modular approach to cable-system design, installation, termination, and maintenance. Optimax connectors provide LC, SC, or ST-compatible termination. Another modular component, the FiberExpress Bar, is a linking panel that resembles a power bar and is useful in consolidation points or as a multi-user telecommunications outlet assembly.
The preterminated technology helps preserve the initial investment, the company says, by its ability to be redeployed easily while continuing to ensure quality results. Preterminated components are also suitable for such temporary situations as trade shows, conventions, urgent installations, and recovery sites. The fiber systems are backed by a series of warranties and application-assurance programs.
BELDEN CDT NETWORKING DIVISION
www.beldenibdn.com