Simpler demarcs mean efficient DS-3 hand-offs
New equipment used by service providers can mean simpler transitions for the network owner.
Mar 1st, 2004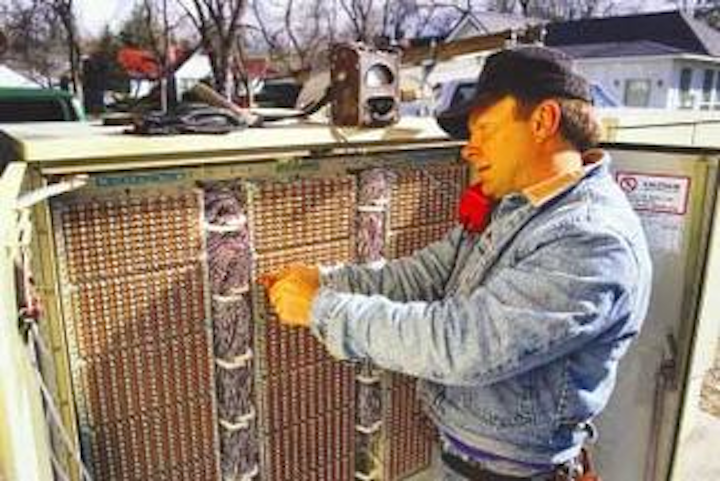 New equipment used by service providers can mean simpler transitions for the network owner.
During the telecommunications boom, money was seldom an issue. Rather, decisions regarding solutions to improving services were based primarily on time-to-market flexibility, and acquiring the latest bleeding-edge technologies. When it came to demarcation solutions in particular, the best way for a service provider to hand off high-speed data services at the customer premises was the solution with the most "bells and whistles" for testing, monitoring, and reconfiguring circuits.
In today's more realistic economic environment, cutting costs has become the primary driver for decision-making, and once-deep pockets of many service providers have been all but sewn shut. The new mindset has become "no technology for technology's sake"—or, in other words, "just give us something that works for the lowest possible price."
Rethinking demarcation
This trend from the coolest new technology to the most cost-efficient solution is apparent in the customer hand-off—the connectivity point between the provider and the customer. This hand-off has become a focal point for service providers because many of their business and industrial customers are demanding more bandwidth than traditional T-1 lines can deliver. Scaling the circuits to DS-3 to meet customer demand requires providers to reconsider the way they approach the demarcation issue, not to mention the costs involved.
Historically, the same product was used in the outside plant and the central office environment. These modules were expensive, but it was the way things were always done. Engineers who originally worked on the central office took responsibility for the outside plant, and applied the same designs to that network. Thus, the solution that worked in the central office became the choice for the outside plant (OSP) as well.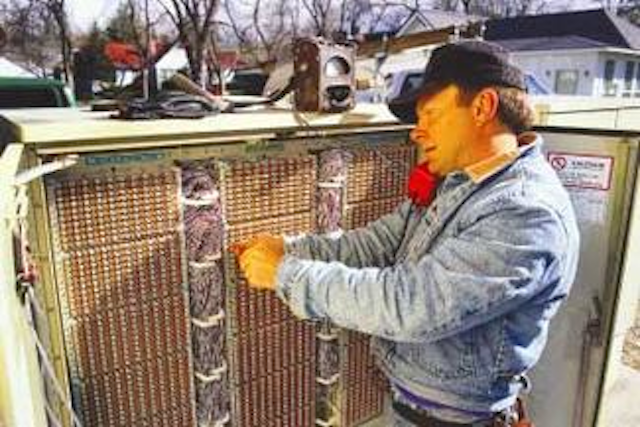 The customer hand-off is a focal point for service providers as users demand more bandwidth than T-1 lines can deliver. Scaling the circuits to DS-3 requires providers to reconsider the way they approach the demarcation issue.
Click here to enlarge image
Since these more-expensive products were also more available, having been used extensively for central office circuits, this was a natural course of action. The engineers also knew these products enabled them to test, monitor, and reconfigure the network. As time went on, however, OSP engineers realized there was no need for testing, monitoring, and reconfiguring in the field. These hand-offs only dealt with one or two lines rather than the thousands that reside within the central office.
A simpler, less expensive, and more versatile option now exists for OSP hand-off connections. As service providers make the move to DS-3 circuits, they can save much of the costs associated with demarcation by making the connections with new DS-3 demarcation modules that are easy, efficient, and only a fraction of the cost.
DS-3 demarc modules
Scaling up to DS-3 by using these modules at the minimum points-of-presence (MPoPs) removes the cost obstacles of providing more bandwidth to customers. The modules are designed to fit into the standard OSP footprint.
Although most of the interest in these modules lies within the OSP community, consideration is also being given to using them within the central office as a way to further reduce costs. With other methods available to test and reconfigure circuits, this solution may eventually catch on for central office applications among larger providers, including the Regional Bell Operating Companies (RBOCs).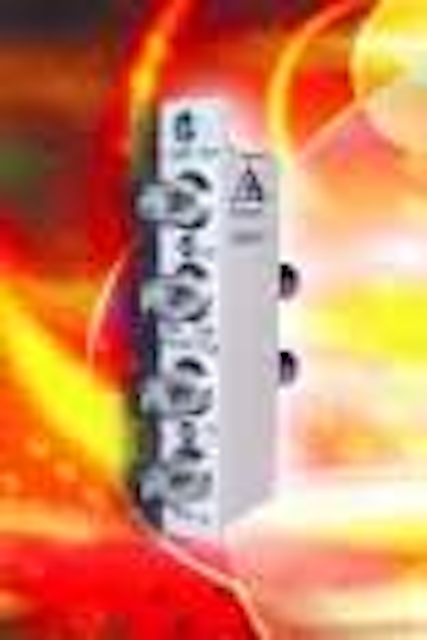 This DS-3 demarcation module, designed to fit into the standard OSP footprint, helps reduce costs associated with demarcation.
Click here to enlarge image
The acceptance of these hand-off modules can be traced directly to economics. As equipment prices for DS-3 circuits have dropped dramatically, it makes much more sense to provide the additional bandwidth capability that business customers are requesting. It also becomes essential to find cheaper ways to provide these connections.
Surge protection, other benefits
Demarcation modules are also available with built-in surge protection—a solution that did not exist until recently. With the surge protection and grounding feature, a safety feature automatically opens the circuit and grounds it should a lightning strike occur.
Traditionally, surge protection has been provided using a BNC feed-through panel coupled with a small tube. Inside the small tube was a lightning arrester, or surge protector. The addition of these surge protectors added about $50 to each connection.
The new OSP modules available today have exactly the same functionality—providing the ability to monitor and connect through—with the addition of a built-in surge protection feature. This new design more than halves the cost of providing surge protection in outside-plant applications. Therefore, depending on surge-protection requirements, providers can opt for modules with this feature.
Space-saving modules
Modules available today save space thanks to their small physical size: approximately three inches high and one inch deep with two feed-through BNC connectors—providing one transmit and one receive pair per module. A single panel can support up to 32 modules, and panels are available in various sizes (including 5-, 6-, and 12-module versions), to accommodate customer requirements.
The same module can be uniquely packaged to support different applications, such as remote terminal, controlled environmental vault (CEV) huts, and customer premises equipment. An L-bracket is also available that provides a space-saving way to mount several modules onto a wall. The L-bracket is designed for use in any customer-premises wiring room where DS-3 bandwidth is being handed off to a local building.
While a telephone room may not have the space to accommodate the installation of another rack, there's usually a spot to hang an L-bracket containing several hand-off modules somewhere inside the space.
For a typical DS-3 data line, fiber is used to transport the signals form the central office to the premises wiring closet. In the wiring closet, the fiber line is segmented into multiple DS-3 coaxial lines for further deployment to individual offices or floors. The bracket is designed to facilitate signal clarity testing of the coaxial line within the wiring closet.
In addition, modules can be easily snapped into an existing fiber distribution box to offer a simple hand-off solution for fiber services. The universal mount clips into a six-pack opening in a fiber distribution box, making the box more versatile for use in both DD-3 and fiber applications. In essence, this enables the fiber distribution box to become a combination fiber/coaxial junction box.
The connectivity hardware that is available with the demarcation modules provides several features and benefits to the provider. A collocation monitor panel is just one example of many available panel configurations on the market today.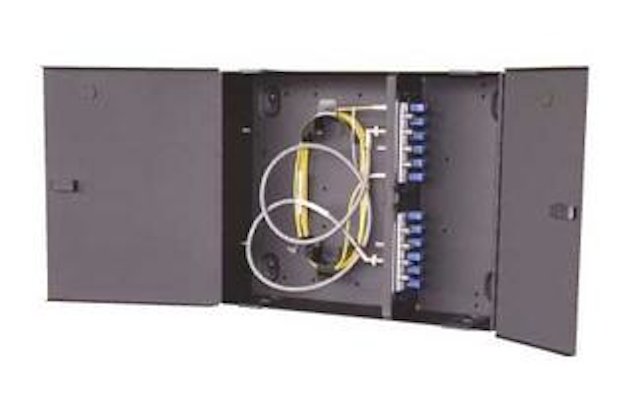 The traditional fiber-distribution box has evolved into a junction that accepts fiber, coaxial, and twisted-pair cabling. For a typical DS-3 line, fiber is used from the central office to the premises wiring space, where it is segmented into multiple DS-3 coaxial lines.
Click here to enlarge image
A monitor jack on the demarcation module enables sampling or electronic screening of the signal for digital wave attributes and overall signal clarity. When connected to the proper equipment, a digital record or hard copy can be maintained to isolate line trouble at the collocation boundary.
The BNC jacks use a locking bayonet mechanism for tactile closure and cable retention. All ports are conventional telephony coaxial jacks designed to handle 44-Mbits/sec and higher data rates. A designation-strip feature lets you position BNC plugs in the proper port without having to go to the rear of the bay, enabling you to work without assistance.
Optional cable-management bars provide strain relief on the panel and BNC jacks while keeping cables neat and organized. Ports are clearly numbered from 1 to 24 or 1 to 32 on front and back.
Hand-off simplicity
As service providers seek unique solutions to save money in all areas of the network, demarcation modules—made for simplicity and versatility—enable hand-off capability at reduced costs. Using these modules, with or without built-in surge protection, along with their OSP DS-3 connectivity hardware, gives providers an easier method for handing off DS-3 bandwidth to their business and industrial customers.
Garry Heverly is regional sales manager for Trompeter Electronics (www.trompeter.com), and Kevin Silver is principal of L&M Associates (www.lmassociates.com).