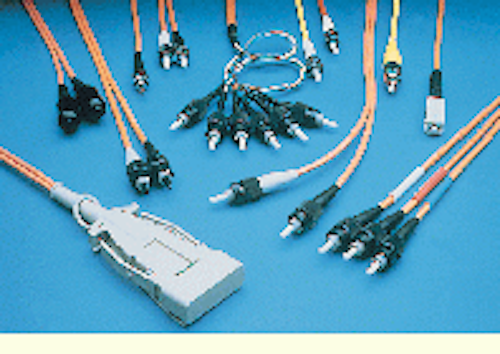 Barbara E. Thompson
Standard fiber-optic patch cords, or jumpers, are short interconnection optical cables with the same connector on each end. [For information on hybrid adapters, with dissimilar connectors, see April 1995, page 10.] According to the Building Industry Consulting Service International Inc. TDM Manual, "the (fiber-optic) cable plant should be interconnected to the optical equipment through the use of optical patch cords (jumpers). This method minimizes accidental damage to the backbone."
Installers predominantly use patch cords to provide interconnection between the optical transmission equipment and the patch panel in the wiring closet; however they also use jumpers to connect one port on a patch panel to another port. Patch cords can also be used with test equipment--from the optical time-domain reflectometer or optical loss tester to the patch panel. In addition, installers are beginning to use patch cords from the last link of fiber from the horizontal crossconnect to the workstation; however, this can be costly compared to using unshielded twisted-pair patch cords.
"The least common use (this may soon change) for patch cords is for workstation connectivity," says Paul Cornwell, vice president of the optical fiber group at LAN Mark Communications Inc. (Auburn, MA). "In a proposal for a fiber-to-the-desk job we recently completed, one cost-prohibitive item was the fiber-optic patch cords to the workstation. A UTP cord can cost $3 to $5, whereas a fiber-optic patch cord runs from $25 to $35," he says. "Multiply that by the number of users and that`s a great deal of money."
Although price is an issue when choosing a fiber-optic patch cord, the type and performance of the cable-assembly connectors appear to be key factors.
Connector performance is critical
Most manufacturers provide all standard connector types and installers can then choose the connector type to fit the job. According to Stuart Melton, product manager for connectorized cable assemblies at Siecor Corp. (Hickory, NC), two fundamental parameters for patch cord connector performance are low insertion loss and low reflectance. "When you`re dealing with light [as in fiber optics], you have a limited power budget so you want to install the highest-quality connectors possible," he says.
As well as insertion loss, which must comply with the Electronic Industries Association/Telecommunications Industry Association standard 568, patch cord connectors should be visually inspected and optically tested, advises Larry Johnson, president of The Light Brigade Inc. (Kent, WA). "We make a lot of customized assemblies, as can anybody else. The issue is to make them meet both visual and optical quality standards," he says.
Installers seem to agree that quality is first and price second when buying patch cords. "And number one would be the quality of the end finish of the connector," Cornwell says. "We make most of our patch cord requirements but when we don`t, we buy them from quality sources. We trust them to do a proper inspection of the assemblies."
At Trellis Communications Corp. (Manchester, NH), President Allen Kasiewicz says they used to make their own cable assemblies. "Then the price plummeted in the marketplace. Now we buy probably 90% from the outside. It`s not competitive for us to have expensive technicians doing this," he says. "However, we look carefully at the strain relief--how the assembler makes the transition from the cable to the connector--and, occasionally, we sacrifice one cable, cut it open and look at it. We also check to make sure that they maintain the radius on the ceramic."
"For patch cords, we`re pretty much interested in all metal and ceramic connectors, because these jumper cables are being handled all the time. In outside plant terminations, the connectors could be plastic or ceramic because once they`re plugged in, they stay in," he adds.
Installation is important too, because performance can be affected by dirty connectors on patch cords. "Dirt is a connector`s worst enemy," says Melton. "The best rule of thumb is that any time a connector is unplugged, it should be cleaned each and every time it`s remated."
Other parameters
Connector type and performance are important, but what else does an installer need to know when ordering patch cords? Of course, you need to specify the fiber size and whether the optical fiber is multimode or singlemode. "Even with multimode fiber, we always check the fiber size, because it could be 50/125 or 100/140 microns," says Johnson. "But 95% of the time it is going to be 62.5/125 microns if it`s multimode."
Patch cable assemblies can be simplex--typically one 3-millimeter cord that goes from point to point--or duplex--two cords molded together with a zip cord so you can separate them. A few manufacturers also offer multi-fiber or high-fiber-count optical harnesses.
"One trend is to pre-terminate the building harnesses," says Melton. "Rather than installers having to connectorize cable in a building, they can buy pre-engineered, pre-terminated lengths of cable, pull it and plug it in--a plug-and-play concept."
Another parameter that installers need to consider is the length of patch cord required for the job. For example, "from one port to another port is possibly 1 meter," says Kasiewicz. "When the patch panels are in a couple of racks or if a full rack is allocated to a set of patching, the length could be 2 meters. However, if it`s a piece of electronics over to a patch panel over to a big switch room, that could be 10 meters."
The price of fiber-optic patch cords depends on the configuration, and a few manufacturers will make custom configurations. For example, "we use riser cable across the board unless the customer specifies plenum," says Johnson. "But it`s not the fiber that costs so much, it`s the connectors and the labor involved to make high-quality assemblies."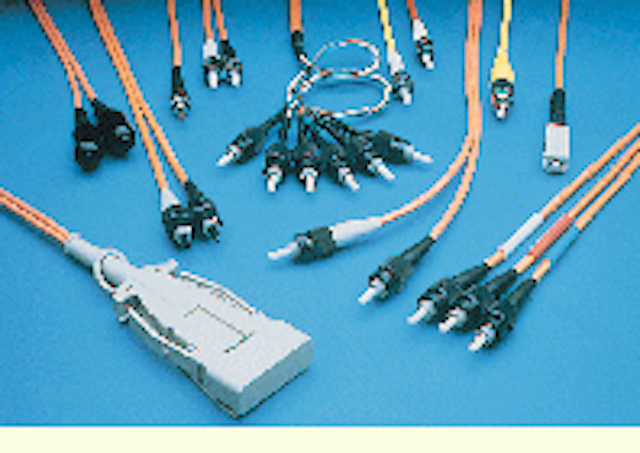 Click here to enlarge image
Fiber-optic patch cords are available with all types of standard connectors.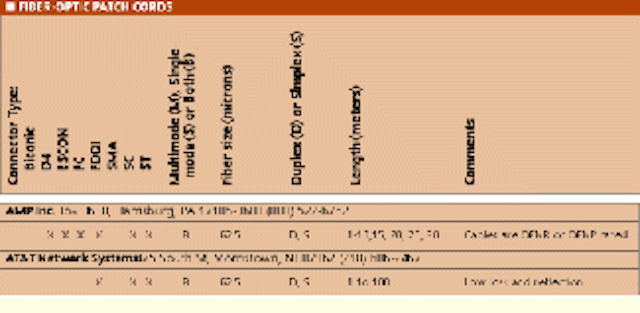 Click here to enlarge image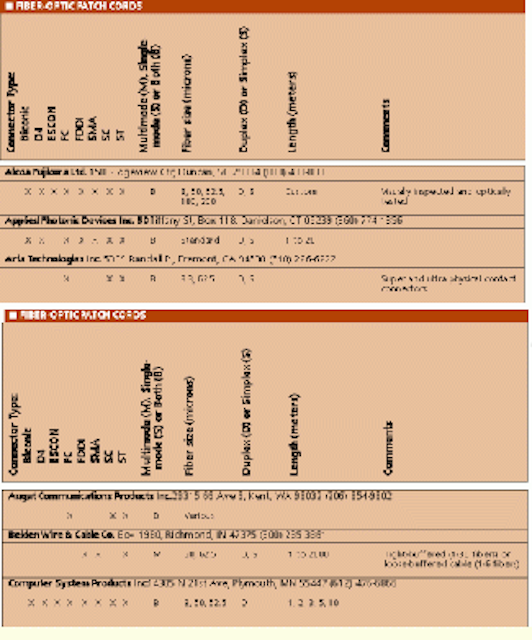 Click here to enlarge image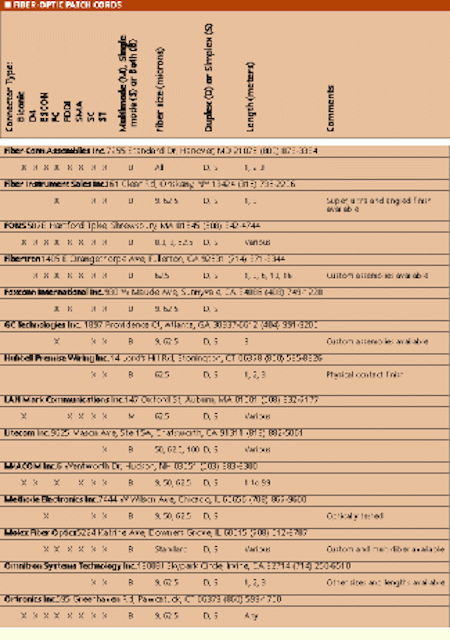 Click here to enlarge image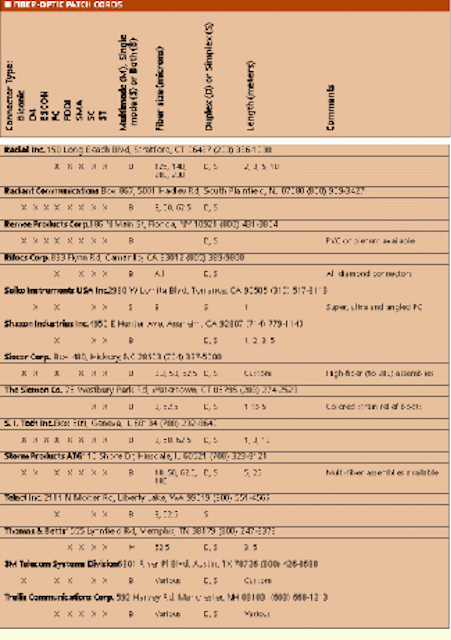 Click here to enlarge image