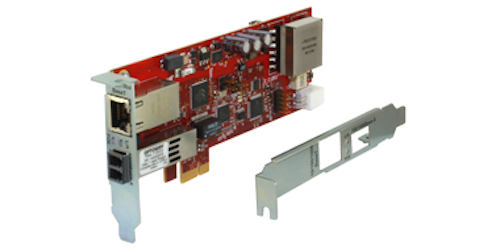 Transition Networks (Minneapolis, MN), a wholly owned subsidiary of Communications Systems, Inc. (NASDAQ-GM: JCS), has this month announced a new two-port Gigabit Ethernet network adapter that supports a fiber-optic network connection to a computer and a Power-over-Ethernet (PoE) connection to a voice over IP (VoIP) phone or other powered device.

Transition Networks' N-GXE-POE-xx-01 network interface card (NIC) provides a solution for organizations that have fiber to the desktop for increased data security but still need to support PoE powered devices. The N-GXE-POE-xx-01 includes both a 1000Base-SX multimode fiber port for a computer connection and a switched 10/100/1000BaseT RJ-45 PoE port supporting the IEEE 802.3at PoE+ standard for the powered device.

Further, the N-GXE-POE-xx-01 is a PCIe form factor NIC with added data traffic switching intelligence between the fiber port and the adjacent RJ45 copper port. The NIC preserves all data priority and virtual LAN tagging to ensure high quality of service for VoIP communications. The device draws power from the PC and can operate even when the PC is in S1 sleep mode, preserving VoIP / server connectivity even when the computer is not in use.

"Many organizations are choosing fiber-to-the-desk for secure applications but would still like to use PoE to support VoIP phones, WiFi access points and other powered devices," said Curt Carlson, product manager for Transition Networks. "The N-GXE-POE-xx-01 is a space-saving alternative to using two copper-to-fiber media converters and ensures that organizations don't have to compromise security to deliver cost-effective VoIP telephony."

Transition Networks showcased the new two-port Gigabit Ethernet PoE NIC product at the 2015 BICSI Fall Conference (Sep. 20-24) in Las Vegas.