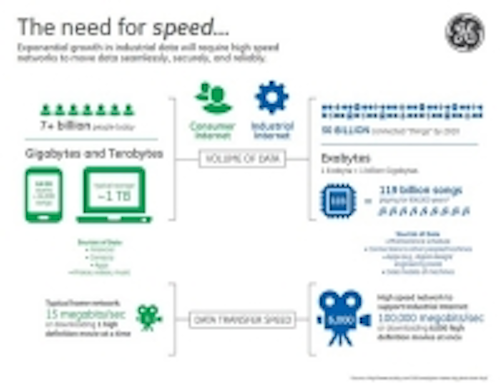 Network infrastructure to support seamless Machine-to-Machine (M2M) communications across connected control systems, big infrastructure products and manufacturing plants. Disruptive innovation demonstrates industry success in creating viable test beds through the Industrial Internet Consortium Working Groups.
GE (NYSE: GE) announced its creation a prototype network installation employing some of the world's highest-speed fiber-optic lines to support the company's Industrial Internet initiative.
As a founding member of the Industrial Internet Consortium, GE's software scientists and developers have created an industry test bed that will transfer data at 100 gigabits per second to support seamless Machine-to-Machine (M2M) communications and data transfer across connected control systems, big infrastructure products and manufacturing plants.
"A software research focus for GE has been to advance the real-time connections between large scale systems and to develop sophisticated control systems that increase the performance and efficiency of our products. These high-speed networking lines enable accelerated data movement and an increase in data volumes within Industrial Internet products and services. This ability will greatly accelerate needed advancements in these areas, and in collaboration with the Industrial Internet Consortium, help advance industry standards," commented Colin Parris, vice president of GE Software Research.
Industrial Internet Consortium member Cisco also contributed expertise in building the test bed project, as well as Internet2, which provides the infrastructure to give the network its national reach.
"As founding members of the IIC, Cisco and GE are collaboratively working on innovation test beds, reference architectures and standards infrastructure for Industrial Internet applications. GE's new fiber link and continued test beds are crucial to advancing our efforts around the Internet of Things and to our ability to rapidly generate valuable customer insights through our industry solutions," said Cisco's Tony Shakib, VP, IoE Vertical Solutions Group.
The fiber-optic network will be featured during demonstrations at the Industrial Internet Consortium's Summer Conference at GE's Global Research Center in Niskayuna, N.Y., on Thursday, July 16.
As noted by a GE press release: "A typical Internet connection for home computers or mobile devices can transfer data at speeds of 15 megabits per second, or the equivalent one full quality, high-definition movie at a time. These speeds pale in comparison to the high-speed networking lines installed at GE's Global Research Center that deliver speeds of 100 gigabits, or 100,000 megabits per second. That's the equivalent of downloading not one, but more than 6,000 movies at a time.
While computer-processing speed has improved substantially over time, every user has experienced the long wait times of downloading large files on a home computer or mobile device. Downloads can sometimes take several minutes to complete. Imagine giving an industrial machine a command that has data sets with 1,000 times a standard movie file size. With the new 100 gigabit lines, industries can instantaneously connect and control machines located thousands of miles away. Through the Industrial Internet, GE is harnessing major advances in software, data analytics and now networking to connect people, data and machines in ways that take product development and services to the next level.
The use of high-speed networking lines will be critical to helping GE rapidly transform its 400 manufacturing facilities into brilliant factories. For example, GE will now be able to connect to its manufacturing plants and have full visibility and control of the operation in the plant, which in turn makes them brilliant. This 100 Gb capability also extends to the wireless edge, allowing GE to provide more data and analytical results to mobile users through advanced communication techniques."