Leviton announces Intertek-confirmed Category 8 connectivity system
The Atlas-X1 Category 8 connectivity system meets the latest draft specifications, and will be combined with Category 8 cable from Berk-Tek for an end-to-end system.
Feb 2nd, 2015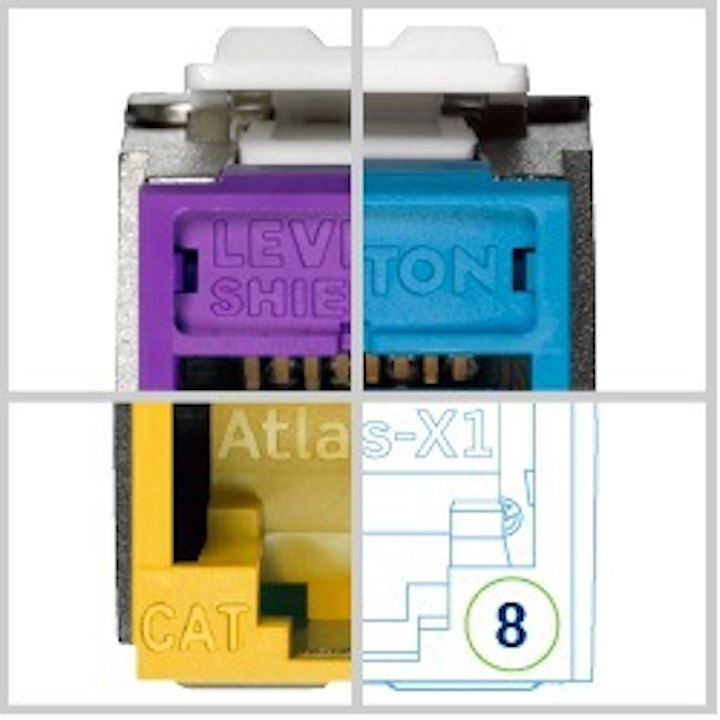 Leviton has announced its Atlas-X1 Category 8 connectivity hardware—a system of products it will formally introduce at the BICSI Winter Conference—and says the connectivity has been confirmed by Intertek to meet draft Category 8 performance specifications. "The Atlas X-1 is the industry's first system to support shielded applications from Category 8 to 5e and UTP applications from Category 6A to 5e, all from one unified connectivity platform," Leviton said when making the announcement. "This comprehensive system is made in the United States, and delivers high levels of performance across all categories to seamlessly support network migration to 40GBase-T."
Leviton further explained, "The Atlas-X1 system has been tested and confirmed by Intertek, an independent electrical testing lab, to meet the current draft 2.0E of the TIA-568-C.2-1 Category 8 proposed standard (October 2014). The pending standard defines performance and testing requirements up to 2 GHz for Category 8 cabling systems to support the operation of IEEE 802.3bq 40GBase-T applications up to 30 meters."
Antoine Pelletier, project manager for ICT cabling products testing with Intertek, commented, "Members of the TR-42.7 Subcommittee are working together toward the development of a new cabling category standard driven by end-user needs. The successful Category 8 draft standard compliance of the Atlas X-1 solution shows the technical feasibility of copper twisted-pair cabling bandwidth increase, and the achievement of a milestone toward the future 40GBase-T industry standard."
Ross Goldman, executive vice president and general manager of Leviton Network Solutions, added, "We are excited to announce the new Atlas X-1 system has been confirmed by a third party to achieve Category 8 performance. The unique, all-new Atlas X-1 connector platform gives the installer a consistent termination method across the board, from Category 8 to Category 5e for shielded and from Category 6A to Category 5e for UTP installations.
The Atlas-X1 Category 8 connectivity will be part of the Berk-Tek Leviton Technologies Category 8 structured cabling system, Leviton added. "The U.S.-made system uses pre-production Category 8 cable from Berk-Tek, supports a 30-meter channel, and has been independently tested to achieve Category 8 performance," Leviton said.
Paul Trunk, president of Berk-Tek, commented, "Through our intimate involvement in the development of the Category 8 standard, Berk-Tek and Leviton have used our extensive cable and connectivity expertise to create an end-to-end channel that meets and exceeds the new draft standards."
More information on the Atlas-X1 Category 8 connectivity system is available here.