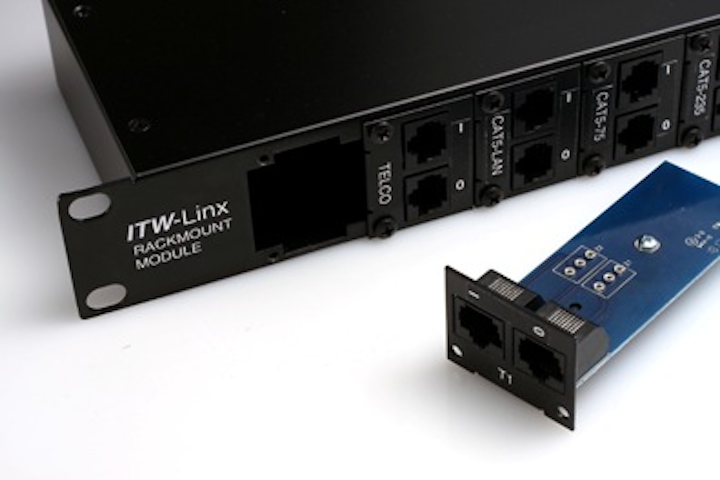 The new SurgeGate Modular Rackmount surge protector from ITW Linx enables users to mix and match 12 surge-protection modules. The company says the technology, which includes quick response time, can offer cost, labor and space savings.
"Through the use of solid state technology, the SurgeGate Modular Rackmount ensures enhanced safety and the fastest protection time in the industry with a response time of 1 to 5 nanoseconds," ITW Linx says. "Unlike standard preassembled surge protectors, the SurgeGate Modular Rackmount is the only mix-and-match surge protector on the market that offers six types of protection: Cat5 E-LAN, Cat5 E-POE, Cat5 E-75, Cat5 E-235, T1 and Telco CO [central office] line on a single 12-module rack."
The company further explains that a user can install anywhere from 1 to 12 modules depending on its requirements. New modules can be added in configurations and numbers needed as needs evolve. "The ability to use 1 single protector for up to 12 technologies can generate cost savings up to 40 percent," ITW Linx claims, adding, "Because the single rack comes with a common grounding wire, there is no need to ground each of the individual modules, leading to up to an 80-percent reduction in installation-time requirements. The single grounding wire also helps minimize grounding errors in the installation of multiple surge protectors, further enhancing technology safety."
The protector is 19 inches wide and 1U in height. It is UL 497-listed and tested to TIA standards, ITW Linx notes. The MSRP for the rack-mount chassis is $399, and modules are sold individually for $45.50 in production volumes. The chassis and modules are available directly from ITW Linx and through distribution.