Forecast: Media-converter demand will remain strong
ElectroniCast Consultants foresees continued strong user demand for greater bandwidth and increased interconnectivity in private datacom networks.
Jan 3rd, 2013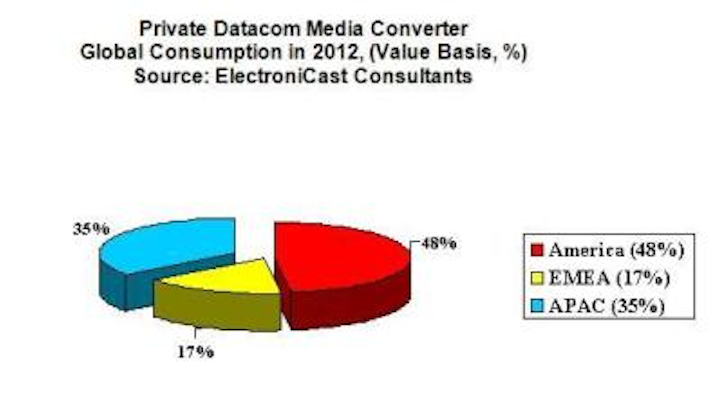 ElectroniCast Consultants recently released a market analysis of the worldwide use of media converters in private data-communications networks. "For the purposes of this study, ElectroniCast classifies the media converter as a device that connects different communication transmission media, for example, from copper to/from optical fiber, and multimode optical fiber to singlemode optical fiber," the company explained. "Media converters offer a relatively inexpensive alternative to repeaters. They do not retime the signal or add the signal propagation delays like full repeaters, so they do not increase the number of repeaters to existing networks."
The 312-page forecast report concludes "there will continue to be a strong user demand for greater bandwidth and increased interconnectivity to the desktop, throughout the buildings, campuses, from LAN-to-LAN and LAN extensions."
Stephen Montgomery, president of ElectroniCast, commented, "Driven by broadband-intensive digital video and critical data transfers, which are the type of data crossing communication devices, copper-based interconnect typically lack in serving the bandwidth requirements. For computer and storage-intensive applications such as data centers, the integration of optical interfaces is forecast to push the market demand for copper-to-fiber-optic, as well as converting different types of optical fiber media conversion."
The company stated that its research indicates "network operators and administrators are turning to media converters with increasing frequency, and this trend will continue well into the future. The demand for media converters, of course, derives from the need to use different kinds of cabling in the same application," ElectroniCast continued. "The requirements of each network will determine whether multiple cable types are necessary, and in turn, which media converters might play a role."
Published in late 2012, the analysis projected that for the year, the Americas Region would lead in relative market share with 48 percent of worldwide consumption in terms of value (figure below), although it forecasts the APAC region will capture the leadership position in relative market share later in the forecast period. You can find more information about ElectroniCast Consultants and its market analysis here.