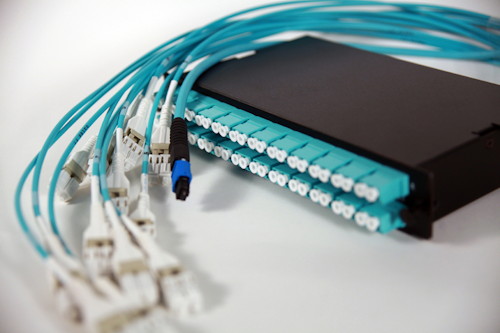 The 24-fiber MTP system from CXtec's CABLExpress division features the Skinny-Trunk 24 Harness and 24-fiber MTP connector, and provides an insertion loss of just 0.35 dB. The system is designed to save space and reduce congestion within a data center or other high-density computing environment.
CXtec vice president of data center and cabling, Pete Belyea, explains the driving force behind the system's development: "Our customers wanted a condensed solution within their data center and by reducing the amount of plug-ins required for an installation we were able to meet their needs. The new 24-fiber MTP connector provides our customers with a phenomenal industry-leading insertion loss rate of just .35 dB."
In addition to reducing the number of plug-ins needed for an installation, the Skinny-Trunk 24 Harness also allows for a 60-percent reduction in cable bulk, which the company points out saves even more valuable space. Additionally, CXtec says, the 24-fiber connector creates a clear migration path to 40/100-Gbit/sec speeds while meeting the IEEE 802.3ba's strict loss budgets.
Both the Skinny-Trunk 24 Harness and the 24-fiber connector are pre-engineered, and the harness features customizable staggering to provide neat and clean installation into a user's switches for optimum cable management, the company notes. The products are comptabile with Skinny-Trunk 24 trunking assemblies as well as H-Series enclosures and corresponding modules. The harness and MTP connector come with a lifetime warranty.