Fiber Connections Inc. offers mini-LC duplex and Uniboot LC connectors
Uniboot offers reduced size and the ability to change polarity in the field.
Dec 5th, 2011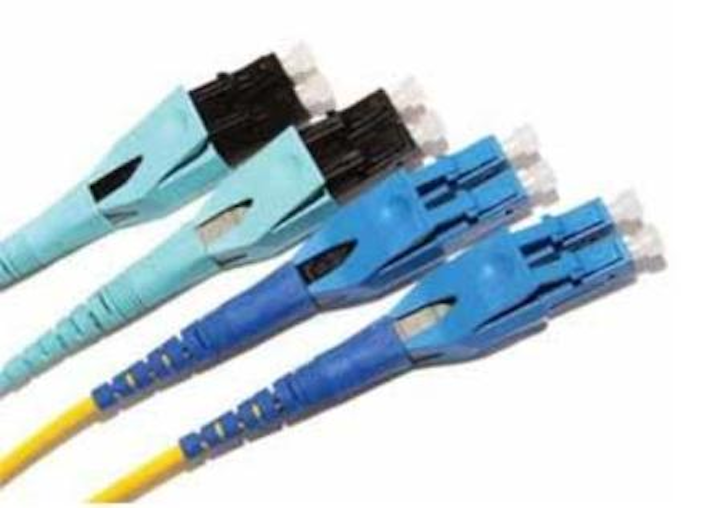 Fiber Connections Inc. now offers fiber-optic cabling assemblies with the Corning Uniboot LC connector and with mini-LC connectors.
The Corning Uniboot LC (pictured at the bottom of this page) features a changeable polarity option and reduction in size compared to standard duplex LC options. It has a single, 2-mm boot at the back of the connector. The round, 2-mm-diameter cable combined with the single boot provides a significant space savings, Fiber Connections says. The ability to change fiber polarity also makes the connector useful in the field, by eliminating the possibility of having to replace or reterminate cables in the field due to fibers not being properly oriented.
The mini-LC uses current industry-standard LC connectors but reduces the center spacing when the duplex clip is added. The result is a smaller duplex footprint, which Fiber Connections points out is ideal for high-density applications such as Brocade's high-density data center systems. The reduced overall dimensions of the mini SFP that these connectors plug into enables up to a one-third increase in switch port density, Fiber Connections adds, which is a significant space savings in data centers.
Geoff Laycock, vice president of sales and marketing with Fiber Connections Inc., said, "Adding two more small-form-factor connector options really rounds out our line of passive fiber-optic products. As a Corning Gold supplier, we are able to be one of the few companies to offer the Uniboot connector, giving our customers a full range of LC connectivity options."
Check out the Fiber-optic Connectors section of our Online Buyer's Guide.