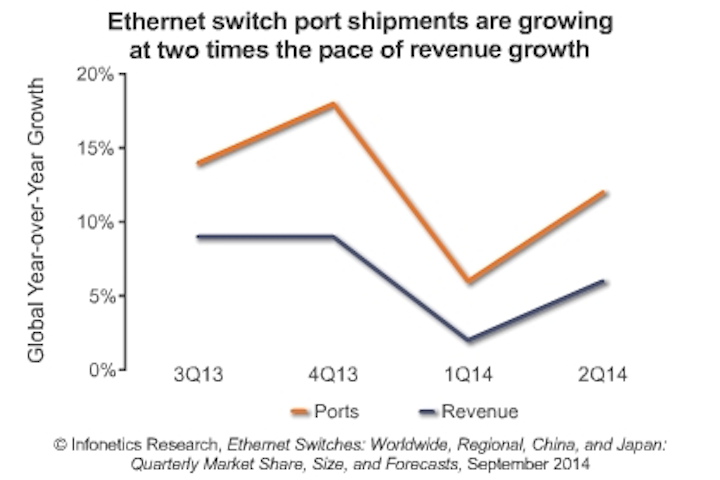 Infonetics Research recently released highlights from its 2nd quarter (2Q14) Ethernet Switches report, which tracks unmanaged, web-managed, and fully-managed fixed and chassis switches by port speed (100M, 1G, 10G, 40G, 100G). The report finds that the global Ethernet switch market grew 11% to $5.4 billion in 2Q14, a result of better than anticipated results by #1 ranked vendor Cisco, and strong results by a number of smaller players including Arista, Brocade, HP, Huawei, Juniper, and ZTE.

Nonetheless, "the Ethernet switching market recovered in the second quarter of 2014 after a slow first quarter, but revenue growth remains challenged as vendors compete aggressively against each other, white-label solutions gain greater traction, and large data center operators negotiate more favorable terms," warns Matthias Machowinski, directing analyst for enterprise networks and video at Infonetics Research. He continues, "So while overall switching demand remains healthy, revenue is growing at only half the rate of port shipments."

Despite the warning, Infonetics says the market's year-over-year growth accelerated from 2% in 1Q14 to 6% in 2Q14. Further, switching growth was determined to have been well-balanced across small- and medium-sized business (SMB) and enterprise accounts, with the public sector is showing signs of stabilization. Web-managed and fully-managed fixed switches posted strong growth from 2Q13 to 2Q14, while unmanaged and chassis switches declined.

According to the report, 100G ports grew over 50% sequentially in 2Q14, and over 3,000 ports were sold; 100G on fixed switches will start shipping in 3Q14, which is expected to sustain current market growth rates. The study finds that Asia Pacific is the key growth region for Ethernet switches right now, but that not all countries are faring equally. China is reportedly delivering very strong growth and the rest of APAC is accelerating, while Japan is trending flat to slightly down, says the researcher.

Infonetics' quarterly Ethernet Switch report provides worldwide and regional market size, vendor market share, forecasts through 2018, analysis, and trends for Ethernet switches and PoE, including ports, fixed configuration switches, and chassis switches. Vendors tracked include Adtran, Alaxala, Alcatel-Lucent, Arista, Avaya, Brocade, Cisco, D-Link, Dell, Extreme, Hitachi, HP, Huawei, IBM, Juniper, Netgear, Ruby Tech, TP-Link, ZTE, and others.

Learn more about the report.