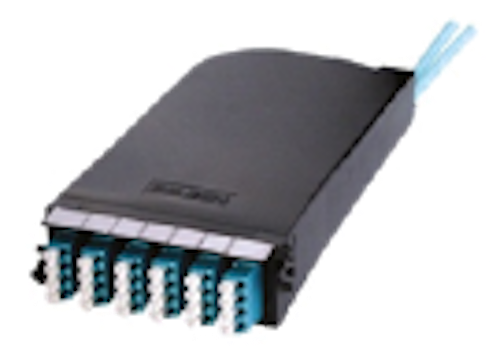 Belden (NYSE: BDC) has introduced its FiberExpress UHD (FX UHD) splice cassette, which the company says reduces fiber network installation time and cost by enabling easier, faster splicing for a range of fiber and connector types.

The company notes that fusion splicing remains a popular method for field-termination of fiber connectivity in the enterprise LAN environment as well as in the data center. Eliminating bulky splice trays and housings, the FX UHD splice cassette integrates the connector, splice-holder and slack management into a compact yet easily managed cassette format; the new product's design supports all leading fiber connector and cable types, asserts the company.
Belden says the new cassettes support mass fusion splicing that enables faster field termination by installing multiple connectors with a single fusion splice. This is useful for fusion splicing to factory-terminated multi-fiber MPO pigtails used in next-generation 40 and 100 gigabit networks. The FX UHD splice cassettes can be easily mounted in the companion FX UHD patch panel systems, including wall mount, rack unit and 0U cabinet space for maximum flexibility and space savings.
"The cost of fusion splicers has dropped significantly in recent years, particularly mass fusion splicers," notes Dwayne Crawford, product line manager for Belden. "The FX UHD splice cassettes leverage this mass fusion opportunity to field-terminate MPO connectors or attach up to 12 single fiber connectors in a single splice operation with newer mass fusion pigtail kits. This leads to a significant reduction in both parts and termination labor cost."
Through December 5, Belden announced that it is hosting a splicing challenge contest where all applicants will receive a free FX UHD splice cassette with pigtails. Everyone who participates by uploading a picture of their completed Belden splice cassette will receive a $25 VISA gift card. To learn more about the FX UHD splice cassette and the competition, visit the 'New Products' page on Belden's website.