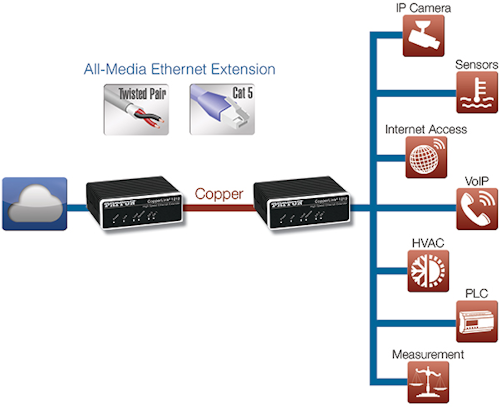 Patton Electronics announced that its compact, US-manufactured CopperLink CL1212 series of ultra-high-speed copper Ethernet extenders is now shipping and generally available. Delivering downstream speeds up to 168 Mbps, Patton says the tiny dual-port CopperLink CL1212 extender leverages existing copper cabling to transport such bandwidth-intensive applications as large file transfers, data backhaul, IP telephony, streaming music and IP video.

Extending Ethernet up to 10,000 feet (3 kilometers) over a single twisted pair, the CopperLink CL1212 is designed to eliminate the expense and delay of replacing installed cabling when interconnecting IP-enabled devices and network services. Measuring just 3 x 4 x 1.5 inches, the CL1212 installs easily into very small spaces, notes the company. Further, the CL1212's integrated two-port Ethernet switch can aggregate IP traffic from two sources (IP-video camera, VoIP-enabled intercom, VoIP phones, IP-PBX, file servers, PCs, etc.) for simultaneous transmission over a single Ethernet connection.
"Our newest CopperLink is a testament to our never-ending pursuit of complete customer satisfaction," comments Johnnie Grant, CopperLink product manager. "While the CL1212 offers higher speeds and feature enhancements, our primary focus was delivering the compact form factor our customers know and appreciate."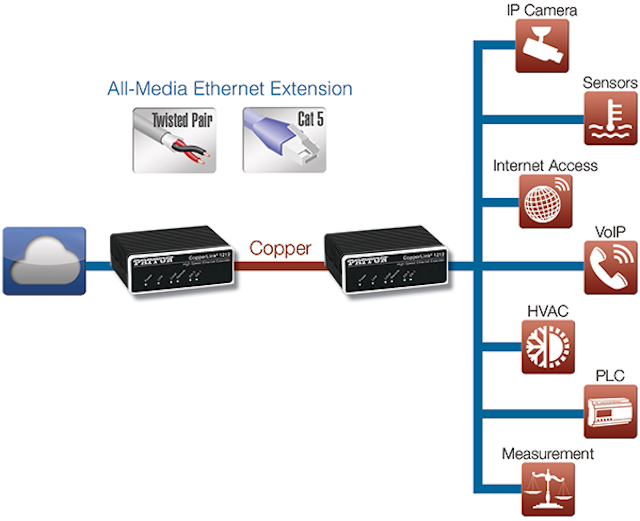 168-Mbps Ethernet extender streams media over existing copper network infrastructure

The CL1212 offers three user-configured line-rate modes: long-range asymmetrical, high-speed asymmetrical, or high-speed symmetrical. Combined with Patton's auto-rate adaptation feature, the selection of three line-rate modes ensures maximum achievable speed-distance combination for the application, installed noise environment, wire gauge and wire type. Symmetrical settings are ideal for such applications as remote LAN extension, video teleconferencing, and data backhaul, says Patton. Asymmetrical configurations are suited for scenarios requiring ultra-high downstream speeds and/or extra-long distances including medical imaging, livestock monitoring, underwater video, internet gaming, and high-resolution video from security cameras.

"For OEM business partners and other special-order customers, we're offering the CL1212 -- and the CL1211, a single-port variant -- as a printed circuit board (PCB) kit," adds Patton's Grant.

Learn more about the product.