Cat 6-capable surge protector handles 10GBase-T
SurgeGate manufacturer ITW Linx cautions that 'Cat 6-compatible' is not synonymous with Cat 6 standard compliance.
Feb 7th, 2014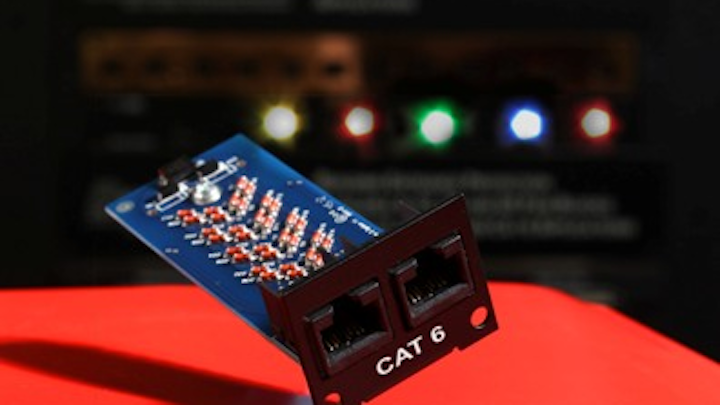 ITW Linx recently announced the global launch of its SurgeGate CAT6 RJ45 four-pair surge protector, which the company says has been "thoroughly tested to meet or exceed Cat 6 standards for signal integrity," and which features "solid state technology for enhanced surge protection and industry-leading response time." As a Category 6-capable protector, SurgeGate CAT6 supports 10GBase-T Ethernet connections to the distances supported by Category 6. The company says the product's "patented circuitry allows the protector to provide a response time to capacitance ratio superior to any product available in the market today."
Yasoob Ahmed, director of engineering at ITW Linx, commented, "Not all marketed Cat 6 surge protectors provide comparable signal integrity. We tested three leading brands and found that none of their 'Cat 6' technologies actually met TIA Cat 6 requirements for signal integrity. It is important that consumers be aware that 'Cat 6-compatible' is not the same as 'meets Cat 6 standards.' The new SurgeGate CAT6 RJ45 four-pair protector has been thoroughly tested to meet or exceed TIA Cat 6 standards in regards to attenuation, return loss and crosstalk—setting it apart in today's market and providing the greatest possible protection against expensive downtime and equipment damage."
ITW Linx explained that through the use of solid state technology, its new protector "ensures enhanced safety and the fastest protection time in the industry with a response time of 2 to 5 nanoseconds. This is up to 2500-percent faster than the clamping speed obtained with older glass-tube technologies which are still very present in the market today, as well as up to 10x faster than the clamping speeds provided by Cat 5."
The SurgeGate CAT6 RJ45 four-pair protector is available with three different clamping voltage levels: 1) 16 Volt (for LAN internet applications); 2) 75 Volt (for applications requiring paired power and data such as PoE and VoIP phone systems and security cameras); 3) 235 Volt (for voice analog telecommunications applications). It is available with both wall-mount and rack-mount housing options. The wall-mounted device measures 9x4.5x2 inches and houses from 1 to 6 surge-protector modules. The 1U, 19-inch rack-mount housing houses anywhere from 1 to 12 surge-protector modules.
The surge protectors are UL-listed, meet or exceed UL 497, and are RoHS-compliant, ITW Linx noted. The SurgeGate CAT6 RJ45 four-pair protector is stocked by Graybar.