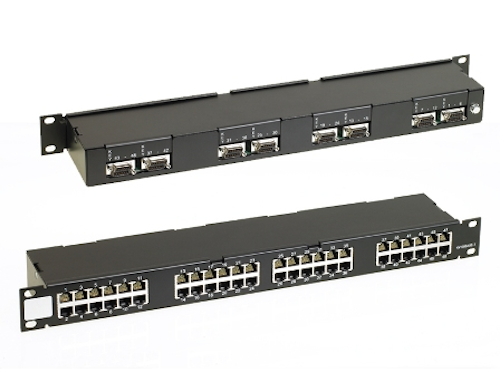 The MRJ21 48-port, 1U patch panels now available from Bel Stewart Connector are engineered to assist installers in rapidly connecting equipment using MRJ21 interfaces to infrastructure or equipment with RJ45 ports, the company explains. It also saves rack and cabinet space in data centers or telecommunications rooms, Bel Stewart Connector adds. The patch panels are available with 10/100Base-T or 10/100/1000Base-T capability.
Bel Stewart Connector licenses the MRJ21 from TE Connectivity.
"Stewart Connector's MRJ21 Cabling System supports high-density, small-form-factor connectivity in any plug-and-play environment including data centers and zoned cabled or office environments," Bel Stewart said when announcing the panels' availability. "The panels fit into standard 19-inch racks and are ideally suited for use with Stewart Connectors' MRJ21 cable assemblies, which offer the ability to connect 24 twisted pairs [12, two-pair or 6, four-pair ports] with just one connection. Available in common and custom sizes, the factory-terminated and –tested cable assemblies facilitate quicker installation together with highly reliable and robust connections. The cables are supplied in shielded and unshielded configurations in addition to plenum, riser and LSZH jacket constructions. Multiple versions of MRJ21 end configurations, including MRJ21-to-RJ45 and RJ21, are provided."
The patch panels feature a straight-panel design with push-on keyed connection, jackscrews for positive latching and secure cable retention, and on-site configuration label, Bel Stewart Connector adds. Also, designs for T1/E1 and DSL applications, along with custom connector terminations, are available upon request.