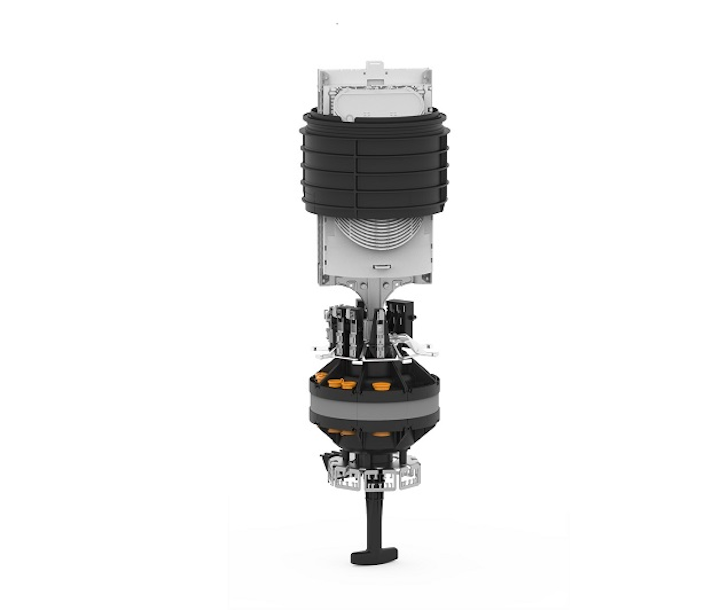 In March, CommScope introduced its FIST Modular Splice Closure, designed to assist network operators with building a fiber foundation for future 5G networks.
Per a company statement, "As governments around the world invigorate broadband with investment in digital infrastructure, the number of 5G connections is expected to exceed one billion by 2025. The next few years are critical to building networks that will meet the demand. [Meanwhile,] speed of deployment and shortage of skilled labor continue to be a challenge around large fiber connectivity deployments."
Related: CommScope says 5G momentum has only just begun
In anticipation of these concerns, CommScope says its new FIST Modular Splice Closure "addresses the need to keep pace with subscriber demands using plug-and-play technology." The company notes that the enclosure's modular build allows configurations on-site, thereby reducing the need for site inspections, and decreasing rollout lead time, while enabling adaptation to the constantly-changing needs of the network.
"As we move toward connectivity for a gigabit society, government directives, grants and subsidies are encouraging full fiber infrastructure vital to underpinning 5G coverage," comments Ric Johnsen, senior vice president of Network Cables and Connectivity, CommScope.
Significantly, Johnsen added, "CommScope's new FIST modular splice closure is a game-changer, as we consider it the most comprehensive upgrade to our fiber portfolio in decades. This is the type of innovation which will continue to gain in popularity as it helps service providers build a stronger business case for truly converged wireless and wireline networks."
Key innovations surrounding the FIST Modular Splice Closure, according to CommScope, include the following:
* Gel sealing technologies: Composed of eight interchangeable and wrap around cold-seal segments that are field and factory installable.
* Wide range of cables: Universal termination for 1-27 millimeter (mm) cables.
* FIST fiber management: Single circuit and single-element splice trays with high levels of performance at high splice capacity.
* Easy install: Removable base with easy access during installation and provisioning.
The FIST platform was announced at this year's European FTTH Conference in Amsterdam (March 12-14). European network operators agree that the digital economy is a key pillar of future market growth.
"Fiber is a growth engine for Europe and markets around the world," asserts Erzsébet Fitori, director general of the FTTH Council Europe. "By investing in smart innovation, governments have the opportunity to shape the global competitiveness of their societies and economies in a digitally managed world. Fiber infrastructure is the foundation for innovation in key areas like IoT, mobile computing and 5G."
"There are a multitude of inventions that are less visible and well-known, but which have also contributed greatly to the communications industries," concludes László Bóka, head of Fixed Access SSC, Deutsche Telekom. "For every new smartphone, streaming service and internet-connected gadget, there's a network engineer somewhere innovating to ensure the data from these devices is moved quickly, error-free and cost-effectively. While we rarely think of the network as the epicenter of an ongoing series of innovations, that is exactly what it is. Its continued evolution is what enables the services that people have come to love."
See Also: Smart cities trends for 2019 identified by CommScope