Small-diameter 10-Gig cable
Berk-Tek's 10G LD UTP cable supports 10GBase-T to a maximum of 60 meters and is 0.265 inches in diameter.
Mar 15th, 2010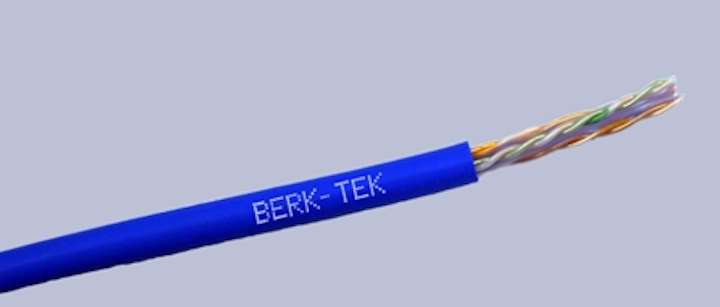 The LANmark-10G Limted Distance (LD) unshielded twisted-pair cable from Berk-Tek is 0.265 inches in diameter, 15 percent smaller than the company's LANmark-10G2 cable, and can support 10GBase-T to a maximum distance of 60 meters. The company says the cable was specifically designed for up-to-60-meter 10GBase-T support in high-density applications such as data centers.
"The advantage of Berk-Teks' 10G LD cable is that it supports 10GBase-T to 60 meters at a significantly reduced diameter and does not require alien crosstalk testing," says Jim Frey, copper product manager for Berk-Tek. the 10G LD cable incorporates several design innovations that originally were used in the LANmark-10G2.
According to Berk-Tek, the 10G LD meets all IEEE 802.3an channel performance requirements when terminated with Category 6A connectivity--four connectors to 60 meters and two connectors down to a 7-meter channel. The cable also meets all TIA-568-C.2 internal requirements for Category 6A component compliance (500 MHz) at these distances.
The cable's 0.265-inch diameter reduces pathway constriction and facilitates improved air circulation, Berk-Tek says, resulting in lower cooling costs and a reduction in energy consumption. "We are finding that many 10GBase-T implementations do not require full 100-meter channels," notes Todd Harpel, director of marketing for Berk-Tek. "This cable provides an extremely small cross-sectional area to optimize pathway fill in high-density installations like data centers and high-performance computing operations."