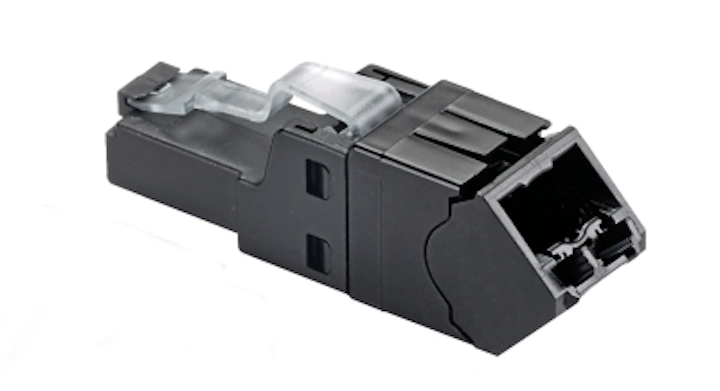 Panduit recently introduced a version of its TX6A Category 6A UTP Field Term RJ45 Plug that terminates at a 45-degree angle. The 45-degree up/down plug has the same performance characteristics as the TX6A Field Term Plug Panduit introduced in August 2017. As the company noted at that time, it is "a simple-to-attach plug for field termination of 4-pair unshielded twisted-pair cable." The plug terminates 4-pair, 22- to 26-AWG, 100-ohm UTP cable and uses TG-style forward motion termination technology. It can be reterminated as many as 20 times.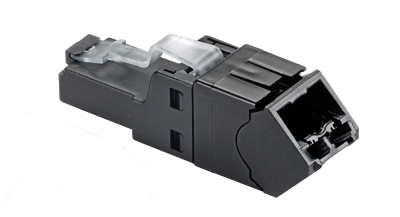 Panduit says the field-terminable plug "is ideal for connecting the increasing number of network-powered devices requiring a plug connection to the network and where field attachment of the plug to UTP cable is desired." It points out that applications include wireless access points, PoE LED lighting, IP cameras and motion sensors, access control points, and network-attached AV equipment.
The particular benefits of the 45-degree angled version are described and demonstrated in a video (embedded below) in which Panduit applications engineer George Einterz says, "This new design will allow accessible to end devices that a straight field-term plug may not have been able to access." After demonstrating the use of a straight field-term plug in one wireless access point, Einertz shows and explains that in some access points, the RJ45 port is embedded deeper into the device. "It would not be accessible to a straight field-term plug. However, with the smaller form factor of the 45-degree-angled up/down field-term plug, I am able to access that port without issue—no obstruction to the plug, no obstruction to the cable."
The plug—in straight and angled versions—supports IEEE 802.3af and 802.3at, as well as proposed IEEE 802.3bt Type 3 and Type 4 specifications. It also supports Power over HDBase-T up to 100 watts.
Panduit also introduced the EGPT termination tool, which terminates the straight and angled field-term plugs. The existing EGJT-1 tool terminates the straight field-term plug.