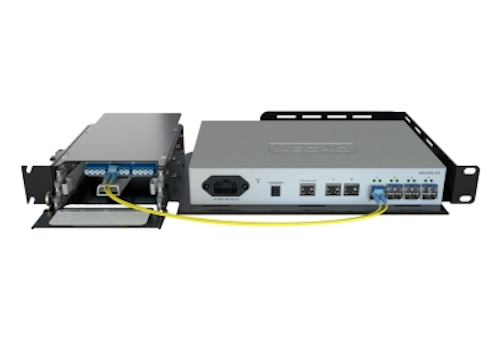 Wirewerks, manufacturer of network infrastructure solutions including the NextSTEP fiber management system, recently introduced the NextSTEP Minus1U Patch Panel, so named because it "consolidates fiber management and active equipment into a single U of rack, space, saving or freeing up 1 U in any standard 19-inch rack or frame," the company explained.
The NextSTEP Minus1U Patch Panel is available in two models.
The Switch Specific Model (pictured top of page) integrates a two-slot, stepped fiber management mini-chassis with a model-specific third-party switch as a structural element spanning the 1U space.
The Universal Tray Model (pictured below) provides a two-slot stepped fiber management mini-chassis with an integrated tray that accepts virtually any third-party hub/switch/router for universal application support.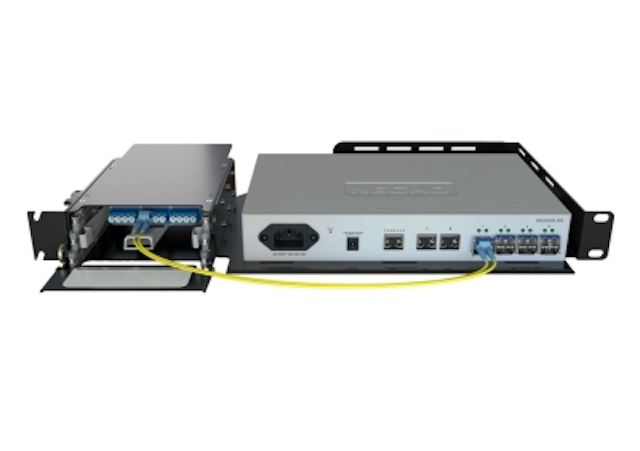 "Both models are precision-engineered and manufactured with superior quality materials for robust, reliable, maintenance-free installations with extended operational lifespans," Wirewerks noted. "The integrated NextSTEP two-slot mini-chassis accepts up to two NextSTEP Fiber Modules in any combination providing application flexibility and high fiber capacity at the same time."
The Switch Specific Model comes complete with a set of custom mounting ears that attach directly to the existing boltholes in the cabinet of the third-party switch without any modifications.
Edouard Tabet, Wirewerks' head of engineering, explained, "The custom mounting ears are precision-engineered to match the bolthole pattern of each supported switch model for fast, problem-free installations. The Universal Tray Model supports virtually any model of switch less than 1U high, providing unlimited flexibility along with fast, simple installations."
Wirewerks commented that installing the NextSTEP Minus1U Patch Panel is "like getting a free U in every box."
The patch panels are available from Wirewerks authorized distributors throughout North America.