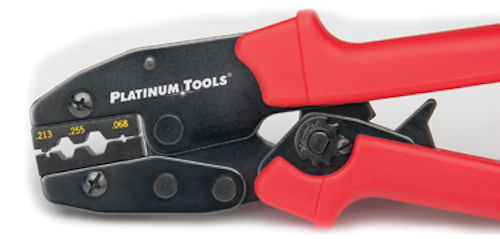 From the August, 2014 Issue of Cabling Installation & Maintenance Magazine
Compiled by Patrick McLaughlin
A report co-produced by two organizations focused on technology in educational environments says that in order to reach the Obama Administration's goal of connecting 99 percent of America's K-12 students to high-speed broadband, the FCC's E-rate program will have to contribute $3.2 billion over the next four years. The 99-percent initiative has been dubbed ConnectED.
The Consortium for School Networking (CoSN) collaborated with EducationSuperhighway to produce the document titled "Analysis of Costs to Upgrade and Maintain Robust Local Area networks for all K-12 Public Schools." The analysis is based on research carried out by CoSN. When describing the methodology used, the organization explained, "We consulted with over 50 district chief technology officers, as well as equipment vendors, and networking experts to help define and validate the list of equipment required for a robust wired and wireless network, considering the needs of a per-classroom, per-school, and per-district basis. Our objective was to identify the typical equipment required to provide the foundation of high-speed, ubiquitous connectivity to every school ..."
The model includes a few cost estimates that could be of particular interest to professionals in the cabling contracting business. Specifically, it estimates that each school will require on average 1.2 wireless access points per classroom, at a cost of $520 per classroom. It also estimates that each classroom will require 6 wired drops (defined as two ports per drop) at a cost of $215 per classroom. That $215-per-classroom price tag carries with it a footnote that reads: "The cost of wiring is the least precise element of the model as it is primarily driven by labor costs, which can vary significantly based on each district's work rules, contracting policies, and geographic location as well as the generally unpredictable nature of modifying wiring in an existing school. Because these costs represent a significant amount of the overall modeled cost, this is likely the largest source of uncertainty in the current model." The report's cost model identifies $15 of that per-classroom cost as equipment and the other $200 as labor.
The report also quantifies how many-at least percentage-wise-schools will need upgrades in order to support broadband connectivity. It says, " ... Very few schools are starting from scratch. In the 57 percent of schools [needing upgrades], many of the required components, especially the expensive but long-lasting building wiring, are already in place. For example, the CoSN survey found that 74 percent of schools already have fiber as their in-building backbone network, 80 percent of schools have wiring to their classrooms capable of supporting Gigabit broadband connections, and roughly 80 percent of schools have some form of WiFi in 90 percent of their classrooms."
---
2-hour fire-resistive cables certify to UL 2196
Comtran Cable's VITALink cable has recertified to the new UL 2196 guidelines for fire-resistive and circuit integrity (CI) cables. The UL 2196 guidelines were updated in May 2014. Comtran's VITALink cables maintain a riser (FPLR) rating. The cable "is designed to survive for two hours in burning infrastructure while being fully operational in order for safe evacuation of building occupants," the company said when announcing the cable's recertification to the guidelines. "This cable is designed to support critical systems such as emergency voice-alarm communication smoke/fire alarm systems (EVAC), fireman's telephone and area-of-refuge communication systems, and visible notification appliances."
The shielded version of the VITALink cable is UL 1424 listed FPLR for power-limited fire alarm circuits, and is UL certified to UL 2196 two-hour fire rating for use in FHIT system 40, the company added.
These cables are commonly used in applications such as manufacturing, commercial and industrial environments as well as colleges, high-rise buildings, hotels, airports, stadiums, healthcare facilities, and tunnels and subways.
Additionally, Comtran says the VITALink cables are certified to the following hardware: Allied Tube and Conduit Co.'s three-fourths-inch, one-inch, one-and-one-fourths-inch EMT "E-Z Pull" conduit; and Thomas and Betts's three-fourths-inch, one-inch, and one-and-one-fourths-inch Steel Compression Couplings.
---
Analyst: Market for close-coupled data center cooling is, well, cool
The report "Data Center Cooling - World - 2014" authored by IHS senior analyst of data center and critical infrastructure Elizabeth Cruz, says that "despite years of high hopes for growth of the in-row and in-rack data center cooling segment, sales for these close-coupled cooling products are not producing the double-digit growth once hoped for." The study found that revenues for these close-coupled cooling technologies fell 5 to 6 percent in 2013. It also said the perimeter-cooling market declined 2 to 3 percent last year.
Cruz explained, "There are a few reasons for the decline of row/rack revenue. These products are used either as standalone cooling solutions in small data centers or as supplementary cooling in high-density applications The first issue is that an increasing number of companies are outsourcing their small data centers to colocation or cloud providers, which tend to be large data centers that use traditional room cooling."
The reason these cooling units haven't taken off in high-density applications either is that "row/rack products offer significant energy savings once rack densities approach the 8- to 10-kW range," IHS added. "At that point, it becomes more efficient to install a row/rack product that to increase the flow or air from a CRAC or CRAH unit to cool down a hotspot in a data center. However, with average rack densities still in the sub-5kW range, the operational savings from a row/rack product are not realized, and the justification for the higher investment cost is difficult to make. There are a number of data centers that operate at higher densities, and these are the facilities helping to underpin the moderate growth projections for the next five years. But these are comparatively few relative to the large population of low-power-density data centers."
IHS and Cruz further explain that the data center market overall is sluggish. "IHS tracks nearly all segments of the data center infrastructure market and has witnessed continued contraction of revenue over the last two years," IHS said. Cruz added, "We see several reasons for the sluggishness in the data center segment. First is the economy; this is still a major factor in companies putting off large capital investments like data center builds. Second is the fact that companies are consolidating their data center operations by outsourcing to colocation or cloud providers by moving what small data centers they do have into one centralized location. This consolidation leads to more optimized data centers, which maximize efficiency and reduce the need for power and cooling. Third, growing adoption of virtualization and improvements in server technology lead to an increased computer performance per watt, which then requires less power and cooling backup."
The research firm predicts that in the medium-term, the data center market will return to growth "as consolidation and technology improvements can no longer absorb the increased digitization and resulting compute, storage, and processing needs." Cruz concluded that "when the market returns, IHS does expect there to be an eventual increase in densities that will again call for high-density cooling solutions like row/rack products. This just might be a little further out than originally expected."
---
Ergonomic crimp tool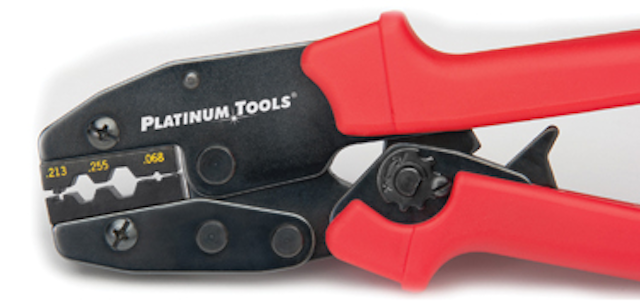 Platinum Tools debuted its 9-Inch Ergo Crimp Tool at InfoComm 2014, held June 18-20. John Phillips, product manager with Platinum, said, "The next-generation crimp tool technology has been designed around the user. We've made crimping even easier and more comfortable. The 'straight plate' lower jaw assembly eliminates critical structural stress points, common in most competitive tools. It will not break under heavy stress and will last for years."
The 9-Inch Ergo Crimp Tool crimps insulated terminals to 10 AWG and non-insulated terminals to 8 AWG. Crimp dies available include CATV F, BNC, TNC, SMB, SMA and N coaxial connectors; it also accepts crimp die sets from many other tools.
Platinum further explained that the crimper's reduced handle grip distance "makes it ideal for all hand sizes and allows for prolonged, comfortable use." It further stated the tool facilitates a smooth ratcheted crimp cycle, with a safety release and no breakover hand force. The crimper "is available with a number of tool and die specifications, allowing it to work with a number of cable types, crimp types and sizes, and connector types," Phillips added.