Frame-fixed circuit breaker accomodates cable, compression lug, bus type connections
Eaton's new NRX NF frame-fixed front connect breaker offers cable, compression lug, or bus-type circuit breaker connections, providing design flexibility in applications up to 1200A for the  UL 489 market.
Mar 18th, 2015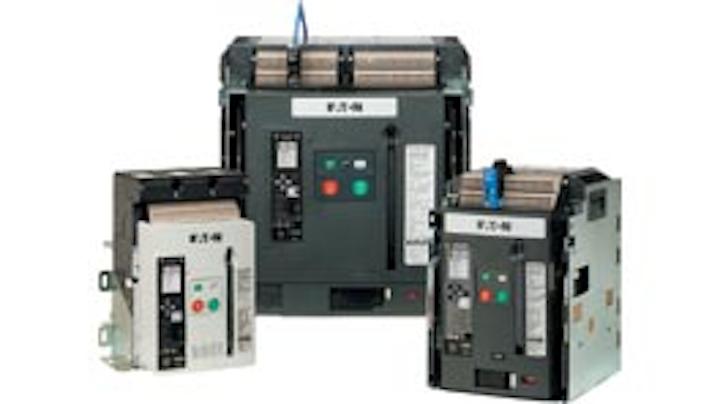 Power management company Eaton (Pittsburgh, PA) has unveiled its front connect NRX NF fixed-frame air circuit breaker (ACB). Claiming the smallest breaker footprint in the ACB Underwriters Laboratory (UL) 489 market, Eaton says the NRX NF fixed-frame ACB helps to simplify installation, and reduce maintenance time and costs within facilities.
According to the company, the new breaker features front access to connections while allowing customers the ability to connect to the breaker with a busbar, cables, or compression lugs, providing design flexibility up to 1200 amperes (A). Additionally, the new unit's advanced communications modules and trip units improve safety and control. With easily accessible connections with replaceable parts, plug-and-play accessories and field-upgradable trip units, the NRX NF front connect fixed ACB is designed to reduce maintenance time and costs in engine generator, commercial and industrial distribution or emergency backup power and isolation applications.
RELATED:8 components for successful grounding and bonding

The NRX Digitrip 520M and 1150 electronic trip units offer Eaton's patented Arc Reduction Maintenance System (ARMS) capabilities, giving customers instantaneous protection. The NRX NF fixed-frame air circuit breaker with the 1150 trip unit communicates with the company's Power Xpert Protection Manager PC tool, helping simplify customer trip unit setup and configuration.

"As demand for power increases, customers need accurate, reliable and safe protection for electrical systems and personnel, without sacrificing efficiency or uptime," comments Jeremy Schmidt, LVCB product manager, Americas, Eaton. "Eaton is committed to developing electrical solutions to help meet these evolving needs, and the NRX NF front connect fixed ACB offers improved safety, control and flexibility."
Details about the NRX NF product, as well as a guide to set-up and installation, are available in the following new video from Eaton:


To learn more about Eaton's NRX NF circuit breaker platform, visit www.eaton.com/seriesnrx.