TE Connectivity adds optical distribution frame and high-density equipment panel to its Quareo physical layer management product line
The new products from TE Connectivity enable connection-point identification in high-density applications like data centers and central offices.
Mar 24th, 2015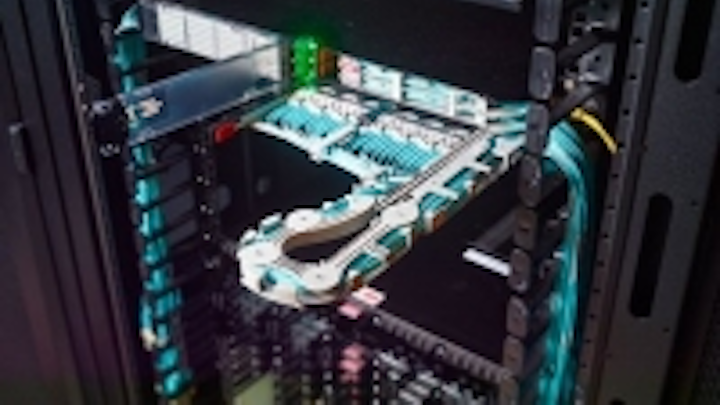 TE Connectivity has expanded its Quareo family of physical layer management (PLM) solutions with the addition of an optical distribution frame (ODF) and a high-density equipment panel that incorporate the company's connection-point identification (CPID) technology. "Quareo PLM solutions enable higher network availability while reducing network costs by integrating full visibility of the physical layer into existing network management applications," TE Connectivity said when announcing the product-family expansion. "The new products expand options for central office and data center network architects who want to implement physical layer management to gain an accurate, real-time view of the physical network."
Quareo is an end-to-end system combining hardware and software elements, and CPID technology (pictured below) to provide accurate visibility on the state of the physical network at all times, TE Connectivity explained. "It enables easier, smarter network management for everyone from cable installers to network managers, strengthening physical security, boosting availability and providing real-time communication with network assets."
One of Quareo's newly introduced elements is the NG4access optical distribution frame, which "provides superior access to high-density fiber terminations up to 3,456 fibers per frame," the company said. "With innovations in access trays, universal adapter packs, cabled modules and MPO modules, installing and maintaining large amounts of fiber can be done faster, easier and less expensively than previous ODF solutions available on the market."
Also new is the high-density equipment panel—a 1RU fiber-optic panel with six technician-friendly access trays. Each tray features a mounting location for holding one LC or MPO adapter pack, or MPO module or cabled module. A single access tray can serve up to 24 LC fiber connections or 8 MPO fiber connections. At full capacity, the QHDEP will hold up to 144 (LC), 576 (12-fiber MPO), or 1,152 (24-fiber MPO) fiber connections. "With many different adapter packs and modules, this allows for quick modular deployment for 10, 40 and 100 Gigabit Ethernet links, which can be mixed in the same high-density equipment panel chassis," TE Connectivity said. "These modules can be changed or upgraded without disturbing adjacent cables."
Cable-management and administration capabilities are among the panel's key characteristics. Damon DeBenedictis, business development manager for managed connectivity in the Americas region for TE Connectivity, explained, "The fiber connections are housed in a cable-management arm, which acts as a guide. When the user closes the panel door, the arm closes back into the unit." The same cable-management capability exists in the front and back of the panel.
Pat Thompson, direct of product management at TE, commented, "By providing a real-time comprehensive picture of every connection point in the physical layer, Quareo PLM significantly improves productivity and efficiency of physical layer management and maintenance processes while reducing downtime and operating costs. These additions to the Quareo PLM product portfolio further extend our physical layer management technology by enabling higher-density connectivity."
DeBenedictis also explained the CPID chip contains data akin to "born-on" information. "It includes the assembly's catalog number, whether it is a copper or fiber cable, its performance rating," he said. Quareo CPID panels contain similar information, DeBenedictis added. Quareo-enabled panels have the ability to discover all port activity, read data from CPID connectors, and they include visible LEDs for guided workflow and activity confirmation. "The CPID chip keeps count of the number of times the port has been plugged into," DeBenedictis noted.
The CPID technology enables network administrators to know the status of each port, and certain detailed information about the ports. Specifically, an administrator can immediately know which of the following three states any port is in: 1) available; 2) connected, and the connection's specifics when a CPID assembly is plugged in; or 3) connected to an assembly that does not contain CPID.