12-fiber-to-8-fiber conversion cords highlight Siemon's 40- and 100-G cabling solution
Company says use of the conversion cords is a lower-cost, lower-loss option than installing separate conversion cassettes, which introduce extra mated pairs into a channel.
Apr 29th, 2015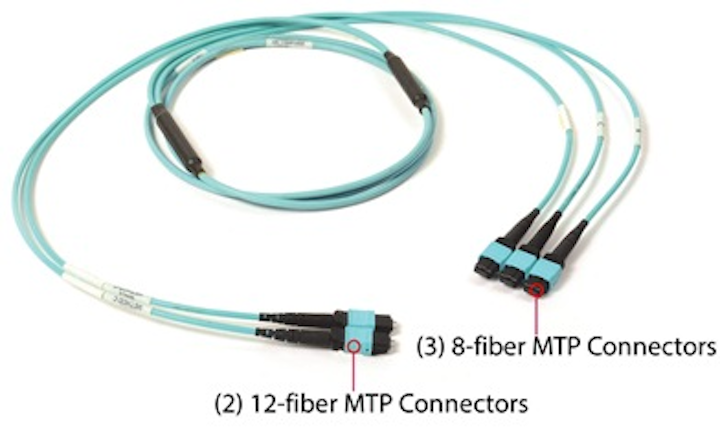 Siemon recently announced 40/100G Fiber Cabling Solutions "that provide a fast, simple, and economical upgrade path from 10 Gigabit to 40 or 100 Gigabit applications," the company said when making the announcement. The new products are part of the company's LightHouse Advanced Fiber Optic Cabling Solutions and "include a variety of equipment cords that allow customers to maintain and fully utilize their existing Siemon Plug and Play enclosures and trunks for next-generation 40/100 Gigabit performance."
Among the newly announced products is a fiber conversion cord with two 12-fiber MTP connectors on one end and three 8-fiber MTP connectors on the other (pictured). Siemon says these conversion cords enable users "to connect MTP trunk backbone cabling to active equipment via Siemon's Quick-Pack or Ultra High Density LightStack MTP adapter plates that offer easy pass-through connectivity with Siemon's fiber enclosures," and that in doing so, these 12-to-8-fiber cords ensure "100 percent utilization of the 12-fiber MTP backbone trunks.
"The new 40/100G Fiber Cabling Solutions also include single MTP jumpers, conversion cords that transition two 12-fiber MTPs to one 24-fiber MTP for use with current 100-Gigabit channels based on 20 fibers, and LC-to-MTP 4X10G hybrid cords that transition one MTP to four duplex LC connectors for use with 40-Gigabit applications based on aggregation of multiple 10-Gigabit ports.
"To upgrade from 10-Gigabit to 40- and 100-Gigabit applications, customers can simply swap out existing Siemon MTP-to-LC modules with the MTP adapter plates and then select the 40/100 equipment cords that best suit their application," the company explained. "The cords are made with Siemon's smaller RazorCore cable that makes it easier to access connections while reducing congestion in horizontal cable pathways for improved airflow around the equipment."
Charlie Maynard, fiber-optic product manager with Siemon, commented, "Current 40-Gigabit transmission and upcoming 100-Gigabit transmission are both based on 8 fibers, leaving 33 percent of 12-fiber backbone trunks unused. Our conversion cords transition two 12-fiber MTP connectors to three 8-fiber MTP to prevent having unused fiber. Incorporating the conversion into the equipment cord is a more-cost-effective, lower-loss option than purchasing and installing separate conversion cassettes that introduce extra mated pairs into the channel."