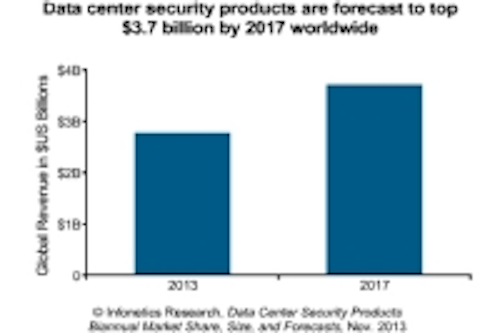 Infonetics Research has released its latest Data Center Security Products report, which tracks data center security appliances and virtual security appliances.

"The most recent revelation that the NSA has been secretly siphoning data from Google and Yahoo! data centers worldwide has put a laser focus on the need for security at all levels of the data center, from layer 1 transport all the way up to individual applications and data," asserts Jeff Wilson, principal analyst for security at Infonetics Research. "The world's never been more tuned into privacy and security."

Significantly, while software-defined networks (SDN) and network functions virtualization (NFV) are forcing networking vendors to offer new form factors or to re-architect solutions, the report also states that working with OpenFlow and other SDN technologies is an evolutionary change for security vendors, who have been adapting products for virtualized environments for over 5 years.

Related: Contractors fight over NSA data center delays

The report states that global revenue for the ported virtual security appliances segment of the larger data center security appliance market grew 4% between the first and second quarters of 2013, to $107 million. Additionally, the market for purpose-built virtual security appliances is forecasted to grow at a strong compound annual growth rate (CAGR) of 25% from 2012 to 2017. The virtual appliance vendor landscape is crowded with a mix of established security players, virtualization platform vendors, and specialist vendors, adds the analysis.

Infonetics' quarterly data center security report provides worldwide and regional market size, market share, forecasts through 2017, analysis, and trends for purpose-built virtual security appliances and multiple segments of ported virtual security appliances and data center security appliances. Vendors tracked include Arbor Networks, Blue Coat, Check Point, Cisco, Fortinet, GenieNRM, HP, ISS, Juniper, McAfee, Narus, SonicWall, Sourcefire, Stonesoft, Symantec, Trend Micro, WatchGuard, Websense, and others. Learn more.