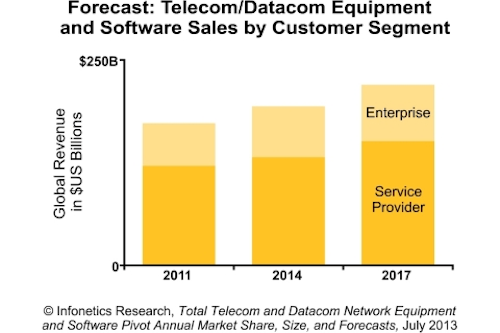 Infonetics Research has released its annual Telecom and Datacom Network Equipment and Software report, which provides a big picture of the health of the overall market. "Even though there's tremendous uncertainty about the health of the global economy and prospects for economic growth in the short term, the telecom and datacom equipment and software market is on track to grow annually through 2017, driven by major network transformations," says Jeff Wilson, principal analyst at Infonetics Research.

According to the report, following a recession-induced drop in 2009, the global telecom/datacom equipment and software market grew 19% in 2010, 7% in 2011, and held steady in 2012 at $172 billion. Going forward, Infonetics projects the telecom and datacom equipment and software market to grow at a 4.9% CAGR from 2013 to 2017, when it is forecast to hit $218 billion worldwide. During those 5 years, the firm expects service providers and enterprises to spend a cumulative $1 trillion on telecom and datacom equipment and software.

"Asia Pacific took the lead in telecom and datacom equipment spending in 2012, and we expect the region to continue leading at least for the next 5 years, contributing more than a third of global spending through 2017," notes Michael Howard, co-founder of Infonetics and co-author of the report.
Notably, the research finds the top four telecom/datacom equipment vendors in order by overall worldwide revenue market share are Cisco, Ericsson, Huawei and Alcatel-Lucent. According to the report, Cisco maintains its commanding lead in the enterprise segment, while Ericsson is number one in the larger service provider segment. For more information visit www.infonetics.com.
Related story: Ericsson shuts down telecom cable manufacturing operations
More news: Data center prospects dim for Huawei, ZTE as Cisco bolts amid U.S. security probe