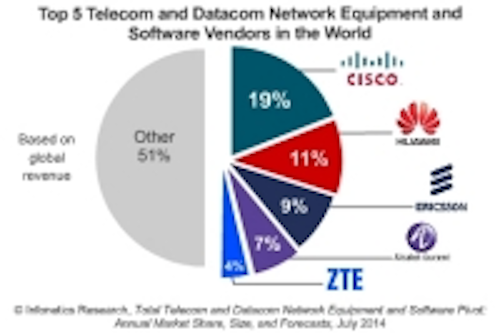 Infonetics Research has released preliminary data from its 2014 Telecom and Datacom Network Equipment and Software report, which provides a big picture of the health of the overall market, as aforementioned.

"Despite the fact that enterprises and service providers are in the middle of massive network upheavals due to the evolution of software-defined networking (SDN) and network functions virtualization (NFV) technology, the telecom and datacom networking equipment and software market is on track to grow annually through 2018 with the fastest growth coming in 2015," says Jeff Wilson, principal analyst at Infonetics Research.

According to the report, worldwide, sales of telecom and datacom equipment and software came to $183 billion in 2013, an uptick of 3% versus the previous year.

The firm adds that "Asia-Pacific put some breathing room between itself and North America" in the regional race for telecom/datacom equipment and software revenue, growing 6% year-over-year as compared to North America's 4.5% -- and that this trend is expected to continue through at least 2018. Infonetics is projecting a cumulative $1.01 will be spent by service providers and enterprises on telecom/datacom gear and software over the 5 years from 2014 to 2018.

The report further states that, based on global revenue, the overall telecom and datacom network equipment and software market share leaders are, in rank order: Cisco, Huawei, Ericsson, Alcatel-Lucent, and ZTE -- the same top 5 vendors with virtually the same shares as the year prior. The firm notes that vendor share positions held steady in the enterprise segment, with Cisco in the driver's seat and followed distantly by tightly bunched Avaya, Brocade, HP, and Juniper (listed here in alphabetical order).

Michael Howard, co-founder of Infonetics and co-author of the report, comments, "Looking at just the service provider equipment space, we're seeing a shakeup in vendor market share, with Huawei leapfrogging longtime number-one Ericsson to take the top spot in 2013. While Huawei's been doing well in a number of regions, China's economy is a key factor keeping Huawei's growth so strong."
Infonetics' notes that its annual datacom and telecom equipment and software "pivot report" compiles worldwide and regional market size, vendor market share, and forecasts through 2018 from all of its reports that track enterprise and service provider gear. It is the majority of all data networking and telecom equipment for service providers, cable companies, and small, medium, and large organizations, excluding consumer electronics.

The 11 major categories of equipment and software tracked in Infonetics' report include broadband aggregation; broadband CPE; pay TV; optical network hardware; carrier routing, switching, and Ethernet; service provider VoIP and IMS; service provider mobile/wireless infrastructure; service enablement and subscriber intelligence; security; enterprise and data center networks; and enterprise communications. Companies tracked include Alcatel-Lucent, Avaya, Brocade, Ciena, Cisco, Ericsson, Fujitsu, HP, Huawei, Juniper, Motorola, NEC, Nokia, Samsung, Siemens, ZTE, and many others.
To buy the report, contact Infonetics: www.infonetics.com/contact.asp.