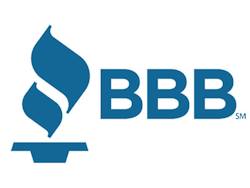 https://bbb-businesses.org/
Graybar announced that the distributor was recently named a 2019 Better Business Bureau (BBB) Torch Award winner for BBB Serving Eastern & Southwest Missouri & Southern Illinois.
The BBB Torch Awards recognize businesses and charities exemplifying high ethics in their treatment of customers, employees and suppliers. Graybar and other Torch Award winners were recognized at the BBB Torch Awards luncheon on Thursday, Oct. 24, at the Chase Park Plaza Hotel in St. Louis.
RELATED:  How Graybar helped a rural telecom provider convert its central office to a data center
"This recognition underscores Graybar's commitment to doing business the right way by preserving the values that have guided our business for the past 150 years," said Graybar's Senior Vice President and Chief Financial Officer, Scott Clifford. "We are honored to receive this award and to be named among the St. Louis companies with the highest standards of ethics in our business practices."
Graybar, a Fortune 500 corporation and one of the largest employee-owned companies in North America, is a leader in the distribution of high quality electrical, communications and data networking products, and specializes in related supply chain management and logistics services.
Through its network of 289 North American distribution facilities, the company stocks and sells products from thousands of manufacturers, aimed at helping its customers to "power, network and secure their facilities with speed, intelligence and efficiency," as stated by the distributor.
SEE ALSO:  Graybar fields technical team for large industrial DAS installation
"The BBB Torch Awards recognize companies and charities committed to exceptional standards and high ethics," remarked Michelle Corey, BBB St. Louis President and CEO. "These organizations have truly joined BBB's mission of advancing marketplace trust in an exemplary way, and are role models for other businesses and nonprofits in the community."
For more information, visit www.graybar.com or call 1-800-GRAYBAR.