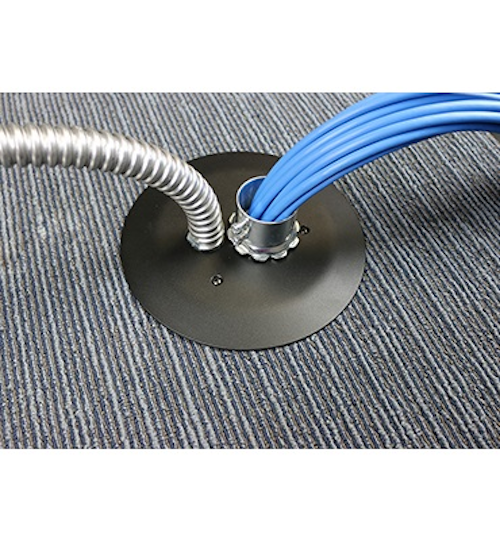 From Legrand Wiremold, the Walker 4FFATC Multi-Service Furniture Feed Poke-Thru Devices are billed as an excellent solution for feeding both power and communication services to modular furniture systems in open-space, above-grade floor environments.

"A poke-thru device is a fire classification product - it goes into second floors and above," explains Michael Cole, product manager for Legrand Wiremold. "The way that works is you cut a 4" hole in the floor and you put the poke-thru in it. The way the poke-thru maintains a fire classification is through the intumescent material that expands to 5-10 times its size, reducing the heat transfer through the floor and giving the occupants enough time to get out of the building to safety."

The company notes that every Walker Poke-Thru Device comes with built-in TopGuard protection, a proprietary design that meets and exceeds UL scrub water exclusion requirements for tile and carpet floors. TopGuard protection prevents water, dirt, or debris from entering not just the power compartment, but also the communication compartment located below the floor, through the service head or floor fittings.


"What the poke-thru also does is allows services -- power and communications -- to be brought up to the point of use," adds Cole. "We've improved this by increasing the conduit size on the low voltage so we can get up to 24 Category 6 cables through the device. We've also improved the poke-thru by adding additional finishes: black, gray, brass, bronze, nickel and brushed aluminum."

All Walker Furniture Feed Style Poke-Thru Devices can be installed on tile, carpet, or wood covered floors. The company says the devices provide an eminently workable solution for both new or retrofit construction, with typical applications including commercial office buildings, financial institutions, and government facilities.

Find Cable Protection and Management products in our Buyer's Guide