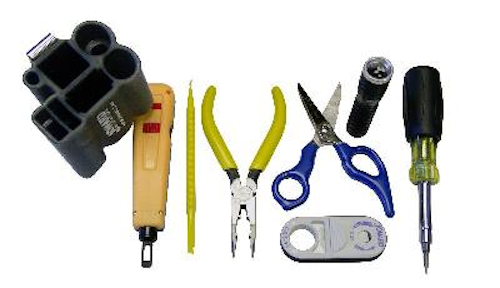 The TK-17 Punchdown Tool Kit from Jonard Industries comprises the company's latest tools for CATV and telecommunications terminations. The H-75 Molded Pouch holds the kit's components, and includes a clip for the technician's belt.
Elements of the TK-17 kit include:
CST-1i Cyclops UTP/STP Cable Stripper
EPD-914 Punchdown Tool
EPB-66 Punchdown 66 Blade (with and without cutter)
EPB-110 Punchdown 110 Blade (with and without cutter)
FL-2000 LED flashlight with zoom lens
JIC-22035 Probe Pick Spudger
JIC-22148 Combo Crimper Long Nose Plier
SD-61 6-in-1 Screwdriver
ES-1964ERG Ergonomic Scissor
Jonard provides these videos demonstrating the use of the CST-1i Cyclops Stripper and of the EPD-914 Punchdown Tool.
The company also offers other technician kits, including a Network Installation Service Kit, Telephone Installer Splicer Kit, Five Piece Telecom Installer's Kit, CATV/Telecom Installer's Kit and Fiber Kit with Kevlar Cutter.