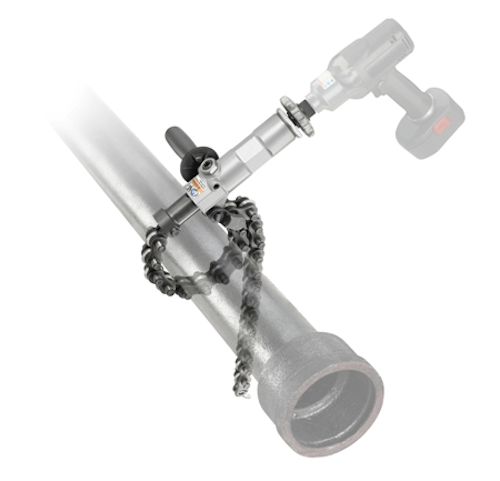 The new 238-P pipe cutter from Ridgid has been released as a soil pipe cutter, but the company says it can be used to cut "no-hub cast iron, service weigh cast iron and clay pipe up to 8 inches in diameter, and concrete pipe up to 6 inches in diameter." The tool was designed to make it easier for contractors to cut pipe in hard-to-reach spaces like those in building rafters and below grade.
The cutter is designed to be used with a half-inch impact driver and incorporates a chain that Ridgid says can be used on the aforementioned pipe materials. Additionally, "thanks to its 11.5-inch length, removable handle and low-profile cutter wheels, it provides the versatility to work with inconveniently placed pipe," Ridgid says.
The 238-P facilitates two-direction operation, allowing users to score pipe before cutting, thereby resulting in a cleaner cut the company says. Additionally, its torque limit protects it from overloading.
Ridgid product manager Larry Feskanich commented, "The 238-P was designed for jobs where the pipes are hard to reach or awkwardly placed. It's a high-capacity tool that can quickly and easily cut pipes up to 8 inches in diameter."