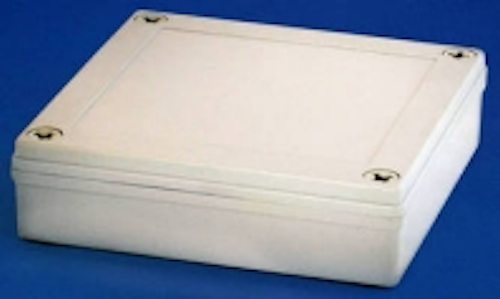 Bud Industries has introduced its PIP Series IP67 box, which provides waterproof protection of electronics for approximately 10% less than the cost of competing enclosures, the company contends.

The new molded plastic enclosures are rated to NEMA 1, 2, 4, 4x, as well as IP67, which requires protection against temporary immersion in water. Because of its extreme protection and low cost, the box is suitable for PCB enclosures, junction boxes and other applications in the electrical and electronic industries, says the company. It is also appropriate for control boxes, Wi-Fi and radio housing, lighting, access controls, facilities with washdown requirements, corrosive environments, pharmaceutical and chemical plants, pulp/paper mills and general factory environments.

Related: NEMA enclosure ratings explained

According to Bud, the new enclosure is made from a material that offers improved rigidity and tighter tolerances: polycarbonate plastic enhanced with 10% fiberglass. Users can be confident of a tight, reliable seal and that components will fit precisely without the need for time-consuming rework. The box cover is polycarbonate. If desired, a clear polycarbonate lid allows inspection without opening the box and indication without adding cutouts.

The boxes are available in wide range of sizes, from 3.15 x 1.18 x 1.37 inches to 10.04 x 4.92 x 0.25 inches. Suitable for outdoor use with respect to exposure to ultraviolet light and water exposure in accordance with UL 746C, the new enclosure is also chemical resistant. Its material is non-chlorinated and non-brominated flame retardant with a UL-94 V0 rating. Captive non-metallic screws secure the cover.

The new PIP Series IP67 Box enclosures from Bud Industries are available from stock at prices starting around $6 for basic models, with discounts for quantity orders. Options include an internal steel panel and stainless steel or plastic external mounting brackets. Learn more.

See also:Are enclosure openings blowing overlooked holes in your data center?