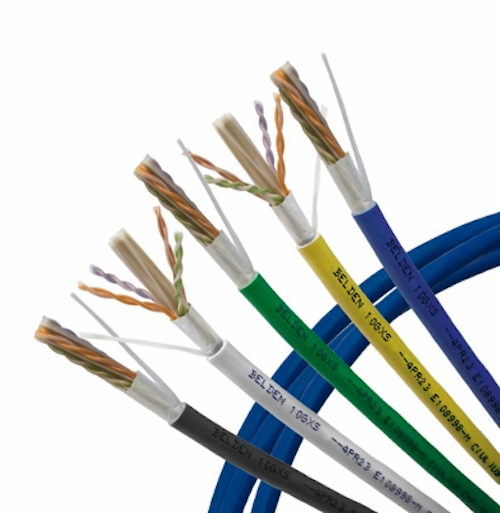 By BENOIT CHEVARIE, Belden -- Square feet equal dollars. No matter the situation, space is always a factor when it comes to telecommunications rooms (TRs).
As the point between the work area and equipment room or main cross connect, a telecommunications room houses equipment, patch panels, enclosures, cable terminations and cross connects to serve a specific area or floor inside a building.
Ample space inside the TR is necessary to ensure proper cable bend radius, signal integrity and comfortable working conditions – but it can be hard for end-users and installers to make the case for more TR floor space when the square footage could instead be leased for additional income or turned into office space for more staff.
Building space is at a premium, which means that network designers need to fight for appropriate space to build TRs. Cabinets take up valuable square footage, leaving little room for needed expansion or capacity increases. As more technology moves onto enterprise networks, such as security systems and lighting, even more floor space is being eaten up inside telecommunications rooms.
To reduce space constraints, small-form-factor components, compact patch panels and space-saving racks have hit the market. But there's another way to maximize space inside the telecommunications room, too. Although the floor may be the most obvious choice for racks that house passive connectivity, there's an often-overlooked solution that can be used instead: a wall-mount cross connect.
What's a Wall-Mount Cross Connect?
Cross connects haven't always been viewed as a data solution in the United States, but they could (and should) be. In the past, wall-mount cross connects have been very commonly used in voice applications when equipment was centralized. These are a few of the characteristics that made them easy to use in dense voice connection applications:
High levels of flexibility, with single pair on the equipment side and multi pair on the distribution side
Cut-to-length management using cross-connect wire kept the connection field clean
Easy moves, adds and changes because every connection was on the same wall
With the decentralization of data transmission equipment, however, topologies changed. It's now easier to bring the equipment much closer to the user port, which is terminated in the telecommunications room. With the increasing numbers of ports needed to support all new services, it's a good time to once again consider wall-mount cross connects.
See Also: Belden honored with 3 Gold Innovators Awards from Cabling Installation & Maintenance
Why Use the Wall for a Cross Connect?
The No. 1 reason to use a wall-mount cross connect: to save valuable floor space in the telecommunications room.
Wall-mount cross connects do exactly what their name implies: They let you install your passive connectivity on the walls instead of the floor, reserving the space in your racks for active components (and requiring fewer racks overall).
Aside from saving valuable rack space and floor space, wall-mount cross connects offer another benefit: When networking equipment is upgraded every three to five years, and changes in terms of form factor and density, having all of the equipment ports replicated on a wall-mount system ensures a smooth transition and avoids forklift upgrades (complete overhauls) in cabling infrastructure.
Why Not Use the Wall for an Interconnect?
With a wall-mount cross connect, two connection points are typically involved: A connection to a switch and a connection to the workstation outlet on the horizontal cable. One connection point replicates the equipment port; a second one terminates at the horizontal cable (replicating the workstation outlet).
Even though an additional connection point is allowed per standards (total of four in a 100 m channel), it can be perceived as an additional potential point of failure. An additional connection point also adds to material and labor costs. With that being said, however, the same components used to build a wall-mount cross connect can also be used in an interconnect situation if cord lengths stay within TIA parameters (10 m of cordage).
In any case, using the wall for passive connectivity saves space and easily supports network upgrades. More connection points also means more flexibility, but you'll want to consider your unique situation to see if the added flexibility outweighs increased costs.
More News: Belden donates REVConnect connectivity infrastructure to aid in wildfire, hurricane disaster recovery efforts
New REVConnect Category 6A Wall-Mount Cross Connect
Belden recently released its REVConnect Category 6A Wall-Mount Cross Connect – one of the only Category 6A wall-mount cross connects on the market.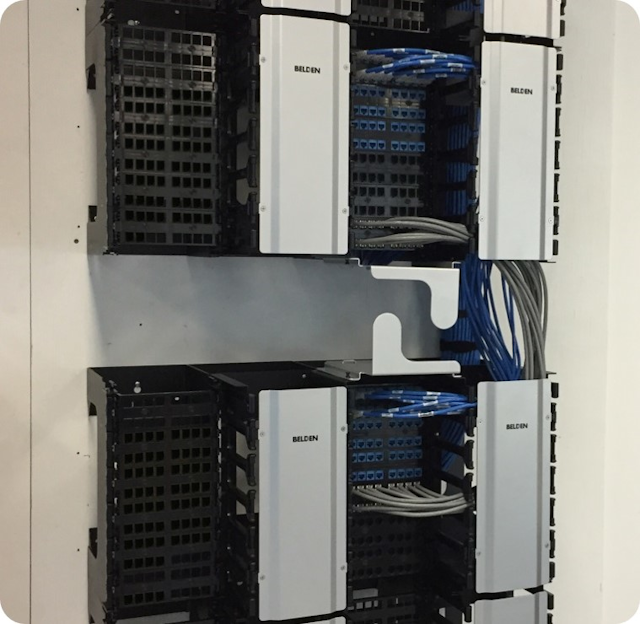 It uses "cut-to-length" management, which means no slack management, no necessary patch cord inventory and hefty per-port cost savings by recycling short pieces of leftover cable.
And because it's part of the REVConnect Connectivity System, the cross connect features the same award-winning termination method seen in all REVConnect solutions, ensuring that no training or special skills are necessary to complete termination. The same termination technology is used in patch panels, workstation outlets and cross connects. The end result: Easier, faster installation. See it in action below.
BENOIT CHEVARIE is responsible for the growth and profitability of Belden copper connectivity products. He maintains a solid knowledge base amongst Belden's sales forces, as well as maintaining competitive pricing strategies and keeping a rich but lean product line that corresponds to a dynamic market demand. He was also certified in 2016 as a Project Management Professional (PMP).