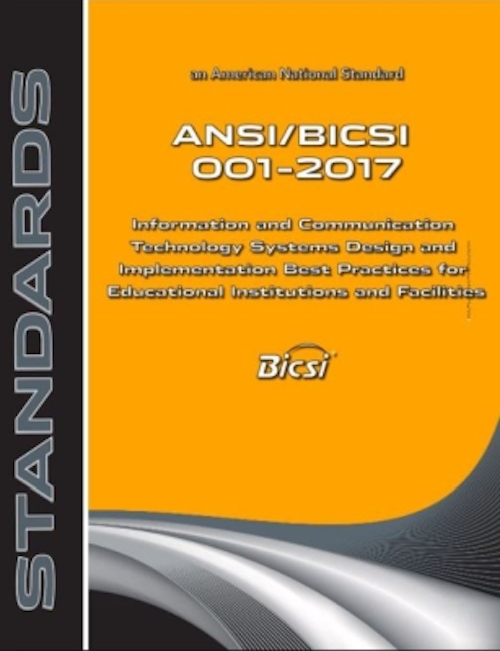 BICSI recently revised and published its ANSI/BICSI 001 standard, which specifies information and communications technology (ICT) system design and implementation for educational facilities. "ANSI/BICSI 001-2017 is a complete revision of the previously published standard, including revision of title," the association said. The standard's formal title is ANSI/BICSI 001-2017, Information and Communication Technology Systems Design and Implementation Best Practices for Educational Institutions and Facilities. It is available in print and downloadable formats, and as a print-and-download combination set.
To describe the standard and the practical need for it among professionals, BICSI said, "Educational facilities often require a more diverse approach to designing and implementing ICT systems than that of a typical commercial building. Today's educational facilities are rarely one building. That means not only does the ICT infrastructure need to meet the varying demands of a specific building, but multiple buildings must all be integrated into one cohesive design. And in today's environment of providing multifunctional spaces within one building, it is not uncommon to find a combination of commercial, industrial, data center, health-care and entertainment environments within just a few buildings.
"ANSI/BICSI 001-2017 is written for today's educational spaces, where network connectivity is no longer considered 'nice-to-have,' but is now a 'must-have,' like electricity and water," BICSI continued. "In addition to providing guidance in the selection and implementation of the ICT infrastructure, more information has been added to address commonly encountered technologies and applications found within the classroom, the building and the campus on which it resides."
Furthermore, BICSI stated, educational facilities benefit from an ICT infrastructure design that is planned to support facility and technological growth. This standard incorporates ICT infrastructure design in the building development process by contributing to architectural considerations and providing information that cuts across multidisciplinary design efforts.
The electronic-download version and the printed version of the ANSI/BICSI 001 standard each are available at a price of $175 for BICSI members and $215 for non-members. The print-and-download combo is available at a price of $195 for BICSI members and $240 for non-members. You can find more information and purchase the document from BICSI here.