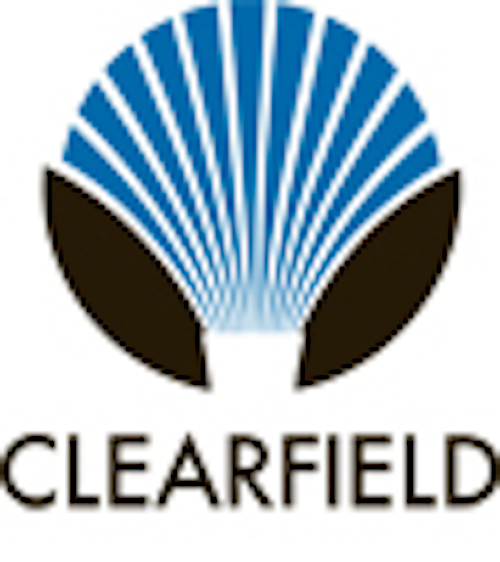 Clearfield, Inc. (NASDAQ: CLFD), a specialist in fiber management for communication service providers, has introduced its YOURx-Aerial Terminal, an enclosure for optical service aerial applications aimed at reducing service provider operational costs.
According to Clearfied, "The YOURx-Aerial Terminal is a free-breathing, aerial interconnection point supporting up to 144 fiber feeds with a distribution capability of up to 24 individual service drops per site. It can mid-span a larger count fiber cable, allowing the service provider to deploy multiple terminal access points along the same cable run, thus maximizing their fiber investment. Another installation headache for both contractors and service providers is excess fiber slack storage, and this has also been addressed by accommodating ample internal slack storage capability of ribbon or loose tube fibers."
Per the company, "Designed to terminate and distribute multiple fiber drops and express feeder fiber cables, the YOURx -Aerial Terminal sets the benchmark for aerial or strand mount fiber termination, providing service providers with the flexibility needed to manage fiber deployments with increased efficiency and profitability. With the YOURx-Aerial Terminal, Clearfield also introduces the ability to deploy all PON splitter topologies: distributed, centralized or hub and spoke – and manage other optical components like C/DWDM passives from a single platform."
The YOURx-Aerial Terminal is billed as an element of Clearfield's larger YOURx platform – a series of access products characterized by the company's YOURx FlexPort. Per Clearfield, "The FlexPort is the key that enables the use of any type of media, whether ducted or brought directly into the terminal, providing complete flexibility on drop cable choice to best suit the network build desires."
The company adds, "A 50 percent labor savings is achieved through plug-and-play connectivity for the distribution and access portions of the network while the feeder cables are fanned out and spliced inside the YOURx-Aerial Terminal. Service providers can now rely on less seasoned network technicians to reliably connect more homes and businesses to the network as opposed to the scarce resources of splice technicians. The YOURx-Aerial Terminal shortens the time installers spend in the bucket truck or on the pole by using the same fasteners common to all network installers, giving service providers the edge to speed fiber rollouts for any configuration regardless of the fiber serving area."
YOURx-Aerial Terminal from Clearfield on Vimeo.
"Our approach for aerial fiber deployment has to be fast, flexible and cost-effective," asserts Joe Aresco, Frontier Communications AVP of OSP engineering. "The innovative design of Clearfield's YOURx-Aerial Terminal provides much-needed options that we haven't seen in other solutions. Planning for the future is made easier with the Aerial Terminal's mid-span and drop capabilities. And because labor is such a big factor in the cost of fiber deployment and maintenance, we're pleased that a significant labor savings can be achieved utilizing the building block, plug-and-play connectivity."
Clearfield adds: "The YOURx-Aerial Terminal gives network planners options to eradicate the traditional constraints of fiber drops for FTTx deployments with innovative FieldShield FlexConnectors and microduct, including the following products:
• FieldShield D-ROP – a cable-in-conduit (CIC) application in which the fiber is delivered from the factory to the job site with fiber already installed in the duct, allowing for a restorable one-pass connection — eliminating the need for added labor cost to set the fiber in the duct.
• FieldShield FLATdrop – the first connector assembly on the market to provide hardened environment performance without the added cost of expensive, bulky connectors.
• FieldShield StrongFiber – a small, 900 µm Kevlar reinforced fiber cable ideal for use in FieldShield Microduct where all unused fiber is stored on craft-friendly deploy reels at the customer premise.
• FieldShield FLEXdrop – ideal for shorter drops and aggressive route paths where more handling and tight slack storage is required."
"The YOURx-Aerial Terminal turns fiber assets into a strategic value driver for service providers," contends Johnny Hill, chief operating officer and co-founder at Clearfield. "Outside plant network architecture continues to evolve as service requirements change and bandwidth demands increase. Service providers of all types want to deliver fiber and create new value from existing technology investments and skill sets. We have delivered the blueprint to bring fiber to anywhere — turning a concept into business reality, while, at the same time, driving down the costs of deployment."
The YOURx-Aerial Terminal is compliant with Telcordia GR-3125, making it among the most durable products on the market. The product is commercially available as of March 2018. Additional details on the YOURx-Aerial Terminal can be found at http://www.seeclearfield.com.
Search the Cabling Installation & Maintenance Buyer's Guide for companies, new products, press releases, and videos: