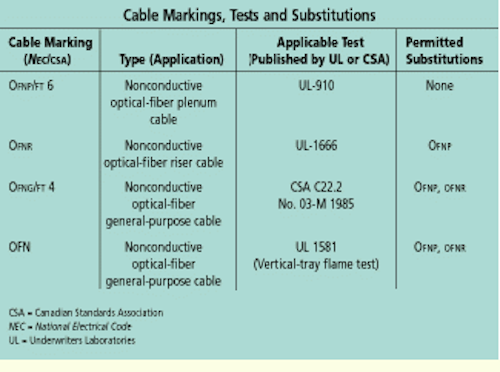 Dean Yamasaki, Siecor Corp.
Scenario
You`ve just been awarded a contract to install the cabling infrastructure for a multistory bank building. Four floors of the building are to be interconnected via a riser shaft, and 24 work areas on a single floor need to be interconnected. Air-handling plenum areas will be used for some cable runs on this single floor. The specifications require that the optical-fiber cable used in this installation be in accordance with the recommendations in the 1996 National Electrical Code (NEC).
Solution
Article 770 of the NEC requires that optical-fiber cable inside a building be listed for its applications, installed properly and marked correctly for its intended use. By using listed cables, you are assured that they have been successfully tested to meet flame-retardancy and, sometimes, smoke-density requirements (see table).
Procedure
1) Start with the floor-to-floor (riser) cable run. Optical-fiber cables used in vertical shafts or runs from floor to floor must have fire-resistant characteristics capable of preventing the spread of fire from floor to floor. Cables are tested to ensure flame performance to the American National Standards Institute/Underwriters Laboratories (ansi/ul) 1666-1991 "Standard test for flame-propagation height of electrical and optical-fiber cable installed vertically in shafts." This nonconductive riser cable would be listed ofnr in accordance with the NEC.
2) If you use optical-fiber raceways in the riser shaft to house the riser-rated cable, they, too, must be listed for riser applications.
3) Because you will be installing a portion of the cable in air-handling plenums--on the single floor--this cable must meet Type ofnp requirements for nonconductive plenum optical-fiber cables, which have adequate fire-resistant and low smoke-producing characteristics. This type of cable must pass the National Fire Protection Agency, nfpa 262-1994 test, which is identical to the ansi/ul-910 standard, "Test method for fire and smoke characteristics of electrical and optical-fiber cables used in air-handling spaces."
4) The ofnp listing is equivalent to the Canadian Standards Association csa-ft 6 designation, as specified by the Canadian Electrical Code and local province ordinances.
5) Per Article 770-53(a) of the NEC, ducts, plenums and other spaces used for environmental air may also accommodate ofnp listed optical-fiber raceways to house the cable.
Note: An important change in the 1996 NEC indicates that only nonconductive ofnp cables may be installed in ofnp-listed raceways.
6) For other single-floor cable runs?that is, not plenum or riser applications?you can use general-purpose optical-fiber cables that meet at least Type ofng or OFN requirements.
?The ofng listing, first adopted in the 1993 NEC, requires that these cables be resistant to the spread of fire. One method used to define this is the OVertical flame test?cables in cable trays,O as described in CSA C22.2 No. 03-M 1985. The ofng listing is equivalent to the csa-ft 4 designation.
?The OFN cable classification also covers cables suitable for general-purpose use, excluding plenum and riser applications, but is less stringent than the ofng classification. OFN cables must also be resistant to the spread of fire. The vertical-tray flame test described in ansi/ul-1581-1991, OReference standard for electrical wires, cables and flexible cords,O offers one test method for this classification.
Note: Ofng and OFN cables are different listings even though both are identified as Ogeneral-purposeO cables. Type ofng cables have passed the csa-ft 4 flame test; Type OFN cables have passed a less-demanding flame test and do not meet the csa-ft 4 requirements.
7) Another evaluation method that applies to the OFN category addresses both flame-resistance and smoke characteristics. Test procedure UL-1685, OVertical-tray fire-propagation and smoke-release test for electrical and optical-fiber cable,O includes a flame test equivalent to the UL-1581 vertical-tray flame test, as well as measurement and pass/fail criteria for smoke density. Cables that meet this requirement are designated ofn-ls (UL) ? the LS indicates the cable generates a low smoke density when flame-tested.
8) In some instances, you may substitute one cable type for another. The general rule, however, is that cable with a higher designation may be substituted for a cable with a lower designation. For example, you may use Type ofnr or Type ofnp cables in the building?s general-purpose single-floor run, even though it does not include plenums or risers. In addition, you can use Type ofnp cable in the floor-to-floor run of the bank installation. (See table for an overview of acceptable substitutions.)
This is by no means a complete version of Article 770?Optical Fiber Cables and Raceways?as published in the 1996 National Electrical Code, available from the National Fire Protection Agency, 1 Batterymarch Park, Box 9101, Quincy, MA 02269-9101.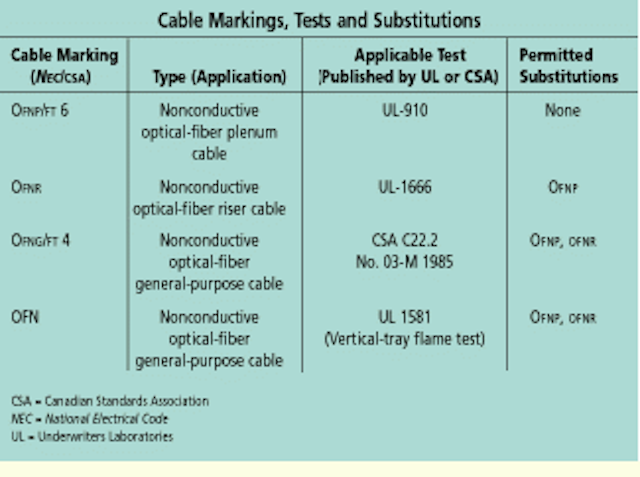 Click here to enlarge image
Dean Yamasaki is an applications engineer at Siecor Corp. in Hickory, NC.