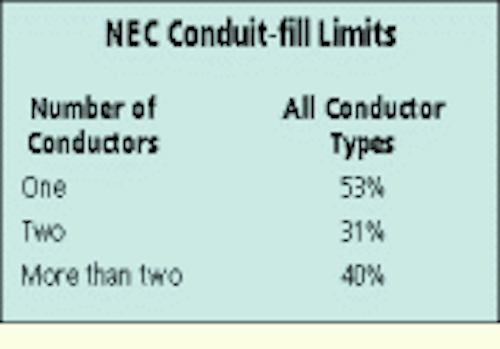 Bob Jensen
dbi
The conduit-fill requirement for telecommunications cable is an issue that is being actively studied by a task group with the TR-41.8.3 working group of the Telecommunications Industry Association (TIA, Arlington, VA). The conduit-fill limit is currently addressed by the ANSI/EIA/TIA-569 standard, "Commercial Building Standard for Telecommunications Pathways and Spaces," which includes a conduit-fill table from Chapter 9 of the 1990 National Electrical Code (NEC). One goal of the task group is to ascertain the applicability of this NEC chapter to the conduit-fill requirement for telecommunications cable. Another goal is to recommend a conduit pathway guide that provides for maximizing conduit and cable performance while maintaining a safe installation.
Task group members and technical committees of BICSI (Tampa, FL) raised these issues, which focus on conduit-fill requirements for interbuilding (or outside-plant), intrabuilding and horizontal cabling installations. For example, in outside-plant applications, telecommunications service providers can safely install 4200-pair, 26-gauge sheathed cable that is 3.4 inches in diameter in trade size 4 (or 4-inch) conduit. However, if premises cabling providers adhered to the fill capacity given in the ANSI/EIA/TIA-569 standard, this would only allow placement of a 900-pair, 24-gauge cable in trade size 4 conduit. (TIA`s 568A standard requires a minimum of 24-gauge cable in this application to meet performance characteristics.)
Following the ANSI/EIA/TIA-569 standard for premises cable installations could result in significant cost increases for building owners. The current practice of service providers, on the other hand, enables larger sheathed cables to be safely placed in conduit of the prescribed size after careful consideration of the characteristics of the conduit (especially coefficient of friction) and the geometry of the pathway, when the installation methods described in manufacturer specifications and industry practices are used.
Tension on horizontal cabling
The task group is also considering the tension imposed on horizontal cabling when it is pulled in conduit within a building. For instance, a cable pulled through a 100-foot-long trade size 1 conduit run that contains two 90-degree bends will probably exceed the 25-pound pulling-tension limit recommended on 4-pair cable in Chapter 10 of the ANSI/TIA/EIA-568A standard. On the other hand, why should a straight conduit run 10 feet in length be limited to a fill level of 40% of capacity if cable-pulling tension will not be exceeded?
The telecommunications cables under study by the TR-41.8 working groups are described by the following NEC articles:
Article 725--Class 1, Class 2, and Class 3 Remote Control, Signaling and Power-limited Circuits
Article 770--Optical Fiber Cables and Raceways
Article 800--Communications Circuits
Article 820--Community Antenna Television and Radio Distribution Systems
Although Article 93-1 and Exception 5 in Article 300-1 are thought to exempt communications circuits from the conduit-fill table in Chapter 9, the NEC does not address exemptions for other types of cables recognized by TIA committees. Also, some technical people concerned with this issue believe that the conduit fill capacities listed in the NEC are based on the safe dissipation of heat from current-carrying cables, while others think the limits are set based on safety considerations when pulling cable.
Because there are many concerns about this issue and the available information is ambiguous, the consensus of the TR-41.8.3 task group is that a formal interpretation of the NEC be requested of the maintaining organization, the National Fire Protection Association (Quincy, MA).
If you are interested in helping the task group address this issue, please e-mail Bob Jensen at bjensen43@aol.com.q
Bob Jensen, registered communications distribution designer (RCDD), is senior design consultant with Austin, TX-based dbi, a telecommunications infrastructure design company. He chairs the conduit-fill task group.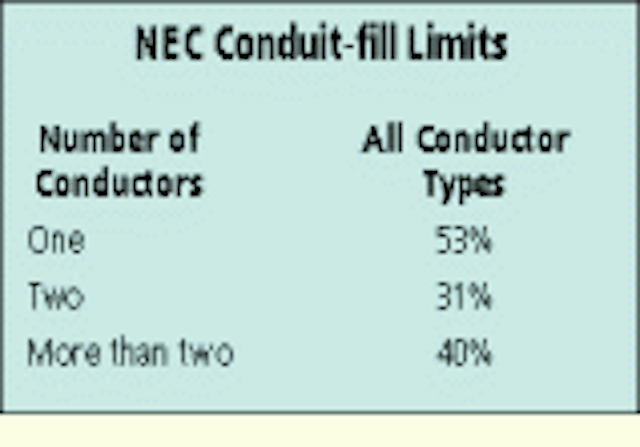 Click here to enlarge image
Table 1 of Chapter 9 of the National Electrical Code lists the percentage of the cross section of conduit or tubing that can be filled with conductors. The table applies to "common conditions" only and contains footnotes that should be consulted before applying it. (The table and notes are on page 879 of the 1996 NEC.)